.
2013 & 2014 Mobile Star Awards Winner:

>  Enterprise Mobile Collaboration — Workshare Mobile
Company Summary:
Workshare
20 Fashion Street
London, E1 6PX, United Kingdom
+44 (0) 20 7426 0000
workshare [at] marchpr.com
workshare.com
Company Structure:  Public Company
Approx. Number of Employees:  150
Operating Systems:  All Browsers, Android, Apple iOS, Mac OS, Windows
Workshare Mobile Collaboration Benefits:

.
Workshare Mobile is the industry's first and only collaboration, comparison and file-sharing application with metadata removal capabilities, that enables users to securely work together on-the-go, whether online or offline. It allows users to access, share, compare and collaborate on documents anywhere, at any time, on any device. It provides the consumer-friendly style that users prefer with the security requirements that businesses need.
With the proliferation of BYOD requiring next-generation workers to collaborate from their personal devices, IT must provide a solution that is both user-friendly and keep corporate content secure, or risk employees' use of alternative, unsanctioned applications to exchange files outside of the corporate network.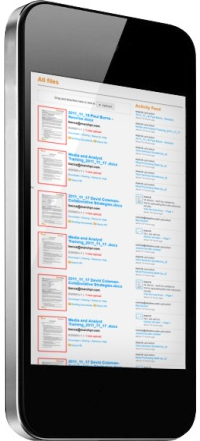 Workshare Mobile provides the highest level of document security, so that users sharing multiple files and document types with various recipients can trust that information will never fall into the wrong hands. Similar to consumer-tech solutions, Workshare offers a wide range of simple and intuitive collaboration features; however, Workshare is built specifically for business, so there's no compromising when it comes to security.
Workshare customer Irell & Manella, which recently won Ovum's prestigious Best Technology & Telecoms BYOX Strategy accolade for its Workshare deployment, attests: "Workshare was a win-win for us. Not only does it meet the level of security required by the firm, enabling our BYOD initiative, it provides a full comparison and collaboration feature set. Workshare makes it easy to access and work on documents out of the office, on any device."
The Workshare Mobile collaboration app:
— Leverages Workshare DeltaView, a patented technology to enable comparison of multiple document versions accurately and quickly.
— Allows users to have detailed conversations around various sections of the document with positioned commenting capabilities, ensuring comments are viewed in context and with relevance.
— Ensures the most up-to-date files and folders are instantly available on any device, thanks to automatic syncing functionality.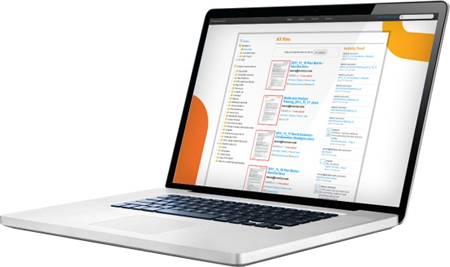 — Provides robust security settings that control whether collaborators can access, download or share content. Administrators can set expiry dates to access links after a predefined time.
— Secures BYOD initiatives with a data-wiping feature that can delete all Workshare data on a device if required.
— Includes an annotation feature, which allows users to highlight sections of a document.
— Includes a "My Briefcase" feature, which allows online and offline access. Users can selectively download documents to their mobile device and keep them automatically synced, meaning they are always kept up-to-date.
 Recent Workshare News:


.
Workshare expands Cloud integrations to drive productivity
Workshare achieves ISO 27001 security certification
Workshare offers Microsoft Office 365 integration