The WilsonPro 1000/1000R is Wilson Electronics' newest, most-powerful single output enterprise cellular signal booster, and is now FCC and IC approved and ready for purchase. The WilsonPro 1000/1000R is designed to increase cell signal coverage in large commercial spaces, and provide reliable voice and data coverage including 4G LTE where indoor cellular may not have been reliable before.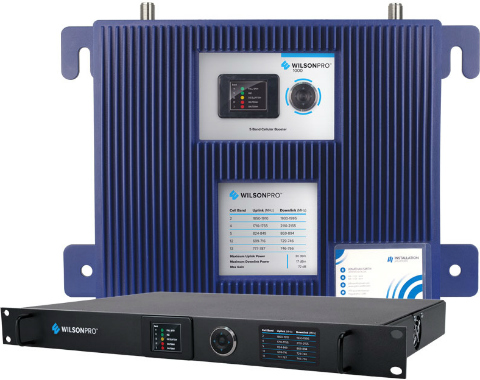 The 1000/1000R is ideal for enhancing in-building cellular signal for all commercial spaces including hospitals, hotels, warehouses, retail and office buildings. The Pro 1000, and the rack-mounted option 1000R, are easy-to-manage and improve a company's overall cellular connectivity and communications infrastructure.
The WilsonPro 1000/1000R features cell site protections that auto-detect and prevent any cell tower interference. Using eXtended Dynamic Range (XDR) technology, the WilsonPro 1000/1000R will never overpower and shut down, no matter how strong the outside cellular signals are. When XDR senses that an incoming signal is too strong and threatens to overpower the booster, XDR automatically reduces signal gain to compensate for this condition while maintaining signal coverage throughout the building. It delivers up to twice the indoor signal strength, resulting in up to 50% more indoor cellular coverage area compared to other professional grade amplifiers.
Not your ordinary signal booster
Unlike other single output boosters, the WilsonPro 1000/1000R cellular signal booster also features a color LCD screen with four-way navigation, giving integrators easy and effective control of the unit.
Traditionally, similar enterprise cellular connectivity solutions cost hundreds of thousands of dollars and can take years to deploy. With WilsonPro's 1000/1000R series, business costs are drastically reduced and installation efficiencies are increased. Through quick enterprise deployments, businesses receive solutions that are just as effective as active DAS solutions, but at a fraction of the cost.
Add to these cost and time savings WilsonPro's unparalleled customer and technical support and an industry-leading three-year warranty, and it's clear the WilsonPro 1000/1000R cellular signal booster is the best choice for any professional technology integrator.
WilsonPro is a "Best of 2017" winner in MobileVillage's 16th Annual Mobile Star Awards.
"Best of 2017" Mobile Star Awards Winner:
Enterprise Wireless Coverage — WilsonPro 1000/1000R signal booster
Company Profile:

Wilson Electronics
3301 East Deseret Dr.,
St. George, Utah 84790
Tel: 1-888-503-5329
support [at] wilsonelectronics.com
wilsonpro.com

Contacts:
Cassandra Shaffer, Corporate Marketing: cshaffer [at] wilsonelectronics.com
Structure:  Private company, established in 2000
No. of Employees:  Approx. 500
OS Supported:  All Platforms
Recent Wilson Electronics Mobile News:
Wilson Electronics Announces WeBoost Drive Sleek 4G In-Vehicle Cell Booster
weBoost Launches Its First Affiliate Program
weBoost Unveils the All-New eqo 4G Home/Office Cellular Booster Kit
WilsonPro 1050 is First FCC-Approved, Dual-Power Cellular Amplifier
See all Wilson Electronics News