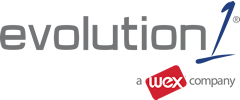 2017 Mobile Star Awards Nominee:
Mobile Employee Wellness Program — WEX Health Cloud
2014-15 + 2016 Mobile Star Awards Winner:
Insurance or Healthcare Manager App —  WEX Health Cloud
Mobile Healthcare Plan Management — WEX Health Cloud
Company Profile:
WEX Health
4324 20th Ave., SW
Fargo, ND 58103
(+1) 701-499-7215
sales [at] evolution1.com
evolution1.com
Company Contacts:
Tiffany Wirth, VP of Marketing, twirth [at] evolution1.com
Lindsey Tuttle, Marketing Manager, ltuttle [at] evolution1.com
Structure:  Public Company (NYSE: WEX)
Year Established:  2001 (Evolution1) and 1983 (WEX)
Number of Employees:  275
OS Supported:  Android, Apple iOS
How Wex Benefits Healthcare Plan Admins and Customers

Mobile Medical Admin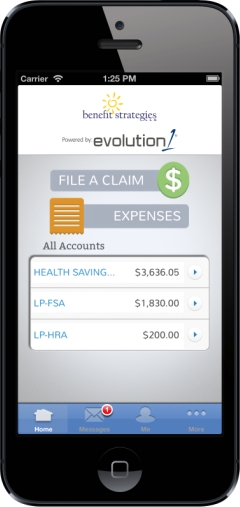 For Benefit Strategies, adding a mobile medical admin solution was a necessity: clients were repeatedly requesting it.
A proven national third party administrator, Benefit Strategies, LLC has more than 25 years of experience in benefit administration. Its clients – which range in size from 10 to 100,000 employees – consist of governmental entities including towns, cities, counties; school districts and state agencies; and a wide variety of both for-profit and non-profit organizations.
"1Mobile by Evolution1® [now part of Wex Health Cloud] had solid functionality, better pricing, and more participants than the competition, so we were already leaning toward it," says Bethany Smith, executive vice president at Benefit Strategies. "The fact that we could brand the solution as our own was the deciding factor."
The company introduced 1Mobile to its clients in December of 2010. Since then, the other platform has been retired, with those clients moving to the Evolution1 platform and 1Mobile. The feedback has been overwhelmingly positive.
"The self-service numbers are higher than we ever thought possible," Bethany says. "Customer satisfaction is priceless, and 1Mobile is available 24/7. Our clients love it."
The proof, as the adage goes, is definitely in the numbers: Benefit Strategies is down 30 percent in call volumes answered from 2011 and 2012 as compared with 2013, and 1Mobile averages 6,000 log-ins per month. "That's 6,000 people that aren't calling us," explains Bethany. "Without 1Mobile, we would need three additional people in our call center."
1Mobile's mobile medical admin features enable consumers to view health savings accounts (HSAs) – as well as flexible spending accounts (FSAs) and health reimbursement arrangements (HRAs) – account balances and details, track expenses, submit healthcare account claims, and capture, store, and send receipts anytime, anywhere on any iPhone, Android, or tablet device. Consumers may also configure account alerts via text message and send to a mobile device.
Bethany notes that similar in how people got comfortable with performing banking functions from their phones or tablets, consumers are getting more and more comfortable in taking care of healthcare paperwork from their phones or tablets. Indeed: on January 1, 2012, Benefit Strategies had 3,885 1Mobile account holders. Today that number is 11,509 and growing, as is the total of 11,500 app downloads with 102,500 log-ins.
For Bethany and Benefit Strategies, Evolution1's vision to simplify the business of healthcare is evident. "Our goal is to give our clients a simplified user experience," Bethany concludes. "1Mobile and Evolution1 enable us to do exactly that."
Recent WEX Health News:
WEX Inc. Reports First Quarter 2016 Financial Results
WEX Completes Acquisition of Benaissance