We've teamed up with Appcelerator to bring you a weekly quick read of the most important mobile apps news and other mobile technology news stories. In this week's mobile news roundup we look at Google's new Android Excellence program and other developer news, US banks' upcoming mobile peer to peer payment system, and more. Posts below are from Appcelerator (APP) and MobileVillage (MV).
New Android O Developer Preview, Android Excellence program, more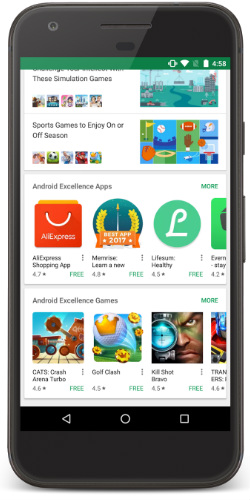 It was a busy week for Google and Android, which announced a number of updates to share with developers and users alike last week.
Google rolled out the third phase of its developer preview for Android O. The latest test version now includes finalized APIs and updates to background limits, networks and security. Google plans to release one more developer preview next month before making Android O available to users later this summer.
Google Play Store has a new way to showcase top apps and games with the announcement of its Android Excellence program. Google says the new quarterly Android Excellence collections will showcase apps and games that deliver "incredible user experiences on Android, use many of our best practices, and have great design, technical performance, localization, and device optimization.
Android Excellence apps can be found within the revamped Editors' Choice section of the Play Store.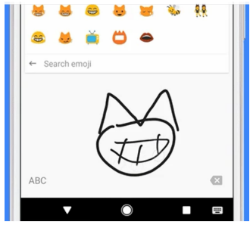 Google has also released an update to its GBoard (see screenshot) that will cut down on the amount of typing required. Using machine learning, Google's smart keyboard will now let users draw the emoji they wish to use and be able to predict full phrases when responding to messages.
Google's mobile wallet will now allow users to transfer money to relatives and friends in another country. Android Pay has paired-up with remittance startup WorldRemit to deliver the new service, which marks the first time users can perform international money transfers on the platform. — APP
Andy Rubin's Essential phone only available on Sprint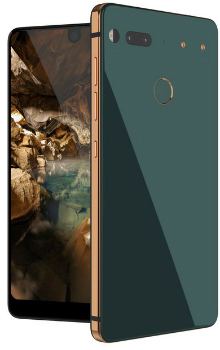 The new "Essential" smartphone from Android creator Andy Rubin has inked an exclusive distribution deal with Sprint. The Essential phone was revealed last month and is widely anticipated for its slick design and powerful hardware— including a titanium and ceramic screen said to be stronger than competitive offerings. The problem is that Sprint is only the fourth largest carrier in the United States, severely limiting the reach of the new device.
According to reports, Rubin's project recently received more than $300 million in funding to distribute the smartphone, which is set to retail at $699. — APP
US banks unite in peer-to-peer payment competitor
US banks finally have a way to compete with peer-to-peer payment tools like Venmo, PayPal and now iMessage. More than 30 banks and credit unions in the US are signed on to integrate the unified payment system Zelle into their apps and services. Zelle doesn't have its own app yet, but the tool allows users to transfer money to and from supported banking apps.
What distinguishes Zelle from other payment services is the ability to make instant transfers, rather than needing to pay a fee or wait several days to cash out. It also has leg up on the competition, since it's backed by banks and will be built into bank apps that users have likely already downloaded. Zelle will roll out to financial partners over the next 12 months. — APP
Facebook wants to help users subscribe to news publications
Facebook is reportedly building a feature that will make it easier for users to subscribe to news publishers on its mobile app. Following the last election and rise of "fake news," the social media company has been hard at work to change the way the platform handles news.
Facebook added new tools earlier this year to help users identify false articles and sign up for newsletters. The company's new subscription service will build on this effort, although it is still unclear how the feature will be structured and what it will look like in practice. The feature is set to launch before the end of 2017. — APP
Amazon unveils new Alexa-enabled Dash Wand
Amazon has released a new version of its Dash Wand that integrates with Alexa. The revamped version of the Dash Wand can still scan barcodes and convert measurements, but it will also take advantage of the company's AI assistant to help users find restaurants, recipes and beyond using voice commands. The product is selling for $20, but also includes a full rebate that can be redeemed for online purchases. For now, Dash Wand is only available to Amazon Prime members. — APP
After being acquired, Tangoe two-steps with Asentinel
Mobile device management and telecom management expert Tangoe (OTCPK: TNGO) is merging with tech lifecycle management firm Asentinel. The merger comes after Tangoe was officially acquired this month by Marlin Equity Partners (Marlin) in a "take-private" acquisition. Asentinel was already a Marlin-owned company.
The combined company will operate under the Tangoe brand and stay in Tangoe's current Parsippany, New Jersey headquarters. The new Tangoe will gain additional offices around the world to support more than 1,300 enterprise customers. Enterprise software veteran Robert Irwin is taking the helm as Tangoe's new CEO, succeeding Jim Foy who stepped in to guide Tangoe through last year. Irwin has more than 30 years of technology experience in operations, sales, consulting and senior management, including serving as CEO of EMS Software, TDCI and Sterling Commerce. — MV
Except where indicated (MV for MobileVillage), this mobile news roundup is by Jon Bailey of Appcelerator, a leading mobile development platform company. Check out the Appcelerator blog.
### End mobile news wrap featuring Google developer news, Android Excellence program, GBoard, US banks peer to peer payment app, more