Wayfair app features 3D viewing, idea boards & more
Wayfair's home shopping app lets you choose from over 7 million products, get inspired with professional designs, see 3D life-sized versions of products in any space, save your faves with Idea Boards, easily check your order status, and track large package orders in real time. The Wayfair app also lets you build a wedding registry and stay up to date on the latest sales.
(The company may provide more information here later.)
The Wayfair app is a "Best of 2017" Mobile Star Awards winner. You can follow or connect with Wayfair below:
Mobile Star Awards "Best of 2017" Winner:
Best Shopping or Deals App — Wayfair app

Company Profile: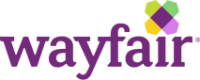 Wayfair
4 Copley Place
Boston, MA 02116
(+1) 866-263-8325
Email: service [at] wayfair.com
Wayfair.com

The company may add more contacts later.
Facebook:  /Wayfair
The company may add more social media links later.
Structure:  Public (NYSE:W), founded in 2002 as CSN Stores
No. of Employees:  6,800+
OS Supported:  Android, iOS
Recent Company News:
The company may add news links here later.