.


2013 Mobile Star Awards Winner:

Enterprise Mobile Unified Communications — Voxer Business

Company Profile:
Voxer
760 Market St.
San Francisco, CA  94102
sales [at] voxer.com
voxer.com
Company Structure:  Private Company, established in 2007
Operating Systems Supported:  Android, Apple iOS, Apple Mac OS
About Voxer Business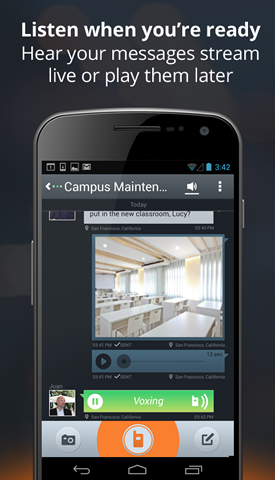 Voxer Business is a high performance push-to-talk (PTT) service that enables users to communicate with one another from anywhere in the world in real-time and across all iOS, Android, and Windows devices. Making phone calls virtually unnecessary, Voxer Business introduces speed and efficiency into any type of work environment.
On the move or from a desktop computer, employees can stay connected through voice or text messages, with the ability to collaborate through group chat  and send multimedia images in seconds.
Voxer features
The newest feature, Voxer for Web, extends the Business service to desktops, providing administrative and monitoring capabilities – a top feature request from existing customers. Now companies with distributed workforces can communicate from the office desktop directly into the field. All audio messages are stored, so if a live message cannot be listened to in real-time, it can be conveniently heard and replied to at any point in the future.
Another useful feature is Voxer Business Manager, an administrative tool that allows employee accounts to be added and removed from company communication with ease.
Voxer Business customers have seen enormous cost reductions. Transportation, construction and public safety are just a few of the notable industries where businesses have experienced benefits like reduced company costs, immense time-savings, and increased efficiency.