2016 Mobile Star Awards Sponsor & Winner:

Mobile Enterprise Email — AirWatch Boxer
Mobile Devices & App Management — AirWatch Mobility Management
Mobile Remote Access for Enterprises — VMware Identity Manager
Mobile Team Workspace — VMware Workspace ONE
Profile:

VMware
1155 Perimeter Center West, Suite 100
Atlanta, GA 30338
(+1) 404-478-7500
sales [at] vmware.com
vmware.com
Structure:  Public Company (VMW), established in 2003
Number of Employees:  2,000+
OS Supported:  All Platforms
VMware covers all of your mobile enterprise needs:
Mobility is transforming business. From the constant proliferation of mobile devices, to new mobile form factors, to applications and services that empower a workforce, engage customers and re-imagine business processes, few trends will have as big an impact in transforming the way a business operates or competes in the market.
VMware Workspace ONE
VMware® Workspace ONE (pictured at right) is the one and only suite employees need to communicate and collaborate easily and securely. Workspace ONE includes email, calendar, contacts, documents, chat, and enterprise social that employees want to use, while invisible security measures protect the organization from data leakage by restricting how attachments and files can be edited and shared.
AirWatch Mobility Management
AirWatch® by VMware (see Dashboard screenshot above) embraces this shift in the market and understands the need to build this unification into our platform to create flexibility for organizations to deploy any app to any device, while keeping enterprise data secure and users productive. This unification is driving organizations to create a digital workplace.
AirWatch is a comprehensive enterprise mobility platform providing a heterogenetic approach to device and application management within a modern architecture that is built to scale as business initiatives evolve. (See large screenshot below this summary.) AirWatch is able to seamlessly bring together technologies of identity, apps and mobile to remove the friction of disparate systems. AirWatch provides a layered security approach that encompasses the user, endpoint, app, data, and the network; and incorporates conditional access, compliance monitoring and threat detection.
The AirWatch app suite empowers mobile productivity with consumer simple and engaging business apps to solve for mobile micro-moments and drive digital transformation. The suite provides seamless integration across apps to empower business users to use a mobile device even when they are sitting in front of their laptop. The apps work together to help users accomplish their tasks in a simpler and faster way.
AirWatch Boxer enterprise email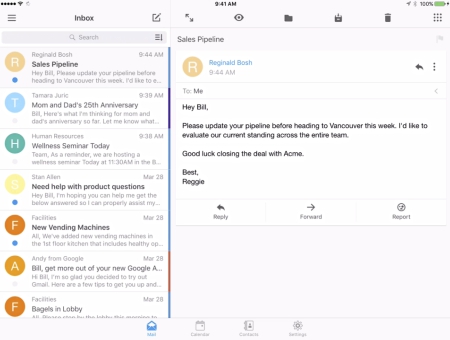 Apps such as VMware AirWatch Boxer enterprise email (pictured at right) are at the forefront of user engagement, and can simplify enterprise workflows across other business systems and apps. Mobile productivity with engaging business apps to solve for mobile micro-moments drives the digital transformation.
AirWatch supports all major operating systems including Android, Apple iOS, BlackBerry, Chrome, Mac OS X, and Windows. Our close relationships with leading OEMs enable tight integration and first-to-market functionality around advanced OS capabilities.
Organizations have various use cases spread across the business. The advantage of managing mobility through AirWatch is the ability to uniquely support these use cases within a single solution, including full device management, app-level management for BYOD or line of business use cases such as kiosk or shared devices.
Recent VMware Mobile News:
VMware AirWatch Announces Same-Day Support for Google Glass Enterprise Edition
Gartner: VMware Scores Highest in 3 Mobility Use Cases
VMware Helps Customers Maximize Hybrid Cloud Investments with New vRealize Cloud Management Platform
VMware and Google Expand Partnership to Accelerate the Adoption of Chromebooks
VMware and Oracle Collaborate to Enable Advanced Security Features and Streamlined Management of Oracle Mobile Enterprise Applications
VMware Announces New Releases and Offers of Workspace ONE and AirWatch