.
2013 & 2014 Mobile Star Awards Winner:
>  Enterprise Mobile Application Development — Mobility Studio
>  Enterprise Field Service — ClickMobile
>  Enterprise Workforce Management — Service Optimization Suite
>  Success Story: Asset Tracking or Field Service — SourceGas (2013)
>  Enterprise Mobile Services Visionary — ClickSoftware CEO Moshe BenBassat
2012 Mobile Star Awards Sponsor & Winner:
>  Enterprise Field Service — Service Optimization Suite
>  Enterprise Workforce Management — Service Optimization Suite
>  Success Story: Field Service — Vivint with ClickSoftware
>  Enterprise Mobile Services Visionary — ClickSoftware CEO Moshe BenBassat
Visionary Profile:
Dr. Moshe BenBassat does the right things right to improve customer care & operational excellence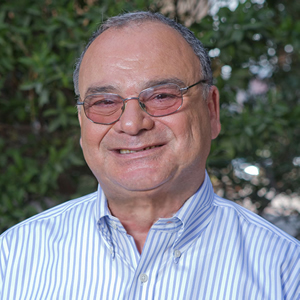 ClickSoftware Founder and CEO Dr. Moshe BenBassat pioneered mobile workforce management with concepts from his vision for Service Chain Optimization, and continues to keep companies ahead of the curve today as mobile devices proliferate every aspect of business and consumer life. Today, leading companies are meeting the challenges of integrating mobile devices into their enterprise while side stepping traditional issues.
Moshe and ClickSoftware have introduced a wide range of innovations to enable exactly this agile deployment of mobile capabilities, with a nod toward tomorrow's technology. Early on, he understood the value of the synergy between scheduling and mobility – or to combine the optimization of a group of workers (before a job is dispatched), with the optimization of an individual during job completion.
Moshe's visionary innovations have been applied to medical diagnostics and ballistic missile defense, at UCLA, USC, Tel Aviv University, the US DOD's DARPA, NASA, and the National Science Foundation, amongst others. And for Moshe, the founding of ClickSoftware more than 20 years ago was the culmination of a prestigious career applying mathematics, structured problem solving and artificial intelligence to improve decision support – and for the last two decades – to create and execute the vision for optimized workforce management. Advances Moshe has introduced, from smarter algorithms to mobile technology, have driven the rapid evolution throughout the service sector, and are important factors in the growth and successes of ClickSoftware's clients.
ClickSoftware is focused on delivering software solutions for optimizing the entire service management chain. These include software products for mobility and for optimized service scheduling for shift and task based employees, resource and capacity planning, analytics and demand forecasting. Today ClickSoftware is the worldwide recognized leader in service chain optimization with more than 200 enterprise clients across the globe.
A recent company achievement, spear-headed by Moshe, is:
ClickSoftware Named a Leader in IDC MarketScape for Worldwide Utilities Mobile Field Force Management: In July, ClickSoftware announced that it was named a Leader in the IDC MarketScape for Worldwide Utilities Mobile Field Force Management. The IDC MarketScape study provides utility companies (electricity, gas, water, etc.) with insight into the current capabilities and future strategies of mobile field force management (MFFM) software vendors, guiding them in planning a new MFFM implementation.
According to the report, based on analysis and buyer perception, ClickSoftware is:
— The largest independent software vendor specialized in automated mobile workforce management and service optimization solutions.
— Strongly committed to delivering innovative components and functionalities.
— Meeting the breadth and depth of utilities industry's business needs. Product components have many outstanding capabilities, like crew management, real-time monitoring tools with exceptions handling and automated decision-making capabilities.
More than 75 utility companies from around the globe rely on ClickSoftware to transform service delivery by automating critical activities, and providing visibility into assets and field resources.
Moshe is very proud to see ClickSoftware named as a leader in this important market sector of Utilities Mobile Field Force Management. By its very nature, a utility company is required to invest substantial resources to comply with service commitments to customers and regulators. ClickSoftware's proven solutions enable a utility company, as well as companies in other industries, to generate the maximum service for the level of investment the company can afford to make without risking its own financial viability. Organizations benefit from ClickSoftware's experience and innovation to leverage artificial intelligence, social and predictive apps, real-time mobility, and capacity planning to ensure that workforce productivity is optimized for the benefit of their customers.
A recent mobile innovation is:
ShiftExpert App: In September, ClickSoftware announced it has joined the Salesforce Wear initiative, creating the first ecosystem dedicated to accelerating the adoption of wearables in the enterprise. ClickSoftware is helping businesses create wearable experiences with ShiftExpert by providing workers easy access to job information, location and biometric data via the app on devices including the Samsung Gear 2 device.
A native Salesforce1 Mobile Ready App, ShiftExpert gives employees, shift managers and planners complete visibility into who works when, and deeper insight into how the schedule will impact service levels, special coverage needs and the budget. The app is integrated into the Salesforce1 Platform, providing a seamless experience for all Salesforce users. In addition, it's one of the first AppExchange apps that integrates with wearable technology, enabling anytime, anywhere access.
ShiftExpert enables users to:
— Use the app with the Samsung Gear 2 to clock in and out of work or update timesheets right from the wrist. The watch sensors record distance traveled per shift and summarizes info for daily timesheet.
— Automate planning and execution of shifts for employees across different departments.
— Review and optimize gaps between the availability of the workforce and business demand.
— Control overtime costs and quickly react to exceptions.
— Increase employee satisfaction by incorporating employee working preferences, shift trades and vacation requests into the work plan.
— Maximize customer satisfaction by meeting service level targets with well rested and skilled employees.
To learn more, watch the ShiftExpert video demo.