.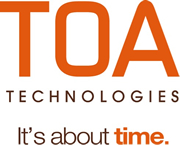 2014 Mobile Star Awards Nominee:
>  Enterprise Workforce Management — ETAdirect
2012 Mobile Star Awards Winner:
>  Enterprise Mobile Field Service — ETAdirect
>  Enterprise Workforce Management — ETAdirect
Company Summary:
TOA Technologies
3333 Richmond Rd., Suite 420
Beachwood, Ohio 44112
(+1) 216-925-5950
contact@toatech.com
www.toatech.com
Company Structure:  Private Company, established in 2003
Number of Employees:  371
Operating Systems Supported:  All Web Browsers, All Platforms
Featured Mobile Field Service Solutions:
TOA Technologies is a global provider of mobile field service and customer experience management applications in the cloud. Founded to solve the "cable guy" problem – customers waiting at home without knowing when a product or service will arrive – TOA's patented solution, ETAdirect, improves customer service while dramatically reducing operational costs. TOA was founded with the customer in mind; its solutions are built on the intersection of cloud, mobile, social and context-aware computing technology.
TOA's mobility-centric and time-based technology helps businesses predict when an appointment is going to happen and how long it will take – down to the minute – with 96 percent accuracy. It measures the time an individual employee takes to complete a specific task and travel from job to job, and creates personal performance profiles. Using a patented algorithm, it analyzes those profiles to create the most efficient job assignments, schedules and travel routes for each employee.
Because the majority of this data is collected in the field, having an always-on, reliable and easy to manage mobile application is critical. With this in mind, ETAdirect's mobile field service application was built completely in the browser on HTML5, allowing field workers to access critical scheduling and customer information from any device, regardless of operating system. It also supports robust offline capabilities in the browser.
TOA's "learn, pattern, predict" approach for managing mobile service staff is the foundation for two solutions which help organizations of all sizes achieve optimized, efficient mobile workforces and better service. Designed for organizations with hundreds or thousands of field service personnel and/or complex challenges in mobile workforce management, ETAdirect Enterprise brings order and efficiency to service processes, dramatically improves productivity and enhances the customer's experience. It assigns field staff to jobs based on an individual employee's skill set, availability, proximity and additional levels of granularity. As TOA's flagship solution, it optimizes mobile workforces for global leaders in the cable/telecom, utilities and retail industries.
In mid-2012, TOA introduced ETAdirect Professional to ensure sophisticated mobile workforce management software is no longer limited to large enterprises. This streamlined configuration featuring a decade of TOA's best practices capitalizes on the power and intelligence of ETAdirect Enterprise, offering customers a simple, affordable solution that deploys in only four weeks. It offers a fast and simple solution to increase productivity, reduce costs and improve customer service.
For any organization managing mobile teams delivering a product or service in the field, ETAdirect enables them to increase efficiencies, improve customer satisfaction and reduce operating costs. Most importantly, it helps these businesses meet service windows and holistically manage the appointment process, even when the majority of the work is being done on a mobile device.