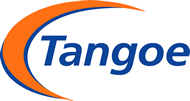 2013 Mobile Star Awards Winner:
>  Enterprise Mobile Devices Management - Tangoe Managed Mobility Solution
>  Enterprise Wireless Telecom Expenses Management - Tangoe rTEM
2011 Mobile Star Awards Winner:
>  Enterprise Mobile Devices Management - Tangoe Managed Mobility Solution
Company Summary:
Tangoe
35 Executive Blvd.
Orange, CT 06477
(+1) 203-859-9300
communications [at] tangoe.com
www.tangoe.com
Company Structure:  Public Company (NASDAQ: TNGO), established in 2000
Operating Systems Supported:
Android, Apple iOS, BlackBerry 5-7, BlackBerry 10, Windows Phone 7/8
Featured Mobile Solutions:
Tangoe rTEM
Tangoe combines its leading Mobile Device Management (Tangoe MDM) and its Real-Time Telecom Expense Management (Tangoe rTEM) client applications into a single, on-device application so end-users can manage applications, track usage compared to carrier plans, and receive usage notifications from IT.  As the definitive real-time mobile expense management solution for today's leading mobile smart device platforms, including Android, iOS, BlackBerry and M2M, the solution also offers bill shock prevention, roaming control, cost optimization, geofencing, and GPS for an organization's entire mobile fleet.  This provides significant benefits especially in the healthcare, financial services, and government sectors, where geo-based security is crucial.  rTEM is the only SaaS-based solution that monitors and manages voice, data, SMS, and roaming usage in real-time and provides multi-language support in English, French, Spanish, German, and Italian.
Additionally, Tangoe announced advanced functionality for its Tangoe rTEM application earlier this year.
Tangoe rTEM now includes:
• Carrier Plan Optimizer – Based on historical usage for voice, SMS, and data, Tangoe rTEM recommends to the administrator the best carrier plan for each user. This is especially beneficial for enterprises in locations where there are no pooled plans, such as Europe, as well as for organizations in the U.S. that are not participating in pooled plans.
• Application-specific Data Tracking – Provides visibility into the specific data usage of each application on a device. This data enables more informed decisions regarding application usage and devices' corresponding costs of operation.
Tangoe rTEM is now available for download via the App Store for iOS and via Google Play for Android.
Tangoe MDM
Tangoe provides a unique approach to MDM, by allowing global enterprises to not only manage employees' mobile devices, but to manage their entire end-to-end communications lifecycle through a full suite of managed mobility solutions.
Unlike traditional stand-alone MDM solutions, Tangoe's Managed Mobility Solution (MMS) is comprised of critical technologies and services that optimize the entirety of an organization's communications assets, expenses, and usage.  Tangoe's MMS helps end-users by providing the critical mobility expertise enterprises are unable or unwilling to provide.  It allows organizations to outsource the work involved in supporting a mobile strategy to an experienced team that specializes in taking mobility to the next level: to deliver services, create revenue streams, manage productivity and lower operational costs.
Tangoe's MMS also includes support services, such as the BYOD Advisory Service, which is designed to provide an objective assessment of how BYOD could impact an organization, develop a BYOD strategy and policy that factor in the unique challenges of the organization and execute the transition process.  In addition, Tangoe provides global, follow the sun support, and Tangoe's Managed Mobility Solution currently manages:
• Millions of mobile devices
• More than 30K helpdesk calls monthly in 18 different languages and dialects
• Services in nearly 200 countries
• More than 1000 clients