.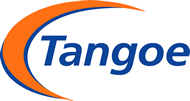 2014 Mobile Star Awards Entrant:
>  Mobile Devices Management — Tangoe MatrixMobile MDM
>  Wireless Telecom Expenses Management — Tangoe MatrixMobile TEM
2013 Mobile Star Awards Winner:
>  Mobile Devices Management — Tangoe Managed Mobility Solution
>  Wireless Telecom Expenses Management — Tangoe rTEM
Company Summary:
Tangoe
35 Executive Blvd.
Orange, CT 06477
(+1) 203-859-9300
communications [at] tangoe.com
www.tangoe.com
Company Structure:  Public Company (NASDAQ: TNGO), established in 2000
Operating Systems Supported:
Android, Apple iOS, BlackBerry 10, Windows Phone
Company Contacts:
>  Shannon Cortina, Director of Marketing — shannon.cortina [at] tangoe.com
Featured Mobile Solutions:
Mobile Device Management: MatrixMobile MDM
Tangoe's MatrixMobile Mobile Device Management (MDM) solution is a comprehensive monitoring, management, and support software and service suite for mobile devices and applications in the enterprise offering complete control of the device lifecycle—from device setup to decommissioning. MatrixMobile MDM reduces security risks, enables productivity and supports collaboration while providing real-time visibility into usage, costs and policy compliance. It also empowers the Connected Enterprise with the ability to:
— Completely manage the mobile device environment within a single console
— Securely access enterprise content from any authorized device
— Enforce security and policy through role-based models
— Distribute software and apps "over-the-air" in mixed mobile OS and device environments
— Allow personal and corporate data to securely co-exist on the same device
— Access unmatched 24/7 helpdesk and troubleshooting services
MatrixMobile MDM supports a variety of IT/business functions, including: security and policy compliance, application management and deployment, device containerization, content management, anti-virus protection and MDM managed services.
Telecom Expense Management: MatrixMobile TEM
Tangoe's MatrixMobile Telecom Expense Management (TEM) solution focuses on operational concerns to bring significant cost reduction and increased visibility to the mobile environment. It enables enterprises to manage, understand and control their mobile assets, tame runaway technology costs and work with carriers so that disputes are settled.
MatrixMobile TEM ensures that enterprises are paying the contracted rate for services utilized, while simultaneously examining cost and usage patterns to optimize and discover additional, ongoing savings. Solutions include invoice processing, direct bill payment, financial integration, optimization, contract/audit resolution, personal call management/client rebilling, procurement and fulfillment.