2016 Mobile Star Awards Sponsor & Winner:
Enterprise Mobile Devices Management — MatrixMobile
Enterprise Mobile Team Messaging — MatrixSocial inTouch
Enterprise Telecom Expense Management — MatrixMobile
Enterprise Mobile Services Visionary — Tangoe CEO Al Subbloie
2014-15 Mobile Star Awards Winner:
Mobile Devices Management — MatrixMobile MDM
Wireless Telecom Expense Management — MatrixMobile TEM
Profile:
Tangoe
35 Executive Blvd.
Orange, CT 06477
(+1) 203-859-9300
tangoe.com
CStructure:  Public Company (NASDAQ: TNGO), est. in 2000
OS Supported:  Android, iOS, BlackBerry, Tizen, Windows Mobile, Windows
Contacts:
..Shannon Cortina, Director of Marketing — shannon.cortina [at] tangoe.com
Tangoe Collaboration, MDM & TEM Solutions:
Mobile Messaging & Email: inTouch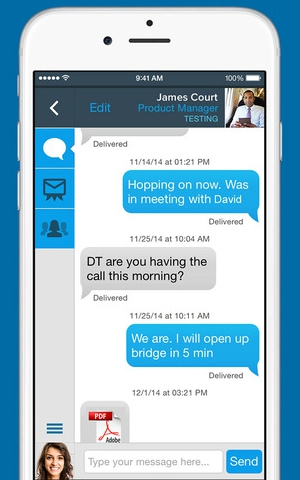 Tangoe's inTouch mobile application is an easy-to-adopt chat-based collaboration tool designed for enterprises of all sizes. inTouch users can create project-specific chat groups, set preferred communication methods, and call others directly within the app without needing personal mobile numbers. The inTouch application is transferable between both desktop and mobile environments, further enabling collaboration.
For example, if an employee in Boston sends an urgent email to a London colleague, the time difference may prevent the message from being received in time. With inTouch, employees have the ability to share documents and updates quickly and easily, regardless of their location. The objective of the app is to allow employees to more efficiently collaborate in a secure environment while still maintaining their preferred form of communication.
Mobile Device & Telecom Expense Management: MatrixMobile
.
Traditional mobile management strategies may lack the power and capacity to support multiple priorities, as well as the needs of companies that want to streamline their mobile experience and accommodate new mobile devices and policies. Tangoe has been at the forefront of mobility management since the very beginning and offers a comprehensive solution—MatrixMobile—to address the challenges of the mobile lifecycle.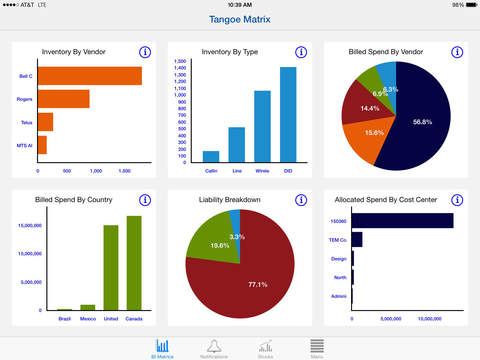 Tangoe's MatrixMobile Mobile Device Management (MDM) solution is a comprehensive monitoring, management, and support software and service suite for mobile devices and applications in the enterprise offering complete control of the device lifecycle—from device setup to decommissioning. MatrixMobile MDM reduces security risks, enables productivity and supports collaboration while providing real-time visibility into usage, costs and policy compliance. It also empowers the Connected Enterprise with the ability to:
— Completely manage the mobile device environment within a single console
— Securely access enterprise content from any authorized device
— Enforce security and policy through role-based models
— Distribute software and apps "over-the-air" in mixed OS and device environments
— Allow personal and corporate data to securely co-exist on the same device
— Access unmatched 24/7 helpdesk and troubleshooting services
MatrixMobile MDM supports a variety of IT/business functions, including: security and policy compliance, application management and deployment, device containerization, content management, anti-virus protection and MDM managed services. As a result of Tangoe's partnerships with top EMM leaders like AirWatch by VMware and MobileIron, customers will benefit from end-to-end lifecycle management and global real-time insights into the assets, expense and usage of their connected enterprises. These partnerships offer MatrixMobile users one-stop-shopping for globally available mobility managed services (MMS) with flexible integration points to enterprise mobility management (EMM) capabilities.
Tangoe's MatrixMobile Telecom Expense Management (TEM) solution focuses on operational concerns to bring significant cost reduction and increased visibility to the mobile environment. It enables enterprises to manage, understand and control their mobile assets, tame runaway technology costs and work with carriers so that disputes are settled.
MatrixMobile TEM ensures that enterprises are paying the contracted rate for services utilized, while simultaneously examining cost and usage patterns to optimize and discover additional, ongoing savings. Solutions include invoice processing, direct bill payment, financial integration, optimization, contract/audit resolution, personal call management/client rebilling, procurement and fulfillment. (Tangoe MDM & telecom expense management profile)
Recent Tangoe News: