If your company needs an enterprise mobility management (EMM) solution that includes mobile apps management, mobile device management, telecom expense management and even mobile deployment services, there are only a few EMM providers that deliver all of these for you in one package. And if you also want a provider with many years of experience and a host of leading mobility partners, US-based Tangoe is among your top choices. Let's take a quick look at what Tangoe offers.
Tangoe's Managed Mobility Services (MMS) solution enables enterprise organizations to deploy, track, manage, secure, and support their mobile infrastructures and transform their mobile environments. The comprehensive solution offers three mobility packages tailored to key mobility pains experienced in the marketplace. These packages take the guesswork out of fully managing the expenses of a global mobile fleet.
With MMS, organizations can increase employee productivity and satisfaction; improve mobility spend, by reducing operational costs and increasing strategic mobility investment; provide increased simplicity for employees and management; and mitigate risk, with the enforcement of proper mobile policies and increased protection against data breaches.
Tangoe's MMS Suite enables enterprises to manage mobile complexity and risk, through three customer-focused solutions covering the full device lifecycle:
Mobile Deployment and Support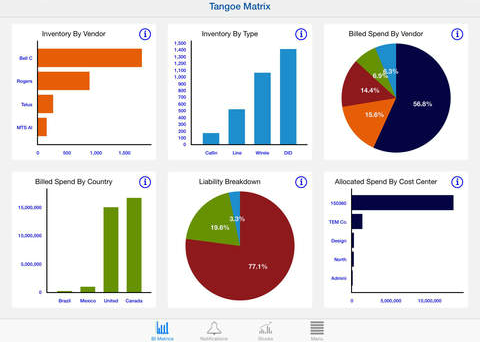 Mobile Deployment and Support helps manage the end-to-end mobile lifecycle, providing employees with an approved, functional device that works right out of the box. This package includes a client portal, order and fulfillment, staging and kitting, inventory management, service desk, and a one time EMM review.
Organizations challenged by overwhelming mobile needs, without the skills or resources to keep end-users happy, can use this package to simplify their mobile delivery and improve end-user experience.
Security and Policy Governance
Mobile Policy Governance configures, monitors and provides enrollment and security support on leading Enterprise Mobility Management (EMM) stacks, to effectively secure, monitor, and manage mobile devices. The package provides EMM setup and program optimization, policy configuration, and monitoring of the managed platform system. Tangoe provides the support needed to migrate and manage mobile devices and end-users, and protects the organization from mobile security threats.
Telecom Expense Management
Mobile Expense Management and Optimization provides a holistic view of all mobile expenses with an optimization plan showing potential savings, while maintaining ideal mobile service required for end-users. The package manages carrier invoices, manages the allocation of pooled charges, invoice workflow and approval, audits and optimizes invoices, offers benchmark rate plans, and provides reporting and an end-user portal. Companies challenged by lack of visibility into mobile spend and metrics needed to make key decisions are provided a comprehensive view of all spending, reducing issues such as bill shock.
MMS savings and other results
MMS simplifies how customers manage growing mobile complexity within their businesses, delivering holistic mobility management. MMS enables greater productivity, reducing downtime while accommodating personal preferences. The solution includes all services under one set price per user, per month. It has reduced client expenses by 30%, optimizing operational costs and increasing strategic mobility investments.
MMS also mitigates risk and provides security by ensuring that mobile policies are enforced, and minimizing exposure to data breaches. It provides expert resources to handle complex issues, ensuring clients receive a simplified and secure experience.
Tangoe is one of the few Apple and Android certified device repair shops, allowing for quick delivery of ready-to-use devices to end-users.  Tangoe's MMS solutions liberate businesses from day-to-day mobility tasks, enabling clients to focus on strategic, revenue generating initiatives. The full mobile lifecycle solution supports customers 24 x 7 x 365 in 14 languages, with 38 MMS/TEM (telecom expense management) patents, built over 16+ years of experience serving multinational organizations.
You can get in touch with Tangoe and see the company's latest news below.
2017 Mobile Star Awards Sponsor & Finalist Nominee:
Mobile Apps, Devices or Endpoint Management — Tangoe MMS
Telecom Expense Management — Tangoe MMS

2016 Mobile Star Awards Sponsor & Winner:
Mobile Devices & Apps Management — MatrixMobile
Mobile Team Messaging — MatrixSocial inTouch
Telecom Expense Management — MatrixMobile
Enterprise Mobile Services Visionary — Tangoe CEO Al Subbloie
Company Profile:

Tangoe
169 Lackawanna Ave., Suite 2B
Parsippany, NJ 07054
(+1) 973-257-0300
Tangoe.com

Contact online: Tangoe.com/company/request-info
LinkedIn:  /Tangoe
Twitter:  @Tangoe
Structure:  Private company, est. in 2000
OS Supported:  All platforms
Recent Tangoe News: