The cameras that come on today's cellphones are better than ever. However, just because you have a good camera, doesn't mean you'll automatically start taking great phone photos. Use these tips to take better photos when using your iPhone, Android phone or other smartphone.
(Feature photo by Schill via Flickr)
Use the Grid for Great Phone Photos
The grid feature on your phone helps you visualize the rule of thirds to take better photos. When you turn this feature on, your entire scene gets divided into nine equal boxes. You want to make sure that the points of interest in your photo line up with the intersections of these boxes. This will make your picture more balanced and natural to the eye.
Get a Tripod to Take Better Photos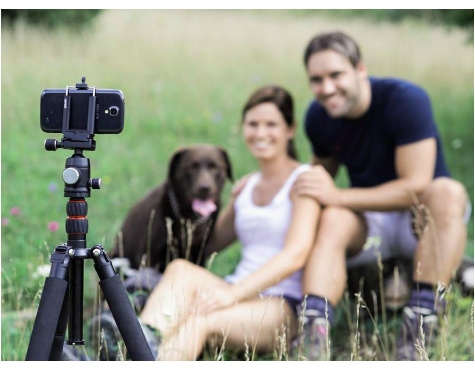 One of the easiest ways to take better photos is to make sure the camera isn't moving or shaking when you're taking the shot. If you don't have a steady hand, consider purchasing a tripod that can hold your smartphone for you. Or, if you'd rather not carry an extra piece of equipment, look around your environment for a steady place to prop your phone. Whether you use a bookcase, fence post, wall, or table, any surface will help steady your phone for a clear shot.
Crop Instead of Zoom
While almost all smartphone cameras offer a zoom feature, you're almost always better off ignoring it and cropping your pictures instead. When you use the live-view preview on your phone, you can begin to see how the image loses clarity the more you zoom in. This is because the lenses in your smartphone camera don't actually move. Therefore, if you want great phone photos, either you move closer or you crop your pictures afterwards. Since most phones have eight megapixels of resolution, you can crop tightly and still have plenty of resolution left for a sharp image.
Purchase Extra Lenses
If you really want to take your cellphone photos to the next level, you can purchase additional lenses that attach to your phone. Simply clip these lenses onto your phone to open up an entirely new world of possibilities for your pictures. The most common types of add-on lenses are wide-angle, fish-eye, telephoto, and macro. When you're done taking your picture, just pop the lens off to continue using your phone like normal.
Change the Focus
While most cellphone cameras will automatically try to focus on what they think is the subject of your picture, you can make the camera change focus by simply tapping anywhere on the screen. Changing the focus will also adjust the exposure level in your picture. This is an easy way of brightening a dark area or dimming a spot that's too bright.
Take Shots Using Burst Mode
Whether you're attempting to get a shot of your kid playing soccer or you're attending a professional game, trying to snap a good photo of people moving is difficult. Luckily, T-Mobile's iPhone 7 with a 12MP camera has a simple solution: take the picture using Burst mode.
Simply hold your finger on the shutter button and don't let go until you finish shooting. You can then review the individual shots on your screen and select the one you like best. Then use T-Mobile's fast 4G LTE network to immediately send your great phone photos to all your friends and family.
Clean Your Lens to Take Better Photos
While it might seem like a simple tip, think about how often you actually wipe off the lens on your phone. Now think about all the places your phone ends up: in your pocket, in the bottom of a bag, on the kitchen counter when you're cooking, and sometimes even in the bathroom. This can cause a film to accumulate on the lens that will make your pictures dark and hazy. While a quick wipe with a lint-free cloth will usually do the job, it also doesn't hurt to occasionally clean it with a lens cleaning solution.
No matter what type of picture you're trying to take, you can make it better when you follow these tips to take better photos with your phone.