2012 Mobile Star Awards Winner:
Success Story: Asset Tracking & Field Service  —  Delta Mobile Baggage Tracking
Company Summary:
1030 Delta Boulevard
Atlanta, GA 30354
(+1) 800-221-1212
www.delta.com
Company Structure:  Public Company (DAL), established in 1928
Number of Employees:  80,000
Operating Systems Supported:  Android, iOS, BlackBerry, Windows Phone 7
Success Story:
Since its launch in 2010, the Fly Delta app has significantly improved passengers' travel experiences.  The app – which is available for iPhone®, Android™, Windows® Phone or BlackBerry® – enables customers to get flight and gate alerts and weather information; check in and access eBoarding passes; change seats; check the status of upgrade and standby lists; explore aircraft details and layouts for Delta's fleet; browse airport maps; and locate Delta Sky Clubs®.
Although the Fly Delta app has already received positive feedback and recognition by passengers and industry insiders alike, we continue to seek revolutionary new features that not only make travel easier for our passengers on the go, but also improve operational efficiency so our employees can focus on providing exceptional customer service.  Our latest success story is the app's baggage tracking feature.
To give customers peace of mind throughout their journey, we invested in a state-of-the-art baggage tracking system which would:
— Enable customers to track bags from departure to arrival and all points in between.
— Improve baggage handling and reduce the number of misplaced baggage complaints filed.
— Increase downloads of the Fly Delta app.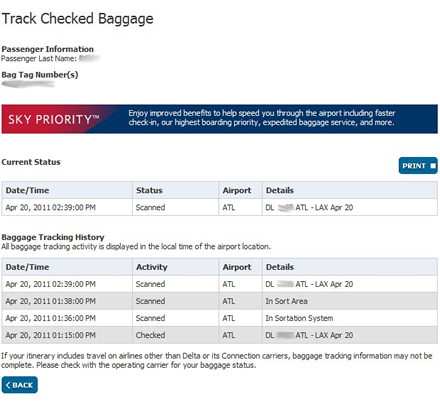 We spent 2011 creating and perfecting this baggage-tracking technology.  We adjusted our back-end baggage tracking system to include data points not traditionally captured by airlines.  These points make it possible to monitor the status of checked bags in real time, much like a mailed package.
The baggage-tracking project officially launched on our website and baggage service kiosks in summer 2011.  But the technology really took off when we rolled it out on the Fly Delta app in fall 2011.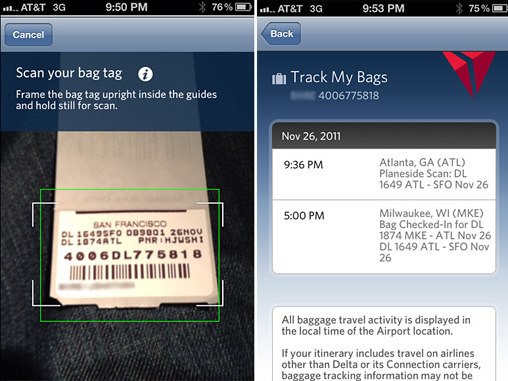 The feature on the app allows a customer to enter his or her bag-tracking number on a smartphone (or, iPhone users can take a picture of the bag tag), and use the number/photo to determine where the bag is in our system.  Upon entering the number, the screen displays a list of touch points, including when the bag boards the plane and when it's loaded on the baggage carousel.  This resulted in the perfect marriage of system and self-service by allowing customers to track their bags from the palm of their hands on the ground or for free while onboard a Delta flight via Gogo® Inflight Internet.  Customers can also sign up for mobile bag status alerts on delta.com.
Each day, approximately 8,000 customers use the app to track their bags.  As a result, we've seen significant improvement in performance and customer satisfaction, experiencing a:
— 69 percent improvement in our DOT bag complaint rate year-over-year.
— 24 percent reduction in mishandled baggage in 2011.
— Decrease in mishandling cases by 32 percent in 2012 (year to date).
— Number one ranking among legacy carriers in baggage handling performance.
We're proud to be the only U.S. airline that gives customers the ability to track their bags anytime, even while in flight. But this is just the beginning.  We're already planning future improvements to this technology that will continue to put customers at ease and enhance the travel experience.