2017 Mobile Star Awards Entrant:
Mobile Smart Home App — Stringify app
Profile:
Stringify
140 W. Main St., 2nd Floor
Los Gatos, CA 95030
Tel: 1-408-888-1796
stringify.com

Facebook:  /stringifyit
Instagram:  /stringifyit
LinkedIn:  Stringify
Twitter:  @StringifyIt
Contacts:
Mike Yurochko, CEO & Co-Founder — Mike [at] stringify.com
Structure:  Private company, established in 2014
No. of Employees:  Approx. 12
OS Supported:  Android, Apple iOS
How Stringify Connects You to Your Home: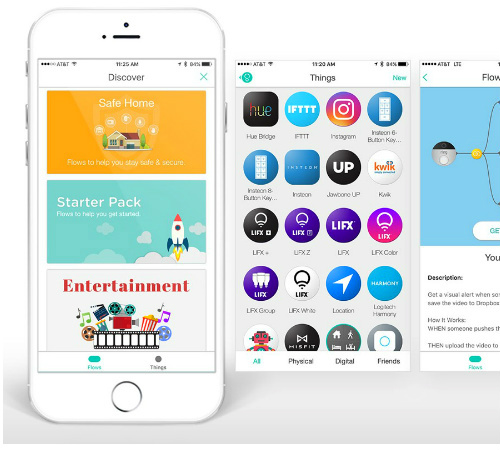 Stringify is a thoughtful automation service for the Internet of Things (IoT) with award winning apps in both iOS and Android. We allow people to connect all their physical products and digital services in one place so they can take better care of themselves, their families, and their homes. Powerful automation has never been more convenient. Primary functions include:
Unrivaled Compatibility: The service connects to over 600 smart products such as Nest, Hue, Ring, Google Home and Amazon Echo (see larger list of Stringify-supported devices here: search.stringify.com/things) as well as digital services like Twitter, Facebook and Dropbox.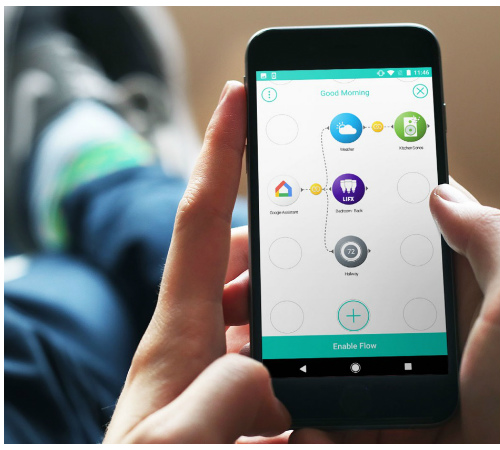 Universal Control: Every device in the system can now be controlled using one app. Easily turn on and off your lights, set your temperature on a thermostat or check your steps on your Fitbit – all without hopping in and out of multiple apps.
Convenient Automation:
Users can easily add automated experiences we call Flows. A Flow is simply two or more "Things" connected together to create a unique experience. There are thousands of curated Flows organized by both Thing and by lifestyle collections and each can be added with the tap of a button.
Unlimited Possibilities: Users can edit any Flow or create Flows from scratch with an easy to use, drag and drop interface. Anything can be connected to anything in virtually limitless ways with multiple inputs, outputs and conditions. Users can even share their Flows with friends, family, or any of the enthusiast communities by tapping a button.
Allowing devices to work together opens up radically different possibilities that can help users lead a safer, healthier and happier life. Some of our most popular examples: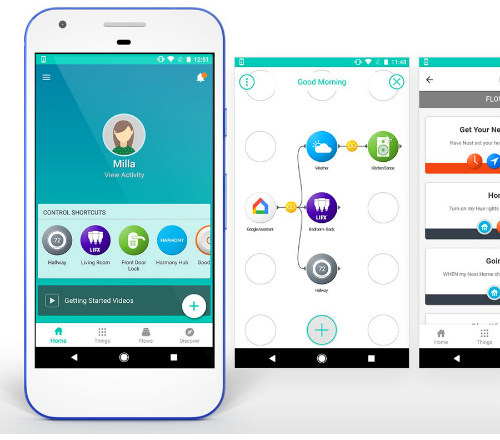 Alexa Good Morning: Automate your morning with Alexa, LIFX, weather, and Sonos via SmartThings. How it works: WHEN I  ask Amazon Alexa "Alexa, tell Stringify Good Morning"…THEN fade on your LIFX bulbs AND play a weather report over your connected speaker. Try it out.
Nighty Night: Help get the little ones to sleep with light and lullabies. How it works: WHEN the Time is 8:30, then turn on the kids LIFX bulb to dim amber and play lullabies over your Sonos connected via SmartThings…THEN after 60 minutes, slowly fade off the LIFX and pause the music.
Watch Dog: Send a dog bark sound over your Sonos connected via SmartThings and turn on your LIFX when there is motion detected after dark. How it works: WHEN the Motion Sensor detects motion AND the Time is after sunset…THEN play a dog bark sound over the connected speaker and turn my LIFX on for 3 minutes. 
Between iOS and Android, Stringify carries a 4.5 star rating across hundreds of customer reviews. Stringify has also won awards from Gartner, CES, Postscapes, Startup 50, IOT Innovator and has been featured in The Huffington Post, Android Police, MacRumors, Lifehacker, Digital Trends, Engadget, Parade, DailyTekk and more.
You can find the Stringify app on Apple's App Store and Google's Play Store.
Recent Stringify App News: