.

2016 Mobile Star Awards Sponsor & Winner:
Mobile Entertainment Innovation — SteelSeries Stratus XL & Nimbus
Company Profile:
SteelSeries
Skovbogårds Allé 13
2500 Valby, Denmark
Tel: +45 702-500-75
Americas [at] steelseries.com
SteelSeries.com

Company Contacts: 
Craig Olson, President, Worldwide Mobile — craig.olson [at] steelseries.com
Structure:  Private Company, established in 2001
OS Supported:  Apple tvOS, Apple iOS, Mac OS, Android, Windows Mobile
About SteelSeries Game Controllers:
Nimbus Wireless & Mobile Game Controller for Apple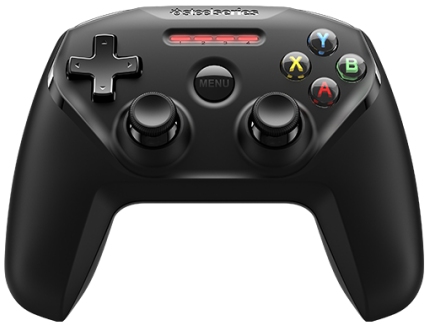 Together with Apple, SteelSeries successfully launched Nimbus, the first wireless game controller for Apple TV, in September 2015. Nimbus is also the first mobile game controller to work with Apple TV, iPhone, iPad, iPod touch, and Mac—ever.
SteelSeries identified a very clear consumer need for a high quality, well designed, high functioning gamepad controller for Apple TV and the Apple ecosystem in general.
What makes Nimbus innovative:
— Long list of industry first features, such as a built-in Lightening receptacle (the first time Apple has ever allowed this on a third party product)
— Bluetooth 4.1 RF module (designed for this product)
— HOME button identical in design and features to the HOME button on Apple's Siri controller
— The industry's first non-clickable joysticks designed especially for Nimbus
— Triple-injected ABXY buttons, contoured triggers, a pause button allowing consumers to exit a game experience and re-enter on a host of other Apple devices
— Bluetooth pairing button that pairs devices in milliseconds
— Sits side-by-side with Apple TV at Apple stores around the world
— Compatible games: Afterpulse, Asphalt 7, FIFA 16, Final Fantasy 7, Minecraft, NBA 2K, Pac-Man, Real Racing, Riptide GT, many hundreds more
Press and consumer reviews of Nimbus have been consistently stellar—definitely among the best for any product SteelSeries has ever made. Apple Insider summed it up best: "The SteelSeries Nimbus is the best wireless controller for iOS devices we've ever tested…"
For more information, check out the Nimbus – Apple TV press announcement.
Stratus XL Wireless & Mobile Game Controller
for Android + Windows

.
— Works with Oculus Gear VR (see photo below), Android 3.1+, Windows 7+, and plays over 2000 games on Steam
— Home and Back buttons for seamless gaming on Android 3.1+ devices
— Compatible with Windows 7 and up for use with thousands of controller-enabled games
— Leverages Microsoft's XInput and DirectInput for use on a variety of platforms
— The comfort and ergonomics of familiar full-sized controllers
— Clickable joysticks and color-coded face buttons for additional controls and ease of use
— Works great with Steam® Big Picture mode for an immersive gaming experience
— Extended battery life of 40+ hours with 2 AA batteries (included)
— Launched at E3 in 2015
— Compatible game titles include: Gunjack, Anshar Wars 2, Ocean Rift, Land's End, and Esper 
Stratus XL is the preferred mobile game controller for Oculus/Samsung Gear VR as seen on their website.
For more information, check out the Stratus XL product announcement.
Overall, SteelSeries has set a new global standard for quality and value in the mobile gaming category. SteelSeries is not only well positioned in the mobile gaming space, but its partnerships with Apple, Oculus and others have made Nimbus and Stratus XL the preferred controllers for each platform. Sales figures indicate that the mass market has finally caught up to SteelSeries' mobile game controller products. The future of gaming is here.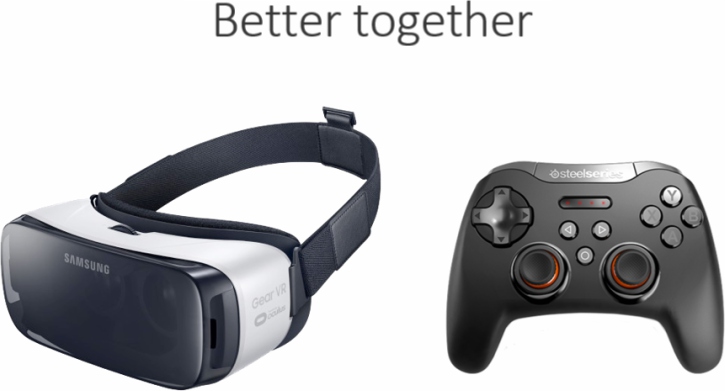 Recent SteelSeries News:

.
SteelSeries Siberia 840 now available: The best wireless gaming headset upgraded with Bluetooth
SteelSeries and Virtus Pro announce multi-year partnership
SteelSeries announces new Rival 700 first-ever gaming mouse armed with a fully customizeable OLED display and tactile alerts