2012 Mobile Star Awards Winner:
>  Consumer Cloud Services or Remote Access – SOTI Pocket Controller Pro
>  Enterprise Cloud Services or VPN – SOTI MobiControl Cloud
>  Enterprise Mapping or Location Based Services – SOTI MobiControl
>  Enterprise Mobile Device Management – SOTI MobiControl
>  Enterprise Security – SOTI MobiControl
>  Enterprise Mobile Software or Services Visionary – SOTI's Carl Rodrigues
>  Mobile Device Mgmt. Success Story – American Airlines & Brookdale Senior Living
Company Summary:
5770 Hurontario Street, Suite 1100
Mississauga, Ontario L5R 3G5 Canada
(+1) 905-624-9828
sales@soti.net
www.soti.net
Company Contacts:
Carl Rodrigues, President & CEO, carl@soti.net
Ron Hassanwalia, VP, Sales & Marketing, ron@soti.net
Oscar Rambaldini, Director, Product Development, oscar.rambaldini@soti.net
Sandra Abuwalla, Sr. Marketing Communications Manager, sandra@soti.net
Company Structure:  Private Company, established in 1995
Number of Employees:  200
Operating Systems Supported:  All Platforms, All Web Browsers
SOTI is the largest MDM vendor in the world, with over 10,000 customers across all vertical markets, managing millions of devices. SOTI's clients span across 170 countries worldwide and has a partner network of over 450 resellers.
Featured Mobile Solutions: SOTI for Remote Access, MDM & Security
SOTI Pocket Controller-Pro for BlackBerry and Windows Handhelds is the best-selling productivity, presentation and training tool used by developers, reviewers, salespeople, mobile hardware/software trainers, and regular mobile device users around the world. With Pocket Controller-Pro, you can view and control your mobile device using your desktop computer monitor, keyboard and mouse. Core features include: Real-Time Remote Control, File Synchronization, File Explorer, Registry Editor, Task Manager, System Information, Screen/Video Capture, Printing and much more.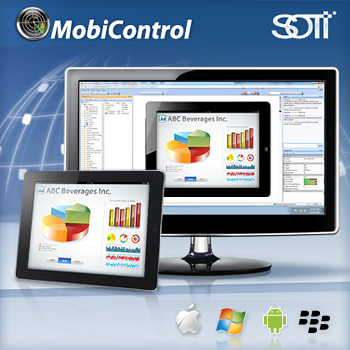 SOTI MobiControl has a rich suite of features for BYOD deployment as well as advanced MDM functionality for comprehensive enterprise mobility management. The BYOD features include advanced content management, self-service portal, enterprise application catalog, certificate management and many more.
MobiControl's advanced MDM features include the world's fastest remote control (now even faster with Blitfire10X technology), kiosk mode/lockdown, location services and geofencing, silent application installation technology, antivirus/malware, device relocation policies, white listing and blacklisting of applications and much more.
Features:
SOTI MobiControl's Multi-Platform Web Console is a powerful, centralized interface for secure, flexible, automated and over-the-air management of mobile devices.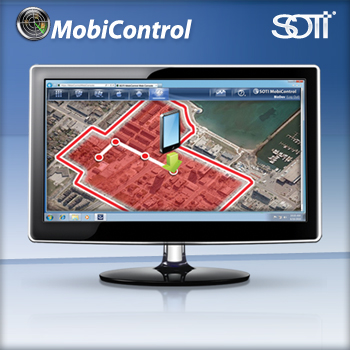 World's Fastest Remote Control is now even faster with Blitfire 10X technology. MobiControl's powerful remote control and comprehensive suite of Help Desk tools enable troubleshooting and real-time remediation of mobile assets in the field.
Location Services provide the ability to locate, track and gather information on users' GPS enabled devices. Geofencing enables IT administrators to set virtual geographic boundaries around devices, and configure notifications and pre-defined automated actions upon geofence violations.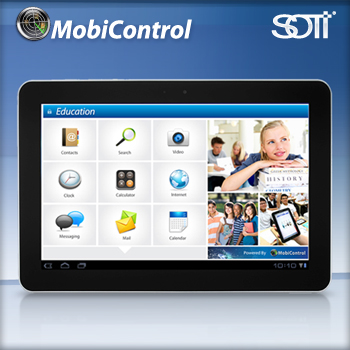 Advanced Security Center provides IT administrators with granular control over how mobile devices are used and how data is accessed. The Lockdown/Kiosk Mode feature allows users to access only specific applications and web sites, and prevents access to all other applications and device controls.
Mobile Email Management (MEM) delivers complete security for corporate emails. IT administrators can configure advanced compliance policies to manage user credentials, and prevent data breaches by allowing, removing or blocking devices accessing the network.
Mobile Content Management (MCM) is a highly secure document container that enables zero touch distribution, content expiration, content attribute override and many more features.
SOTI MobiControl Cloud is the Software as a Solution (SaaS) version of MobiControl. It is hosted fully in the cloud and requires no prior software installation by the customer. MobiControl Cloud is designed specially for global businesses deploying mobility solutions, as well as for service providers and organizations looking to reduce investment costs.
SOTI Pocket Controller Enterprise is an advanced Help Desk solution with remote control functionality for devices running Windows Mobile 5, Pocket PC 2003 and CE 4.2. Pocket Controller Enterprise offers a suite of powerful features, including real-time remote control, file/data transfer, registry editing, remote task management, remote scripting, system status, battery status, soft/hard device resets and more.
Learn how American Airlines & Brookdale Senior Living are using SOTI
to manage large numbers of mobile devices.