Priority boarding SMS updates = happier customers. 
With over 40,000 passengers using Virgin Trains' services every day at London's Euston station, running a busy train schedule and seamlessly managing a high passenger volume are challenging tasks — in fact, Euston station's daily passenger volumes rival those of Heathrow Airport, one of the busiest airports in the world. As a result, Euston is prone to overcrowded concourses and spikes in passenger surges as hordes of passengers notice their platform numbers have been displayed on departure boards. This all leads to increased customer frustration.
Virgin Trains is committed to delivering a high speed, high frequency service to offer shorter and painless travel journeys; however, pain-points during a traveller's journey have created obstacles to optimal customer service. To achieve an exceptional customer experience, Virgin Trains has partnered with OpenMarket to deliver timely SMS updates (mobile text alerts) to help Euston station passengers get to their platforms earlier and beat crowds.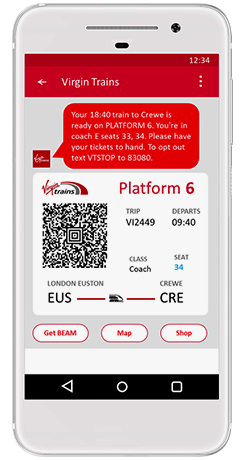 As customer experience is a driving force behind Virgin Trains, since March 2016, the organization has selected OpenMarket's V.4 Global SMS API as a means to manage passenger flow through targeted SMS — changing the way customers move around the station.
Powered by OpenMarket, Virgin Trains' Project Surge is an SMS updates priority boarding system developed to engage with passengers who have reserved seats on Virgintrains.com.
Here's how it works: customers who have reserved a seat online receive a game-changing SMS alert 75 seconds prior to the platform information being displayed on the station's departure boards to every other passenger in the station — allowing them to make their way to their train ahead of everyone else. The message they receive informs customers of their train platform and seat number. On particularly busy trains, SMS messages are delivered first to travelers on Senior, Disabled or Family rail cards.
Priority boarding SMS updates = happier customers
 The Euston station SMS updates have had a hugely positive impact on customer service, as revealed by Virgin Trains' customer satisfaction surveys: 
— For evening rush hour journeys (7pm-9pm), there was a 28% increase in the 'ease of boarding' rating.
— 'Ease of boarding' rating for customers traveling during the morning rush hour (7am-8am) increased by 15%.
Virgin Trains is committed to delivering a comfortable travel experience and excellent customer service to its riders. Sending SMS updates (powered by OpenMarket) has not only offered a better customer experience, but these updates have also increased the safety of both passengers and station staff by eliminating overcrowding, long lines and the stress associated with the established platform announcement process. By regulating passenger flow via SMS updates, ticket inspection and train boarding processes are simplified and streamlined, boosting both customer and staff experience.
The Virgin Trains team proactively implemented mobile technology in an innovative way in order to 'do the right thing' for the customer. It was not an easy process and it involved challenging the status quo in order to drive the travel experience forward.
More innovations and services to come
Virgin Trains continues to revolutionize the travel industry with its digital projects, such as Surge and BEAM (On-board content server), and is the first railway company to offer such personalized SMS alerts in the UK (and probably worldwide!). Virgin Trains and OpenMarket are looking at expanding the Surge project nationwide and are proud to share their commitment to continuously innovate in order to maintain their leading position in the customer service industry.
OpenMarket's mobile messaging solutions resolve the complexities and fragmentation of the mobile ecosystem by providing expertise in engagement solutions, regulatory compliance and industry best practices. Its portfolio of flexible, highly scalable and reliable solutions and professional services allow enterprises to support multiple use cases. OpenMarket SMS won 2016 Mobile Star Awards in both Mobile Customer Engagement and Mobile Mass Messaging. You can find out more here.
(Feature image courtesy of Virgin Trains; screenshot courtesy of OpenMarket)

2017 Mobile Star Awards Finalist Nominee:

Success Story: Mobile Customer Service  — Virgin Trains Surge SMS Updates
2016 Mobile Star Awards Winner:

Enterprise Mobile Customer Engagement — Global SMS API
Enterprise Mobile Mass Messaging — OpenMarket SMS
Contact OpenMarket:

OpenMarket
2211 Elliott Ave.
Seattle, WA 98121
Tel: (+1) 206-264-8220
openmarket.com