Whether you're worried about what sort of instant messages your kids are sending, or worried about how loyal your partner or employee is, a content tracking app may be the answer for you. With SMS tracker apps, your partner's, child's, or employee's texts and instant messages can be forwarded directly to you so that you know precisely with whom they are talking, and what is said. All of this is invisible to the person being tracked.
These SMS and instant message tracking apps can either ease or affirm your fears — allowing you to know with whom and when your loved ones or employees are communicating. In general parents will have tracking rights over their kids, but in most cases adults need consent (more on that below). As local laws may vary, be sure to first check if SMS tracking apps are legal where you live or do business.
One popular SMS tracker is mSpy, which gives you full access to SMS texts, MMS instant messages (iMessage, WhatsApp etc.) and caller history on a targeted cell phone. The mSpy app can even tell you what websites were visited by the person you're tracking.
SMS tracker apps for iPhone or Android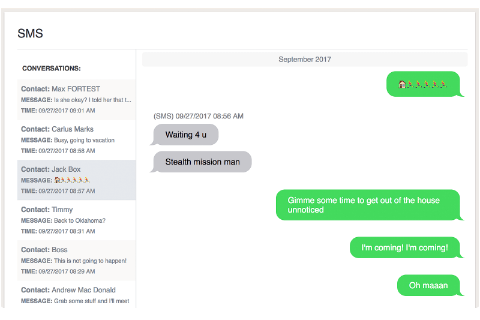 If you're reluctant to put up money for such an app, you can find lots of free SMS tracking apps for iPhone and Android available online. But whether or not you choose a free tracking app or a paid app with more useful features, the data these apps deliver can give you knowledge that's invaluable.
For example, imagine discovering, by way of a tracking app's GPS locator, that your child has been setting off to a part of town he or she ought not to be, or that your child has been communicating with somebody who could hurt them.
If you're a business owner or manager and your field reps conduct business using company smartphones, you can legally track them if they sign such a contractual clause when or after they are hired. A good SMS tracking app can help you prevent your organization from losing money, and prevent private company information from being shared with competitors.
Another motivator to employ a free SMS tracker for iPhone or Android is to easily see whether or not your field reps are spending their work hours using their phones for personal reasons.
SMS tracking app features to look for
A great SMS tracker should have these features: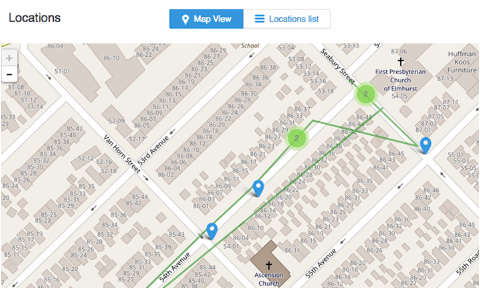 GPS locator: This feature allows you to find where the iPhone user has been and when they were there. This data is shown on a GPS tracking guide. Besides being important for finding your kids or employees, this feature can also be handy for tracking elderly family members who are on the go.
Email monitoring: This is an awesome tool that lets you discover with whom your mobile employees are communicating, by way of each email's time stamp. You can view all of your employee's email messages sent and received, as well as discover when and by whom messages were sent and received.
Phone call logs: Find out all data identified with calls including date, time, span, and the telephone number/name of the individual reached or who called the targeted phone.
SMS monitoring: This feature lets you peruse all messages sent and received on the targeted phone. This tool works with multimedia instant messaging apps like Skype, WhatsApp, iMessage, and others, to name just a few.
Now that you know the essentials of SMS tracker apps, you can take your first step with a free SMS tracker or consider a more specialized, adaptable app that you can buy on monthly basis.