SAP (NYSE: SAP) has announced that it has completed its $8.3 billion acquisition of Concur Technologies (NASDAQ: CNQR), the company behind a popular line of travel and expense management software and mobile applications. The acquisition was first announced in mid September.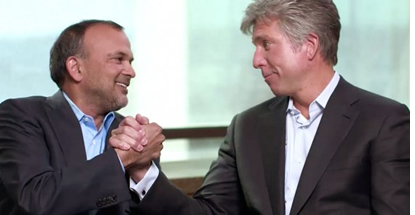 Concur currently has more than 25,000 customers and 25 million active users in over 150 countries. SAP says the company will operate as a business unit within SAP and continue to be led by its existing management team, led by Concur CEO Steve Singh (pictured here on the left with SAP CEO Bill McDermott).
SAP says it plans to integrate Concur with the real-time in-memory capabilities of SAP's "HANA" platform, as well as the collaborative commerce software of SAP's Ariba division, and the workforce management applications from Fieldglass, a company that SAP acquired this past Spring.
Mobile moved Concur acquisition
According to Concur's Singh, his company's focus on mobile and cloud capabilities played important roles in SAP's Concur acquisition, since those are also areas of increasing focus for SAP.
"When you start talking about mobile, cloud and open platforms, and you execute against that vision, people start to take notice," Singh said during his keynote speech at Concur's Perfect Trip DevCon in San Francisco this Fall. "And the folks at SAP took notice. (SAP CEO) Bill McDermott, who is a fantastic guy, said 'you know what, I'm starting to buy into this vision.'"
Concur has notified the Nasdaq stock market of the completion of the acquisition, and expects trading of its common stock to be suspended pending delisting of such shares. All outstanding shares of Concur have been converted into the right to receive US$129 per share in cash.
SAP expects Concur to contribute €40–€45 million ($47.7 to $53.7 million USD) to SAP's non-IFRS cloud subscriptions and support revenue for the fourth quarter and full year 2014. The contribution to SAP's non-IFRS operating profit in 2014 is expected to be insignificant. SAP will provide 2015 guidance and mid-term targets including Concur in January 2015.