Samsung Galaxy Note 8 reviews & specs roundup:
The first Galaxy Note 8 reviews are in, and Samsung's newest Galaxy phone is already a hit. But can it fend off the upcoming iPhone 8 Plus (due for a mid September release) or will compete with the less expensive Galaxy S8 Plus? We have the Galaxy Note 8 reviews and specs for you below to decide if you want to take the plunge.
Galaxy Note 8 specs & features
The Galaxy Note 8 features a giant 6.3″ Quad HD+ Super AMOLED Infinity display, Android 7.1.1 Nougat (which Samsung will upgrade to Android Oreo), a top-speed processor (Qualcomm Snapdragon 835 for the US or Samsung Exynos Octa core for other countries), 6GB of RAM, 64GB of storage and expandable memory up to 256GB, 3,300 mAh battery, and your choice of iris or fingerprint scanning. The latter scanner is still awkwardly placed near the back cameras, but now at least it's easier to tell apart.
So far, most reviewers agree that the Note 8's new camera features are its most noteworthy (yes–pun intended). The Note 8 offers optical image stabilization on both the rear 12 MP wide-angle and telephoto lenses. each of which can be used simultaneously. There's also a new Live Focus feature that lets you control the depth of field by adjusting the bokeh effect both in preview mode and even after you take the photo. The front selfie cam is now 8 MP–up from 5 MP last year.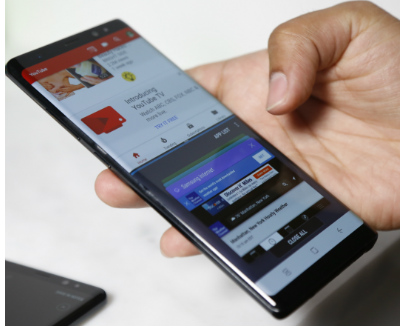 The biggest new software feature is App Pair, which lets you pair any two apps you want to always simultaneously launch together in split screen mode. While having two windows open would be cumbersome on smaller phones, they make sense on the Note's large screen. And for real desktop multitasking, you can also drop the Note 8 into Samsung's new DeX dock to use your phone with a monitor and keyboard.
Other software improvements include Live Message for creating handwritten or animated messages, message notifications on the lock screen, improved Screen Off Memo, and improved translation features including the ability to translate text while hovering over it with the S Pen. The S Pen itself has been improved with a finer tip and improved pressure sensitivity.
Like the Galaxy S8 phones and ill-fated Note 7, the Galaxy Note 8 waterproof. The IP68 rating is the highest you can get for a phone, so you can dunk it fully in up to a meter of fresh water for up to 30 minutes. (But still, do so at your own risk.)
If you're wary of a random battery fire as happened last year with a few unlucky Galaxy S7 owners, Samsung says it has prioritized safety through its "eight point" testing program on each phone. On top of that, Samsung is giving Note 8 buyers in the US 60 free days of Samsung's protection service as well as in-home visits from HelloTech.
Galaxy Note 8 reviews roundup
Because the Note 8 isn't out until September 15, these early Galaxy Note 8 reviews are limited to hands-on impressions from reviewers who spent just a short time with the device at Samsung's launch event. We'll update this page with their more updated reviews until at least September 15. Follow the links for more of each hands-on:
"Our test photos came through with remarkable color and clarity, and the 2x optical zoom also worked very well. We even got good-looking photos when we were shooting in the dim corners of Samsung's demo station. …Even at this early stage, the Note 8 seems poised to become the gold standard for big smartphones." — Engadget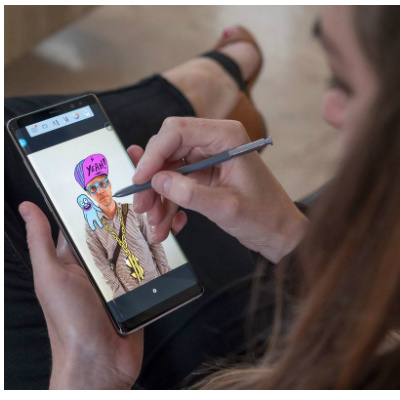 "Its bezel-less display is on par with the dazzling beauty of the Galaxy S8, and with bang-up-to-date internals, new and improved S Pen features and fancy dual rear cameras, the Note 8 looks like the crème de la crème of smartphone flagships." — Expert Reviews
"Other useful, small software features, like the ability to easily create GIFs from videos, are also here. And the overall look, feel, and fluidity remains leaps and bounds better than the old days of bad, ugly Samsung software. …Assuming the company can avoid unforeseen disaster with the Galaxy Note 8, it will have made a triumphant return from one of its most humbling failures." — The Verge
"The Note 8 doesn't really offer much over the S8 and S8+ at all. That's not to say the Note 8 isn't an exciting phone, because it is. The S-Pen will be useful to some – it just isn't for me – and the more straight-edge design with steeper curves will appeal to those who find the S8 too curvy. But the biggest difference will hopefully be the camera. …I love the telephoto lens on the iPhone 7 Plus, and the addition of OIS here should make Samsung's version even better." — Trusted Reviews
"The Note 8 manages to be just slightly larger than its predecessor, but much bigger – and badder – in every other area that truly counts. The screen is a sight to behold, adding a zoom lens gives people more possibilities, and the S Pen remains one of the most useful tools to anyone that bothers to use it, especially for productivity." — Android Authority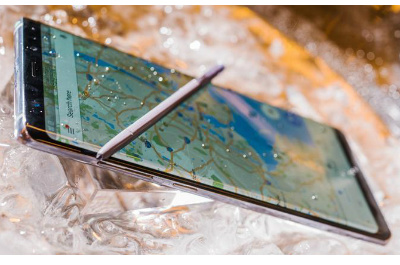 "Aside from the S Pen itself, the feature that makes this a Note, all of the specs, features and hardware that make the Galaxy Note 8 great can be found on the Galaxy S8+ (and much of the competition). There's nothing new, revelatory or novel about the Galaxy Note anymore — it's just another great high-end phone, plus a stylus." — Android Central
"The two differentiators here are the S Pen and the dual cameras. If you're an S Pen lover, there's going to be a major processor, camera, and modem performance jump here over the Note 5. You're going to pay a stiff price for the Note 8, but you'll get elegant, top-of-the-line everything, plus your beloved pen. If the S Pen doesn't entice you, mull over whether the dual cameras are worth the premium." — PC Mag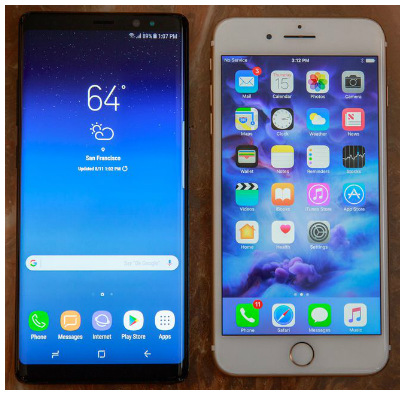 "Our first impressions of the Galaxy Note 8 are generally positive. It's effectively an extension of the S8 range with a larger screen, S Pen stylus and dual cameras. A lot of that is attractive but whether you want to pay extra for it is another matter, especially with a smaller battery [than the S8 Plus]. For Note fans, it's probably a no-brainer but other will find one of the S8 models satisfies." — TechAdvisor UK
"There's just one final sticking point, and that's price. The Note series is typically Samsung's costliest phone, an expense that Samsung justifies with the most cutting-edge features and a heap of stylus tricks. This could work in Samsung's favor if the iPhone 8, Google Pixel 2 and LG V30 also cost a bundle. Or, the relatively high price could backfire if more buyers go for the Galaxy S8 Plus ($719.88 at Amazon) instead. Sure, the S8 Plus has only one rear camera and no stylus, but it's otherwise about the same, for a little less cash." — CNET
We'll keep updating this page with more Galaxy Note 8 reviews up until the September 15 release date.
Galaxy Note 8 sales & release date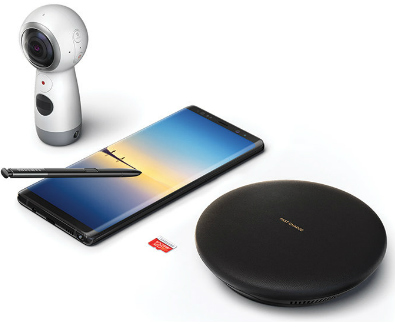 The Galaxy Note 8 is now available for preorder from Samsung and Amazon, and will hit stores on September 15 — including most major carriers and big box retailers. If you order by September 24, you can snag your choice of a free Samsung Gear 360 camera (pictured, $230 retail) or a Galaxy Foundation kit with Samsung 128GB EVO+ memory card and Fast Wireless Charging Convertible ($190 retail). Some retailers like Best Buy are offering a free DeX dock.
If you already own a Note 7 or other recent Samsung flaghship phone, you're eligible for an instant trade-in value of up to $425 when ordering from Samsung's website.
Galaxy Note 8 alternatives
The consensus from these and other Galaxy Note 8 reviews is that the Note 8 has set the new standard for 6-inch plus smartphones. But if you can't stomach the high price, there are lots of cheaper Galaxy Note 8 alternatives — some just announced or previewed this month. These include the LG V30, Essential Phone, slightly smaller Asus ZenFone 4 Pro and Nokia 8, as well as the upcoming Google Pixel 2 XL. Of course there'll be the iPhone 8 Plus too, but don't expect it to be cheaper.