ReSound's Smart 3D hearing aid app is a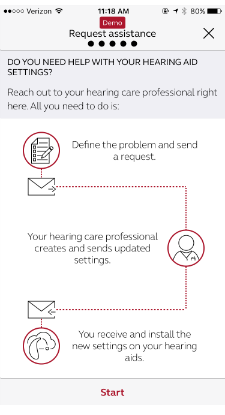 2017 Mobile Star Awards Nominee:
Medical App — ReSound Smart 3D app
Healthcare Medical Innovation — ReSound Smart 3D
Hearing loss is one of the most prevalent chronic health conditions, affecting more than 500 million people worldwide who experience it in some degree. Moreover, the National Institute on Deafness and Other Communication Disorders (NIDCD) estimates that one in three people in the US between the ages of 65 and 74 has hearing loss, and nearly half of individuals older than 75 have difficulty hearing.
Launched in May 2017, ReSound LiNX 3D™ and the accompanying ReSound Smart 3D™ hearing aid app have brought telehealth to audiology as the world's first hearing aid solution with comprehensive remote fine-tuning capabilities to help address those people's needs.
Together, these innovations allow users to request and download software adjustments from their hearing care provider (HCP) to their hearing aids from anywhere securely through the cloud.
Hearing aid app benefits
ReSound Smart 3D utilizes the company's proprietary ReSound Smart Fit software to meet these needs, and brings with it unprecedented benefits to individuals with hearing loss. With a built-in guidance and remote assistance feature, ReSound Smart 3D also gives users direct access to their HCP for efficient, on-the-go optimization.
HCPs will typically see clients for 4-7 fine-tuning appointments after an initial hearing aid fitting. Making these adjustments through the cloud via an app to ReSound LiNX 3D hearing aids greatly reduces the amount of time users spend making and traveling to appointments, while allowing professionals more time to dedicate to their practice and valuable user counselling.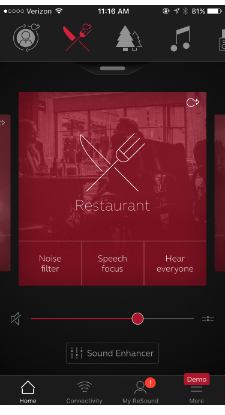 While ReSound's cloud-based teleaudiology can greatly improve the lives of all people with hearing loss, the feature is particularly helpful for users who have limited mobility, live in rural areas, are constantly traveling, or need to commute long distances to visit their HCP, just to name a few.
While any user would enjoy the increased convenience ReSound LiNX 3D provides, it can be life-changing for this subset of individuals with unique needs.
The ReSound Smart 3D app allows users to personalize their ReSound LiNX 3D hearing aids directly from their smartphone or Apple Watch themselves based on their current listening environment. The hearing aid app enables users to easily personalize sound preferences, geotag settings for favorite locations. Users can also stream conversations and music from a smartphone to their ReSound LiNX 3D hearing aids.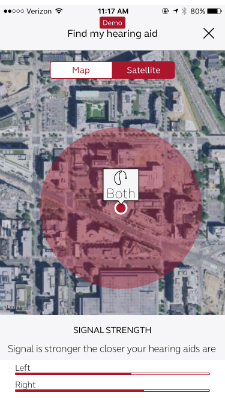 The ReSound Smart 3D app is part of a new industry-leading ecosystem of innovations that leverages the latest technologies to introduce a comprehensive telehealth solution to hearing aid wearers for the very first time.
GN Hearing is committed to developing innovative technologies that improve the lives of individuals with hearing loss, and is proud to present the ReSound 3D Smart app as a pioneering platform for this solution.
The ReSound hearing aid app is a 2017 Mobile Star Awards Nominee and official entrant. You can vote for ReSound here (once only) starting September 12.
You can follow or connect with ReSound GN below. And if you already have a ReSound hearing aid, try out the app from Apple's App Store or Google Play Store.
Company Profile:

GN Hearing
Lautrupbjerg 7
2750 Ballerup, Denmark
Tel (US): 1-202-234-1224
resound.com/en-US

Facebook:  /gnresound
LinkedIn:  GN Hearing
Twitter:  @resoundus
Structure:  Public (GN.CO on Copenhagen Stock Exchange), founded in 1943
OS Supported:  Android, Apple iOS, Apple WatchOS
Recent ReSound mobile news:
Mobile-related press announcements will be posted here.