Google's new Pixel 2 and 2 XL is here — the company has unveiled its new Android phones, along with several phone accessories, new Google Home products and a new Pixelbook Chromebook. So far, reviewers are pretty impressed with the new Pixels, with some even saying that they raise the bar for top-tier phones. We've put together a roundup of initial hands-on Pixel 2 reviews from top tech sites, but let's start off with a quick summary of the Pixel 2 specs and features.
Google Pixel 2 features overview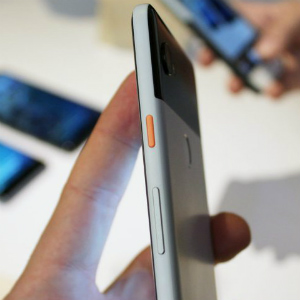 The Pixel 2 ($649+) looks almost identical to last year's Pixel with its 5-inch display, thick bezels and squared corners. The Pixel 2 XL ($949+) now has a 6-inch display, up from 5.5-inches last year. The 2 XL display isn't without bezels, but the bezels are very narrow.
The Pixel 2 comes in your choice of black, white, or "kinda blue", while the Pixel 2 XL offers just two colors: black, or white with a black glass pane (see photo). On the white-colored models, the power button is bright orange — because well, why not?
Both phones come with Android Oreo 8.0, Snapdragon 835 processors, 4GB of RAM, your choice of 64GB or 128GB of storage, front-facing stereo speakers, OLED displays, plus IP67 certified shockproofing and water resistance. However the smaller Pixel has a 1080p resolution display at 441 pixels per inch and houses a 2,700 mAh battery, while the Pixel 2 XL has a 2880 x 1440 resolution (538 ppi) display and an 3520 mAh battery.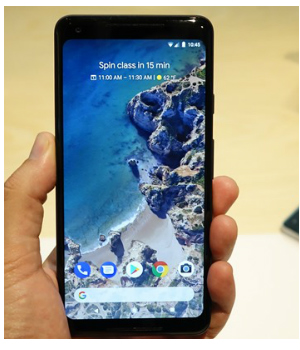 It's on their back sides that both phones depart from last year's look: the glass panel at the top is smaller and the camera lens is bigger, and bumps out just a little bit. And on top of each phone, the headphone jack is now gone. Both phones have a fingerprint sensor that Google claims is the fastest on any phone.
On the software side, the Google Search bar is now at the bottom of the phone. At the top is now "At a Glance", which displays info important to your day like calendar events, traffic, or your flight/train status. On the lock screen, you can now opt to see "always on" notifications at a glance, along with the "Ok Google" voice command. When that's on, the Pixel 2 will listen for any music playing and try to identify it, saving you from unlocking your phone and opening your Shazam app.
Another unique feature in this category is Google Assistant's new squeeze activation, in which you apply gentle pressure to the sides of the phone to activate Google's voice-based AI companion. Squeeze activation already debuted on HTC's U11 earlier this year, and that phone also lets you customize your squeezes to open or adjust many apps. Google could do this too, via a later Android upgrade.
Pixel 2 camera + new Android AR apps
Last year's Pixel got top marks for its camera and quality photos, and this year's Pixel 2 takes even better photos, according to The Verge's hands-on (link below). Both the Pixel 2 and 2 XL house a 8-megapixel selfie cam and 12.2-MP rear camera with an f/1.8 aperture and optical image stabilization. The new 12MP camera scored 98/100 on the DxOMark test, which is four points above previous record holders from Samsung and Apple. For video, the Pixel 2 and 2 XL can shoot at up to 4K quality at 30 frames per second. While that's nothing to sneeze at, the new iPhone 8 can do 4K at up to 60fps.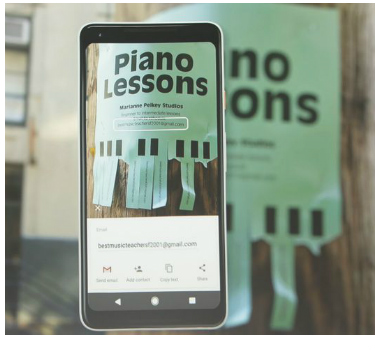 Like last year, buying a Pixel gets you unlimited, full resolution Google Drive storage for photos until the end of 2020. Your photos and videos will be stored at their original resolution (including 4K video). Unless you opt to pay for more Drive storage by 2021, all new photos or videos you take will be stored in high resolution, but not necessarily full resolution.
The new Pixels' cameras also support the Google's new Lens object recognition tool, which so far works with books, movie posters, business cards, and landmarks. You can also use Lens to capture a Wi-Fi modem label and automatically connect, saving you from typing in the network ID and password. Samsung's Galaxy S8 and iPhone 8 can now do this, too.
Augmented reality is hot, and will get even hotter now that Apple's ARKit is in the game. Google has supported AR for a year, but with its new ARCore framework for developers, it's making a big push for AR apps. At the Pixel 2 launch, Google showed off AR apps that let you view place virtual furniture form Houzz right in your own room, create virtual models with Lego pieces, or watch a League of Legends on your dining table.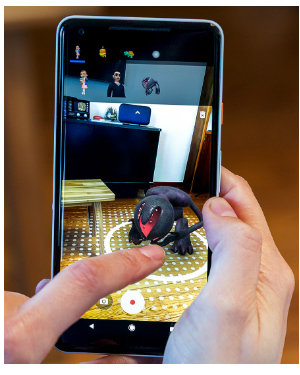 Google also showed off its new Pixel-exclusive AR Stickers, which are animated emoji that you can place in photos and videos. The company demoed AR Stickers from Netflix's Stranger Things, and says more AR Sticker packs are coming from YouTube, the NBA and the next Star Wars movie, among others.
The Pixel 2 and 2 XL are not without downsides. One big downer for many is that there's no headphone jack, following a new trend started last year by Apple and then picked up by the Moto Z, HTC U Ultra, Essential phone and iPhone 8. Aside from the freedom of having wireless headphones or earbuds, we haven't seen any big benefits to removing the jack. Worse, wireless audio phones are much more expensive — at least for now.
Pixel Buds ear buds + Google Clips camera
If you don't mind giving up $159 for Google's new Pixel Buds wireless ear buds, you'll be able to just tap on the right earpiece to tell Google Assistant to place a call, play music, give you directions, or — get this — translate a conversation with someone speaking another language. Yes, the Pixel Buds can deliver near real-time, in-ear translations of 40 languages. Though Google didn't brag much about this feature, it's a feat that no company has done before — and could put traditional language translators out of business.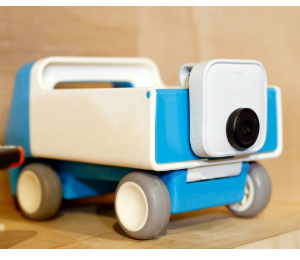 Another accessory for the Pixel 2 is Google Clips, which is a 2×2 inch camera that you can stick on just about anything. With no Internet connection needed, Clips communicates with your Pixel 2 or 2 XL to take photos or video of whatever you want, and "recognizes" people or animals via AI machine learning. Because your hands are free, you can be fully in photos or videos, too. You can also set Clips to select your best images or video clips and automatically upload them to your Google Cloud account. Google Clips will be available in November for $249.
Pixel 2 cost and sale dates
If you're in North America or the UK you can pre-order the Pixel 2 or 2 XL now, but if you're in Australia you'll have to wait til October 20. If you pre-order in the US, you'll get the new Google Home Mini device for free. The Pixel 2 ships by October 19 in the US and hits retail stores that day, including the Google Store, Google's Project Fi wireless service, Verizon, and Best Buy.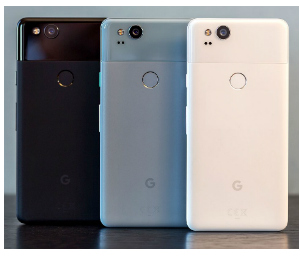 T-Mobile isn't selling the Pixel 2 directly, but it's promising $325 back if you buy the phone unlocked and activate it on their network. And if you go with Project Fi, the Pixel 2's built-in "eSIM" will connect without a SIM card.
In Australia and other countries, the Pixel 2 line ships in November. We'll update this section with more release dates as they're announced. The Pixel 2 costs US $649 (64GB) or $749 (128GB). The Pixel 2 XL costs $849 (64GB) or $949 (128GB). In the UK and Australia, prices are a bit higher.
Pixel 2 reviews roundup: First impressions
Although the Pixel 2 phones don't ship until November, you can decide if you want to pre-order one now by checking out these initial hands-on reviews from Android Authority, Android Central, Android Police, Ars Technica, CNet, Engadget, 9to5 Google and The Verge. The Verge is somehow the only blog to snag a pre-release Pixel 2 for review, so for now, it offers the only photos of the device outside of Google's launch site demo room. (We included some here.)
For video first impression reviews of the Pixel 2 and 2 XL, we recommend the hands-on videos by Marques Brownlee aka MKBHD and Michael Fisher aka Mr. Mobile.
If you're wondering how the Pixel 2 stacks up against the Galaxy S8, LG G6 and iPhone 8, Engadget also has a handy comparison chart. Most phones have similar specs, though the larger Galaxy S8 and LG G6 are still tops in the number of pixels they squeeze into their displays, with 570 and 564 pixels per inch versus 441 and 326 ppi on the Pixel 2 and iPhone 8, respectively.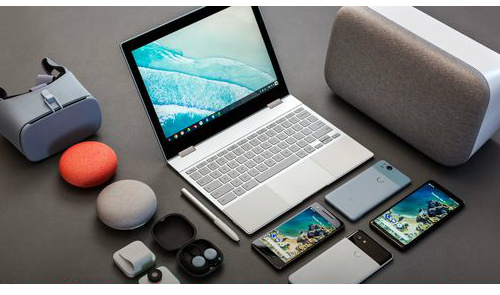 At its launch event Google also showed off its new $999+ Pixelbook laptop-tablet hybrid, a $99 Pixelbook smart pen that automatically searches the web for any text or images you circle, an updated Google Home, a pincushion-shaped "Home Mini" ($49, or free with a Pixel 2), a Home Max home stereo, an updated, $99 Daydream VR headset, $159 smart wireless headphones, and a $249 smart, clip-on camera accessory.
For strong hands-on first reviews of the new Pixelbook, we recommend 9to5 Google, Ars Technica, Engadget, The Verge and Wired UK.
End Google Pixel 2 features & Pixel 2 reviews roundup