Photofy, a relatively new but popular photo editor app for iOS and Android, has been updated to version 3.0, bringing a number of major new features.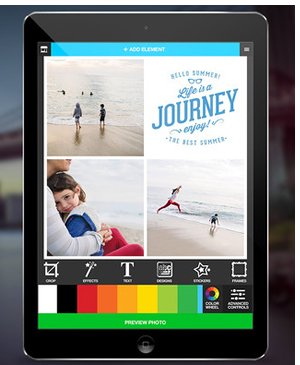 Photofy lets you dress up your photos with a very large selection of stock backgrounds, professionally designed graphics, stickers, over 90 free fonts, 30-plus free filters, and frames. The app includes a content library of over 250 categories that range from birthdays to babies, Halloween to holidays, weddings to college logos, and of course selfies.
Photofy photo editor 3.0: what's new
Version 3.0 has a new "Experiences" feature that lets you create photos by theme or brand, and view photos from other users who are interested in the same content. So far there are over a hundred experiences from which to choose, with more being added.
The app's new thematic photo capture feature lets you apply filters in real time before taking a photo–a relatively unique concept. For example if you select the "birthday" theme, you can choose from several birthday frames while taking your photos, and then share in one step.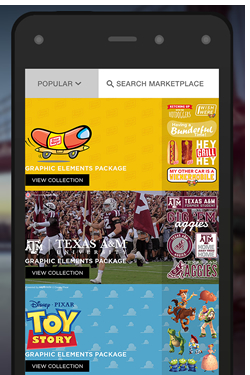 A new Marketplace section entices you to shop for licensed and branded content from graphic artists, major brands like Disney and Pixar, characters such as Shrek and Popeye, college and university logos or mascots, and Greek sororities.
A new carouseled home screen lets you swipe to view our Experiences, Marketplace and Photo Stream pages, or simply begin creating from the main landing page.
Offline Mode now lets you access the app's text and filter tools, plus a limited selection of designs, stickers and frames. Most of the other features remain online only.
After you've previewed your photo or montage and are happy with it, you can share your image directly from Photofy to email, Instagram, Facebook, Twitter, Google+, Line and other social media sites.
Photofy's photo editor app is available for free download for iOS from the App Store, and for Android from the Amazon Appstore and Google Play.