2016 Mobile Star Awards Winner:
Mobile Application Testing — Perfecto Mobile Wind Tunnel
Enterprise Mobile Services Visionary — Yoram Mizrachi
2014-15 Mobile Star Awards Winner:
Mobile Application Testing — Perfecto Mobile Continuous Quality Lab
Profile:

Perfecto Mobile
120 Presidential Way
Woburn, MA 01801
(+1) 781-205-4111
support [at] perfectomobile.com
perfectomobile.com
Facebook:  /PerfectoMobile
LinkedIn:  Perfecto Mobile
Twitter:  @PerfectoMobile
YouTube:  /PerfectoMobile
Structure:  Private Company, established in 2006
No. of Employees:  200+
OS Supported: 
Android, Apple iOS, BlackBerry, Chrome OS, Mac OS, Windows Phone, Windows
Contacts:
Kristine Englert, Marketing Communications – kristinee [at] perfectomobile.com
Carlo Cadet, Product Evangelist – carloc [at] perfectomobile.com
Christopher Willis, CMO – chrisw [at] perfectomobile.com
How Perfecto Mobile expedites perfect apps:
While digital engagement is central to an enterprise's business strategy, quality plays a stronger role in success. As a result, brands are expanding their focus on digital engagement, improving their quality practices to meet higher user expectations. This is due to the increase in popularity of apps as a critical point of engagement with the brand.
Perfecto Mobile's Wind Tunnel™ is the industry-first mobile application testing solution that breaks through the barrier of connecting development teams and their target end-users, allowing them to focus on the precise experience of those users when testing their apps. The solution optimizes testing for end-user conditions by defining and personifying end-user profiles and by enabling testing across common scenarios such as degraded network conditions, conflicting apps and call interruptions.
Wind Tunnel Mobile Application Testing Benefits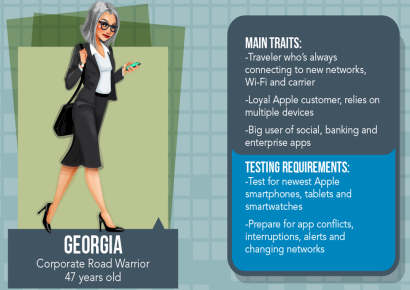 Wind Tunnel transforms Perfecto's Continuous Quality Lab as the first mobile application testing solution to offer pre-defined user profiles that combine a variety of common test scenarios. The solution offers a set of user profiles – from The Gamer to The Stay-at-Home Mom – that assist in defining what real user conditions need to be emulated during testing. It also contains test conditions that, if unaccounted for, can affect apps dramatically, including location changes, varying network quality, usage patterns and resource conflicts with background apps.
Perfecto's Wind Tunnel also seamlessly integrates with existing build/test tools and includes new reporting data to understand app behavior.
The Wind Tunnel offers developers, dev/test teams and executives the following benefits:
Efficient and early analysis – Easily correlate mobile events, vitals, network quality and type, and various conditions that influence the end user experience and learn the impact they have on the end user.
No change to existing test scripts or build processes – Apply real user conditions onto existing automated tests using popular orchestration tools such as Jenkins or TestNG.
.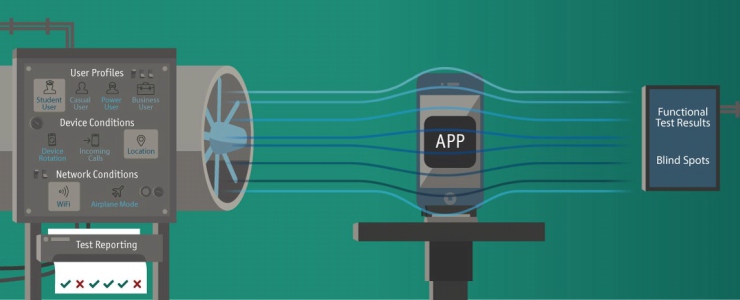 ./.
Meet Perfecto Mobile's Founder, and see how his innovations and leadership are impacting the world of mobile application testing.
Recent Perfecto Mobile News:
Perfecto Introduces Tools Built for High-Velocity Mobile and Web Application Development
YouTube Emerges as Major Requirement for Businesses' Digital Testing Plans
Perfecto's cloud-based test lab helps assure high-quality user experiences using the SAP HANA® Cloud Platform
Perfecto Releases Ultimate Digital Testing Toolkit to Guide Data-Driven Testing Decisions