With just a tap on an iPad from their beds, patients at the new Jacobs Medical Center at University of California San Diego can control their room temperature or lighting, choose their entertainment, connect with family, and even access their medical records and care staff bios. These new mobile hospital apps aim to empower patients and relieve busy medical staff.
"We hope that feeling in control will aid in the healing process," says Thomas J. Savides, MD, Chief Experience Officer at UCSD Health. "Part of this is allowing patients to see portions of their electronic medical record to help them understand their progress and anticipate daily events."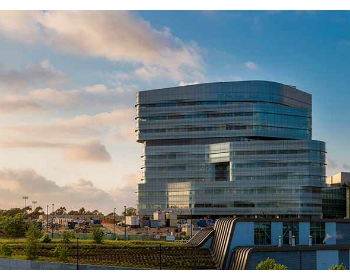 The iPad hospital apps were launched for the November 2016 opening of UCSD's new 10-story, 245-bed Jacobs Medical Center in La Jolla, just north of San Diego. As soon as new patients arrive in their rooms (see top photo), they have immediate access to an Apple TV and iPad, which allows them to adjust their room environment–like lowering blinds or changing the temperature.
If you're thinking that such in-room technology is a pretty big investment for hospitals, you're right. But besides improving the patient experience, it can also increase staff efficiency. That's because being able to control their room environments means that patients no longer need to bother staff for such requests.
Hospital apps can ease patient worries, too
Because information is also power, it's the new "MyChart Bedside" iOS app by Epic–the health records system UCSD Health uses–that aims to really empower patients and their families. After patients create their own PIN, they have easy access to their test results, photographic bios of their care team, a schedule of medications or upcoming procedures, and educational materials prescribed by physicians.
"Some patients are very interested in lab results because discharge from the hospital depends on what their tests reveal," says Marc Sylwestrzak, IS Experience Director at UCSD Health. "When considering the latest technology available, our first priority was patient privacy. Ensuring that a patient's medical record and personal usage data is erased when the individual leaves the hospital room is critical."
To achieve this, each iPad employs Jamf's mobile device management application, which automatically wipes patient data from a device immediately following a patient's discharge, and leaves no trace of the patient's device usage history. The software also communicates with Epic to coordinate with patient records, while ensuring that patient privacy is always protected.
To manage the room environment, a Crestron application is installed on each tablet for patients to adjust room temperature, lights and shades. The center's iPads are also equipped with popular entertainment apps, but patients also have the option to download some of their favorite apps. And by using the AirPlay Mirroring feature, patients are able to show what is on the iPad with others in the room by sharing content via Apple TV.
"By empowering patients with more information and by giving them more control, we hope that patients feel more at home with us," says Savides. With these kinds of inpatient hospital apps now proving their value for both patients and medical teams, expect to see more hospitals adding them in the coming years.
You can find out more about Jacobs Medical Center or get in touch with its patient experience team here.