.

2014 Mobile Star Awards Entrant:
>  Enterprise Business-Ready Laptop — Toughbook 53
>  Enterprise Business-Ready Tablet or Hybrid — Toughpad 4K
>  Enterprise Industrial Rugged Tablet — Toughpad FZ-G1
>  Enterprise Industrial Rugged Phone or Handheld — Toughpad FZ-E1
Company Summary:
Panasonic System Communications Co. of North America
Two Riverfront Plaza
Newark, NJ 07102
(+1) 877-803-8492
B2BSales [at] us.panasonic.com
http://www.panasonic.com/business-solutions
Company Structure:  Public Company (PCRFY), established in 1918
Approx. Number of Employees:  272,000
Operating Systems Supported:  All Web Browsers, Android, Windows
Featured Mobile Devices: Toughpad tablets & Toughbook laptops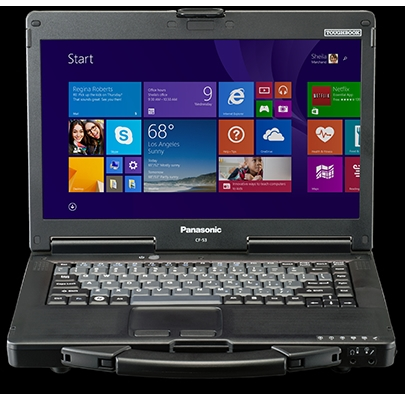 The semi-rugged Toughbook 53 laptop is built to assure a high long-term return on investment for a diverse range of users. With features such as a 14″ sunlight-readable optional touchscreen, anti-reflective and anti-glare HD display, and optional 4G LTE multi carrier mobile broadband with satellite GPS, it is built with a magnesium alloy case with handle, spill-resistant keyboard and certification from an independent third party to survive a 3-foot drop. The Toughbook 53 is available in two models – a model with a 500GB 7200rpm hard drive, optional touchscreen and up to 15 hours of battery life depending on usage conditions; and another model with a 320GB 5400rpm hard drive and up to 10 hours of battery life depending on usage conditions.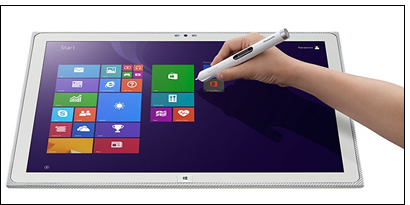 The Toughpad 4K is a professional-grade tablet built to enhance collaboration and mobile productivity in visual-centric fields. As the world's first 20-inch tablet PC with an Ultra HD resolution display, it holds the potential to transform the fields of design, architecture, engineering, retail, sales, medicine and more. The Toughpad 4K offers a brilliant 3840×2560 pixel, 20-inch IPS Alpha LCD screen featuring 230 pixels per inch, a 15:10 aspect ratio, 16.8MM colors and extra wide viewing angles, providing a lifelike viewing experience unlike any tablet on the market. Beyond the display, the Toughpad 4K is a high-powered Windows tablet PC running on an Intel Core i5 or i7 processor. It also holds true to the Toughpad name with business-rugged durability – at less than half an inch thin and less than 6 lbs. in weight. The Toughpad 4K is available in a Performance Model and a Standard Model.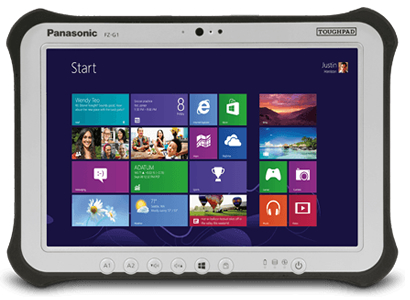 The Toughpad FZ-G1 fully-rugged 10-inch tablet features a 4th generation Intel Core i5 vPro processor, the advanced Microsoft Windows 8.1 Pro update, a single battery providing up to 10 hours of continuous use and optional bridge battery. The Toughpad FZ-G1 is the gold standard for mission-critical mobile professionals in need of a lightweight tablet PC providing desktop-like performance in extreme environments. It includes configuration options for an integrated UHF radio-frequency identification (RFID) reader or contactless SmartCard reader, insertable SmartCard reader, optional certification for use in hazardous locations, 1D/2D barcode reader, GPS, serial port, Ethernet and magstripe reader. The Toughpad FZ-G1 delivers significant productivity for professionals including police officers, soldiers, paramedics, utility workers, field service workers and others. Its fully-rugged design certified to meet IP65 and MIL-STD-810G specifications for drops (up to 4 feet), shock, vibration, altitude, humidity and extreme temperatures.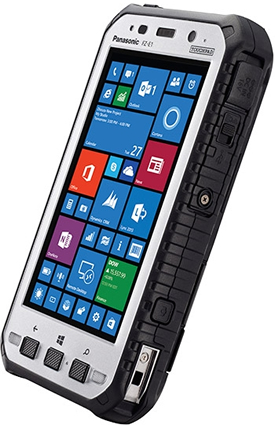 The Toughpad FZ-E1 is a fully-rugged, 5-inch handheld tablet powered by the new Windows Embedded 8.1 Handheld. This enterprise-class handheld tablet — with optional voice and data connectivity — is equipped with 14-hour hot-swappable batteries, FIPS 140-2 Level 1 security, and sunlight-readable HD touchscreens that work even with gloves. The device is fully sealed against dust and is submersible in up to 5 feet of water for up to 30 minutes, meeting IP65 and IP68 certification requirements. It carries an operating temperature range of -4° F to 140°F thanks to a built-in heater, and is also tested for resistance to impact, shock, vibration, altitude and extreme humidity. In addition to 8.0MP (rear) and 1.3MP (front) cameras, configuration options such as an integrated 1D/2D barcode reader and attachable magnetic stripe reader allow enterprises to customize the ideal tool for their workforces. Delivering significant advances over competitive devices, the Toughpad handheld tablet is used by delivery drivers, warehouse workers, police officers and others who need productivity on the go.