OpenKey mobile key app summary and company info: 

2016 Mobile Star Awards Winner:
Mobile Travel Convenience App — OpenKey
Mobile App Development Innovator — OpenKey
Profile:

OpenKey
4100 Spring Valley Road, Suite 710
Dallas, TX 75244
(+1) 469-786-5408
sales [at] openkey.co
openkey.co

Facebook:  /openkeyapp
LinkedIn:  OpenKey
Twitter:  @OpenKeyApp
Structure:  Private, established in 2014
No. of Employees:  not provided
OS Supported:  not provided
How OpenKey saves hotels money & guests time: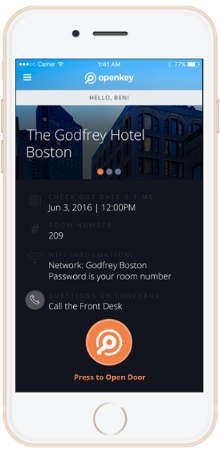 TJ Person has always been in the mobile technology space and traveled a lot for business. In 2014 he saw an opportunity to take the nascent technology of mobile keyless entry and really benefit the industry. With the major hotel chains investing in mobile key solutions that required a particular lock to work, Person saw the need for a universal mobile key that would work with any digital hotel lock, providing hotel owners and managers with maximum flexibility and guests with a simple mobile key experience. With the backing of some strategic investors, that's what OpenKey has done.
OpenKey is reinventing the hospitality experience through its mobile access solution. The OpenKey app is the industry standard for universal mobile key technology and works with 98 percent of digital hotel locks. The open platform solution is integrated with the four largest lock manufacturers in the world for all types of mobile-optimized, Bluetooth-based guest room electronic locks. This gives each participating hotel the freedom to determine the best locks for their OpenKey entry program.
How OpenKey's mobile key app works
The mobile key app enables guests the ability to use their smartphone for mobile entry to their room. Additionally, using the app guests can check in ahead of arriving, call or text with the front desk, and take advantage of hotel amenities. The app also provides important information such as room number, check-in and out dates as well as a convenient satisfaction survey following the guest stay.
For hotel owners, the OpenKey Front Desk app allows staff to easily manage the guest experience. The app, based off of flexible software, works with any PMS system, decreases group check-in time, features an easy to use interface, provides on-site training and 24/7 support, as well as detailed reports.
Additionally, hotels who use the company's technology are able to increase revenue through eliminating the cost of expensive RFID key cards while improving guest satisfaction and increasing customer loyalty. Hotels also benefit from improved administrative efficiency while allowing guests more choice regarding their stay and providing a modern and simple hotel experience for guests. Hotels and their guests benefit from OpenKey's platform providing an improved guest experience through convenience, easy guest access, while reducing costs and unnecessary waste.
Recent OpenKey News:
OpenKey, Sees Impressive Expansion Into 8 Countries Across 4 Continents
Mobile Key Technology Is Attractive For Millennial Travelers
OpenKey Announces Exclusive Partnership With Preferred Hotels & Resorts