2012 Mobile Star Awards Winner:
Operator Subscriber Management — Openet Interaction Gateway
Company Summary:
Corporate Headquarters
6 Beckett Way, Park West Business Park
Dublin 12, Ireland
North American  Headquarters
1886 Metro Center Drive, Suite 310
Reston, VA 20190
(+1) 703-480-1820
info@openet.com
www.openet.com
Contacts:
Barry Marron, Marketing Communications Manager, barry.marron [at] openet.com
Company Structure:  Private Company, established in 1999
Number of Employees:  800+
Markets:  Telecom
Featured Mobile Solutions: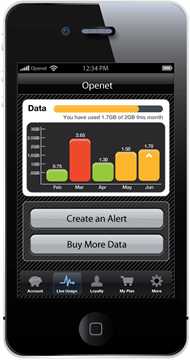 Openet is a global leader of high performance transaction management software, providing operators with the insight, monetization and control within the world's largest and most complex networks. Serving over 80 Tier One wireless, wireline and cable operators in 28 countries, Openet's innovative services framework allows people, machines and services to interact with their network.  Due to the rise in network complexity, both operators and end-users need solutions that enable a two-way dialogue between users and the network.
Openet's newest service, Interaction Gateway, works to bridge the gap between mobile users and operators. This new solution helps extend an operator's ability to share resources, including data usage and management, to improve the customer experience.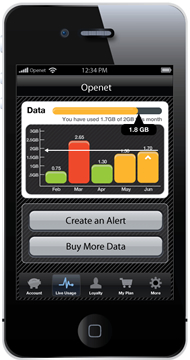 Openet's Interaction Gateway has evolved from Subscriber Engagement Engine (SEE), an industry-first product that gives subscribers real-time visibility into their usage and enables them to directly control, manage and personalize their services, balances and spend. Moving one step further, Interaction Gateway coordinates communication between an operator's Policy and Charging Control (PCC) infrastructure and a virtual agent on a mobile device or tablet. For example, a user can utilize Interaction Gateway to set notifications to be alerted when data usage has reached a specified limit.
Many user and operator benefits result from the implementation of Interaction Gateway on mobile devices, ensuring customer satisfaction is a core feature of the newest solution.  For example, Interaction Gateway can help prevent bill shock by warning users before going over data limits, thus reducing future issues.
In summary, Interaction Gateway allows the following to happen:
— Direct, two-way communication between a user and the operator.
— Open exposure to policy and charging controls in an innovative personalized platform.
— Freedom to monitor data usage and the ability to make changes to services.
As industry trends change the way operators communicate with users, Interaction Gateway helps operators evolve and easily become more transparent, while giving control and freedom to their end users. Customers using Interaction Gateway are more empowered and satisfied with their relationship with operators, leading to an enhanced customer experience. For more information on how to facilitate these beneficial relationships as many carriers already have, visit openet.com.