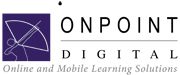 2012 Mobile Star Awards Winner:

>  Enterprise Solutions: CRM – CellCast Solution
>  Enterprise Solutions: Data Capture – CellCast Solution
>  Enterprise Solutions: Collaboration & Presentation – CellCast Solution
Company Summary:

200 Blue Fin Circle, Suite 2
Savannah, GA 31410
(+1) 912-898-9202
info [at] mlearning.com
www.mlearning.com
Company Contacts:
Robert Gadd, President, rgadd [at] mlearning.com
Paige Harris, Marketing Manager, pharris [at] mlearning.com

Company Structure:  Private Company, established in 2002
Markets:  All
Operating Systems Supported:  Android, Apple iOS, Apple Mac OS X, BlackBerry, BREW, Linux, Symbian, WebOS, Windows Mobile, Windows Phone 7 & 8, Windows
Products & Services Summary:
OnPoint's CellCast Solution is the premiere platform for mobile content creation, management, deployment and tracking.  The CellCast Solution allows you to create and deliver content to smartphones and tablets, facilitating anytime/anywhere communications to mobile users.  Interactions with "CellCasts" are simple and intuitive—ideal for product training, learning reinforcement, data collection, and field communications.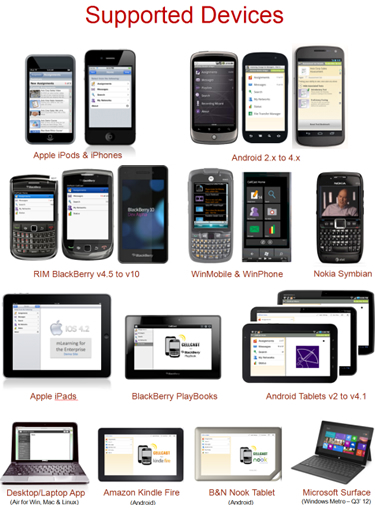 The CellCast Solution is a combination of a web-based platform for authors and administrators with mobile device apps installed and resident on the devices to manage content, access and tracking.  Users take content assigned to them and search for additional content as needed.  Supported content formats include PDF files, narrated PowerPoint presentations, and video and audio clips.  Media-based content is automatically transcoded into any format needed to support enterprise device profiles.  Supported devices include RIM BlackBerry® handsets and PlayBook tablets, Apple iPhone®, iPad® and iPod touch®, Windows Mobile® 5/6, Windows Phone 7, Google Android® devices and popular eBook readers.  Advanced features include search, social media, gamification templates, and user-generated content.
With more than seven years of experience in one platform, the CellCast Solution is mature, robust, and scalable.  As the market leader in mobile learning, our customers enjoy many advanced features, such as the ability to limit access based on a time schedule, learning path functionality, assessments/surveys and rules-based messaging.  Superior security features, including device ID encryption and remote application wiping, make the CellCast Solution the top choice for Enterprise customers.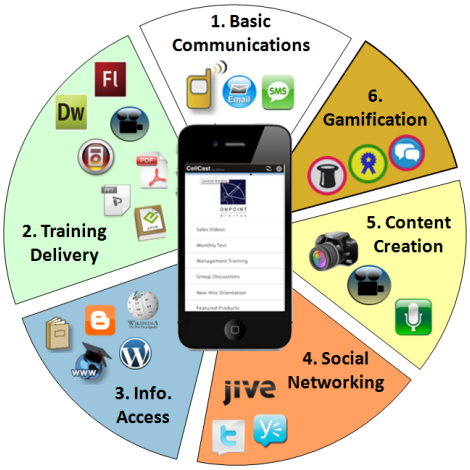 CellCast Highlights:
Distribute triggered alerts/ notifications/ reminders to any user/group

Distribute mobile web content in HTML, Text or PDF formats (reference materials, performance support, supplemental learning)

Deliver PowerPoint, video, and audio clips to media-capable smartphones, pushed or pulled

Create and deploy tests and surveys in web, voice/IVR or 2-way message campaign formats

Make/track assignments by user, group, job code, or location

Create highly customized environments including fully configurable user interfaces and complete replacement of the app "look and feel"

Provide content catalogs with advanced search and content ratings

Analyze access, completion, and test results with detailed reporting and dashboards for managers

Advanced integration capabilities with existing LMS and other business systems

Superior security allows remote application wiping and device ID encryption

User-generated content allows teams to share information on the fly

Social networking features maximize group contact and communication
Gamification templates allow learners to earn badges and track points on a leader board