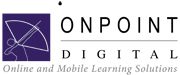 2014 Mobile Star Awards Entrant:
>  Enterprise Mobile Data Capture – CellCast Solution
>  Enterprise Mobile Engagement & Marketing – CellCast Solution
>  MEnterprise obile Training & Learning – CellCast Solution
2013 Mobile Star Awards Winner:
>  Enterprise Mobile Data Capture – CellCast Solution
>  Enterprise Mobile Messaging or Alerting – CellCast Solution
>  Enterprise Mobile Training & Learning – CellCast Solution

2012 Mobile Star Awards Winner:
>  Enterprise Solutions: Collaboration – CellCast Solution
>  Enterprise Solutions: Data Capture – CellCast Solution
>  Enterprise Solutions: Field Sales & CRM – CellCast Solution
Company Summary:
OnPoint Digital
906 Drayton Street
Savannah, GA 31401
(+1) 912-898-9202
info [at] mlearning.com
www.mlearning.com
Company Contacts:
Katherine Guest, EVP Sales & Marketing, kguest [at] mlearning.com
Dave Smelser, VP of Business Development, dsmelser [at] mlearning.com
Robert Gadd, President, rgadd [at] mlearning.com

Company Structure:  Private Company, established in 2002
Approximate Number of Employees:  30
Operating Systems Supported:  All Web Browsers, Android, Apple iOS, Apple Mac OS, BlackBerry 10, Google Chrome OS, Kindle Fire HD, Linux, Windows Phone, Windows desktop, Windows RT 
Featured Mobile Learning & Collaboration Applications: CellCast
OnPoint Digital is a global provider of technology-enabled learning solutions for many of the world's leading organizations. By offering a superior collection of functionality, customization, extensibility, and security, OnPoint is able to deliver user-optimized learning experiences to its customers' internal and external audiences on their device or platform of choice. Headquartered in Savannah, Georgia, OnPoint has truly pioneered learning technology beyond an online courseware delivery platform into the realm of enterprise mobile, social and game-enabled learning solutions and has been a recognized mobile innovator for more than a decade.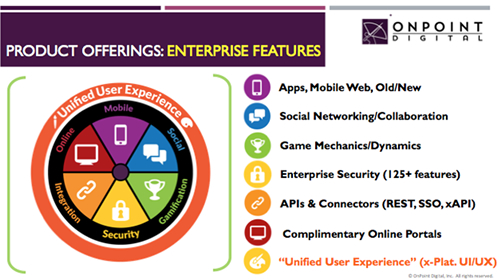 OnPoint Digital has been a market innovator in several key areas in the digital content and learning spaces since our inception and we've been recognized as first mover in technical disciplines in the Human Capital Management ("HCM") space ranging from rapid learning content development, web video delivery, SCORM and xAPI/Tin Can tracking, collaborative learning, gamification and game-based learning, and enterprise mobile learning. Our solution sets and team have garnered more than three dozen industry awards from organizations within the training & development community as well as the broader wireless and mobile applications domains.
Our greatest reward is working to support talented teams at progressive companies around the world and helping them achieve their business objectives by leveraging our solutions. OnPoint's platforms support more than one million workers across diverse industries including high tech, wireless/telecom, retail, healthcare, pharmaceutical, manufacturing, financial services, transportation, government with projects that have spanned 15 user pilots to 150K+ learner production deployments.  Typical use cases include (a) training & development, (b) product knowledge, (c) onboarding, (d) regulatory/compliance, (e) sales training, (f) product training, (g) performance support and several others.
OnPoint's innovative and flexible approach to software solutions enables customers and partners to pick and choose the ideal collection of technologies that can (a) add new capabilities to a legacy system like adding mobile support to an older, behind the firewall LMS platform, (b) introduce new functionality into the work environment to address evolving business needs like implementing a new onboarding program or driving sales enablement or providing product training directly to customers or partners, and (c) provide (or replace) an entire end-to-end learning and/or content management solution. The highly customizable nature of our solution sets enables customers to integrate seamlessly with their existing systems and meld perfectly with their branding and modern User Experience ("UX") expectations.