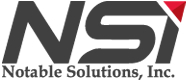 .


2012 & 2013 Mobile Star Awards Winner:
>  Enterprise Mobile Data Capture or Database — NSi Mobile
>  Enterprise Mobile Printing — NSi Mobile
>  Enterprise Mobile Secure File Access or VPN — NSi Mobile
Company Summary:
Notable Solutions, Inc.
530 Gaither Road, Suite 400
Rockville, MD 20850
(+1) 240-268-8100
nsius.com
Company Contacts:
Mike Morper, Vice President of Marketing, mike.morper [at] nsius.com
Mara Radis, Marketing & Corporate Communications Director, mara.radis [at] nsius.com
Walid Dimachkie, Product Manager, walid.dimachkie [at] nsius.com

Company Structure:  Private Company, established in 1995
Markets:  Education, Field Service, Finance, Healthcare, Military, Politics, Public Safety, Real Estate, Supply Chain, Transportation, Utilities
Operating Systems Supported:  Android, iOS
Featured Mobile Solutions:
Mobile Document Capture, Remote Access, & more
Notable Solutions, Inc. (NSi), a leading developer of transactional capture and workflow solutions, developed NSi™ Mobile™, a productivity app for organizations in need of extending business processes to their mobile workforces. NSi Mobile extends the power of NSi™ AutoStore® to Android and iOS devices and is the only solution to provide mobile document capture and photo capture; secure electronic forms processing; secure access to files within a user's home directory; and secure print-on-demand capabilities, all in one combined solution. (See illustration below).
With NSi Mobile, data from accounting, healthcare, ERP or any number of other business applications is extended out to mobile workforces, enabling them to securely deliver documents, photographs and other electronic information back into the business process. Use cases for NSi Mobile include the healthcare worker who needs to quickly capture point-of-care information with a tablet and deliver it into an EHR system; the field service professional who can now provide real-time work order updates into their ERP system; and a university administrator who wants to extend print output and document delivery capabilities to students while they are on campus.
Key capabilities of NSi Mobile include:
Mobile document capture & photo capture: Information on a mobile device including email attachments, files from other applications including cloud based services as well as photos taken with the device can be delivered directly into other business applications, providing real-time situational awareness of the activity.
Secure electronic forms: Remote workforces can complete electronic forms instantly on their devices with robust, two-way data validation ensuring accurate information is delivered into the business process. By using electronic forms, paper is eliminated and error rates, costs and delays associated with processing paper-based forms are reduced.
Secure file access (MyFiles™): The MyFiles capability integrates with the existing infrastructure and gives users access to files from their home directory or corporate network, to view or deliver into a business process. With secure file access, organizations can extend access to enterprise content and information to mobile users with no changes to existing IT policies.
Secure pull print: NSi's secure pull print capabilities enable employees to print "on-demand" documents at any MFP or networked printer by simply selecting from their mobile device the closest networked MFP/printer or scanning the QR code attached to the output device. The user's print jobs are then presented on the mobile device where they can be selected for immediate output.
For more information about NSi Mobile's document capture, forms, remote file access and printing applications, visit nsiautostore.com/autostore/mobile.