.


2012 & 2013 Mobile Star Awards Winner:

Enterprise Wireless Network Coverage — Cel-Fi wireless signal booster
Operator Solutions: Wireless Coverage — Cel-Fi wireless signal booster
Network Deployment Success Story — Atlantic Technology Group
Company Profile:
Nextivity Inc.
12230 World Trade Dr., Suite 250
San Diego, CA  92128
Tel: (+1) 858-485-9442
hello [at] cel-fi.com
cel-fi.com
Structure:  Private Company, established in 2006
OS Supported:  All Platforms
Company Contacts:
sales [at] cel-fi.com
support [at] cel-fi.com
resellers [at] @cel-fi.co
Cel-Fi Features & Benefits: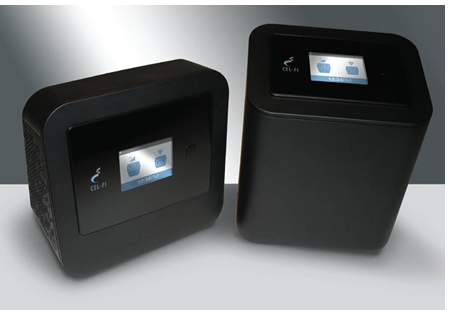 Cel-Fi Pro and Cel-Fi Duo are Nextivity's next-generation smart signal boosters. The quad-band Cel-Fi Pro and dual band Cel-Fi Duo both support 3G, 4G and LTE (including VoLTE). These carrier-specific boosters are built on the third-generation Cel-Fi baseband processor designed by Nextivity's engineering team, which uses advanced signal processing and intelligent antenna design to deliver the world's only self-configuring, environmentally aware indoor coverage systems.
A plug-and-play wireless signal booster
These plug-and-play signal boosters require no cabling, no external antennas, and no user configuration. Once plugged in, Cel-Fi can be set up quickly and easily to deliver up to five bars of 3G or 4G/LTE coverage for up to 13,000 square feet. With its SON capabilities, Cel-Fi boosters are the only ones identified by the Small Cell Forum as being suitable for deployment as part of larger small cell networks.
Cel-Fi quadruples wireless data speeds and eliminates dropped calls for wireless subscribers in their homes/offices by eliminating in-building dead zones and boosting signal strength from one bar to five. With a max system gain of 100dB, Cel-Fi is the most powerful wireless signal booster on the market, offering 10 times the gain of earlier versions and 1,000 times the gain of analog boosters. It is also the only booster in the market that increase both coverage and capacity.
T-Mobile is the first wireless provider in the world to offer the Cel-Fi Duo to customers, extending its 4G LTE network experience indoors where traditional cellular networks hit walls. Cel-Fi Pro is available for AT&T subscribers.
Big operator benefits:
Cel-Fi also brings major benefits to mobile operators. These include:
Reduced Churn: Fewer dropped calls and higher data rates help ensure customer retention.
Higher Data Service Usage: By supporting advanced multi-carrier features, these third generation Cel-Fi systems ensure that customers can maximize their data rates.
Decreased Operational Cost: Lowers cost of indoor coverage and increases capacity of networks.
Network Safety: An embedded System-On-a-Chip technology provides real-time and automatic end-to-end gain control to complement the existing macro network's capabilities.
Operator Specific: The Cel-Fi baseband processor securely manages enhanced services only for the Operator that authorized the system.
Self-Adjusting: Cel-Fi automatically selects or learns the correct frequencies for use based on the channel number and Operator PLMNID codes, thereby eliminating additional and costly operator provisioning efforts.
Multi-Technology Support: Cel-Fi can support both UMTS and LTE in the same system.
Multi Carrier Support: Cel-Fi simultaneously supports multiple carriers with bandwidths anywhere from 5 to 20 MHz with a total system bandwidth of 35 MHz.
See how ATG helps clients improve network coverage and save money using the Cel-Fi wireless signal booster.