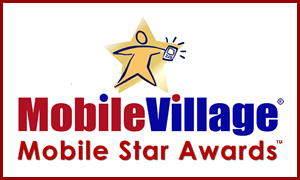 Congratulations to all winners in the 11th Annual Mobile Star Awards™ — honoring the top Mobile Products, Success Stories and Visionaries as chosen by readers of MobileVillage's free email newsletter Go Mobile™.  Winners for the 2012 Mobile Star Awards Winners are posted below.  Thank you to all of you who entered or voted.
Want to enter again this year?  For details about the most current Mobile Star Awards program, see the main Mobile Star Awards™ page.
2012 Mobile Star Awards™
Platinum Sponsors:
Gold Sponsors:
2012 Mobile Star Awards™ Winners:
Congratulations to all 2012 Winners, and thank you to everyone who entered and voted!
In many cases, ties were called when the vote count was under ten percent difference.
CONSUMER APPS:  Cloud Services or Remote Desktop Access
- SUPERSTAR (tie):  LogMeIn – LogMeIn Pro
- SUPERSTAR (tie):  SOTI - Pocket Controller Pro
- Shining Star:  Cortado - Cortado Workplace
- Shining Star:  TeamViewer - TeamViewer
- Rising Star:  Hancom - ThinkFree Mobile
CONSUMER APPS:  Document Capture
- SUPERSTAR:  ABBYY - FineScanner
- Shining Star:  Pixoft - TurboScan
- Rising Star (tie):  Nym Computing – Scan to PDF
- Rising Star (tie):  Pwn with your Phone – Document Scanner
- Rising Star (tie):  The Grizzly Labs – Genius Scan
CONSUMER APPS:  Entertainment [non-game]
- SUPERSTAR:  BeFunky - BeFunky
- Shining Star:  Shazam Entertainment – Shazam
CONSUMER APPS:  Game
- SUPERSTAR:  Ipanema Games - Happy Squirrels
- Shining Star:  Lupis Labs – Robo Defense
- Rising Star:  Psym Mobile – Abduction
CONSUMER APPS:  Media Player
- SUPERSTAR:  Sling Media – SlingPlayer
- Shining Star:  3G Multimedia - ZeneCenter
- Rising Star:  SpotMixer – Vlix
CONSUMER APPS:  Medical Reference or Utility
- SUPERSTAR:  WebMD – WebMD App
- Shining Star (tie):  Dental Anywhere - Dental Anywhere
- Shining Star (tie):  Evolution1 - Evolution1 Mobile App
CONSUMER APPS:  Security
- SUPERSTAR (tie):  AVG – AVG AntiVirus for Android
- SUPERSTAR (tie):  SOTI - Pocket Controller Pro
- Shining Star (tie):  Lookout – Lookout Security & Antivirus
- Shining Star (tie):  NQ Mobile - NQ Mobile Security
CONSUMER APPS:  Shopping or Sales
- SUPERSTAR:  MobileBits - SAMY
- Shining Star:  ShopSavvy – ShopSavvy
- Rising Star:  aisle411 – aisle411
CONSUMER APPS:  Text Input
- SUPERSTAR (tie):  ABBYY - TextGrabber + Translator
- SUPERSTAR (tie):  Nuance – Swype
- Shining Star (tie):  Dexilog – Smart Keyboard Pro
- Shining Star (tie):  Go Dev Team – Go Keyboard for Android
- Rising Star:  Vision Objects – MyScript
CONSUMER APPS:  Web Browser or Utility
- SUPERSTAR (tie):  NQ Mobile - NQ Mobile Vault
- SUPERSTAR (tie):  Opera Software – Opera Mobile
- Shining Star (tie):  MoboTap – Dolphin Browser
- Shining Star (tie):  Skyfire – Skyfire Browser
- Rising Star:  NQ Mobile - NQ Family Guardian
ENTERPRISE SOLUTIONS:  Application Development
- SUPERSTAR (tie):  Kony - KonyOne platform
- SUPERSTAR (tie):  MobileFrame - Configurable Mobile Solution
- Shining Star:  Adobe – PhoneGap
- Rising Star (tie):  Verivo – Verivo App Studio
- Rising Star (tie):  Trilibis – SmartPath
ENTERPRISE SOLUTIONS:  Application Testing
- SUPERSTAR:  Keynote - DeviceAnywhere
- Shining Star (tie):  BugSense – BugSense
- Shining Star (tie):  Mutual Mobile – LaunchPad
- Shining Star (tie):  Perfecto Mobile – MobileCloud
- Rising Star:  TestFlight – TestFlight
ENTERPRISE SOLUTIONS:  Asset Management
- SUPERSTAR:  MobileFrame - Configurable Mobile Solution
- Shining Star (tie):  ClickSoftware - Service Optimization Suite
- Shining Star (tie):  SAP - SAP EAM
- Rising Star (tie):  Interloc Solutions – Mobile Informer for Maximo
- Rising Star (tie):  Syclo – Smart Work Manager
ENTERPRISE SOLUTIONS:  Cloud Services or VPN
- SUPERSTAR (tie):  MOBI - MOBI Wireless Management
- SUPERSTAR (tie):  SOTI - MobiControl Cloud
- Shining Star:  Cortado - Cortado Corporate Server
- Rising Star:  AirWatch – AirWatch
ENTERPRISE SOLUTIONS:  Collaboration & Presentation
- SUPERSTAR (tie):  Brainshark - SlideShark
- SUPERSTAR (tie):  LinkedIn – SlideShare Pro
- SUPERSTAR (tie):  Yammer - Yammer
- Shining Star (tie):  Box – Box
- Shining Star (tie):  FuzeBox – Fuze Meeting
- Shining Star (tie):  TeamViewer – TeamViewer
- Rising Star (tie):  MightyMeeting – MightyTeam
- Rising Star (tie):  OnPoint Digital - CellCast Solution
ENTERPRISE SOLUTIONS:  CRM
- SUPERSTAR:  Salesforce.com – Salesforce Mobile
- Shining Star (tie):  MobileFrame - Configurable Mobile Solution
- Shining Star (tie):  NetSuite – NetSuite
- Rising Star (tie):  Avidian Technologies - Prophet Mobile Web
- Rising Star (tie):  Interchange Solutions – SalesNow
- Rising Star (tie):  OnPoint Digital - CellCast Solution
ENTERPRISE SOLUTIONS:  Data Capture or Database
- SUPERSTAR (tie):  MobileFrame - Configurable Mobile Solution
- SUPERSTAR (tie):  Notable Solutions Inc. - NSi Mobile
- Shining Star (tie):  ABBYY - Mobile Data Capture Solution
- Shining Star (tie):  FotoNotes - FotoNotes
- Shining Star (tie):  Mi-Co - Mi-Forms
- Shining Star (tie):  OnPoint Digital - CellCast Solution
ENTERPRISE SOLUTIONS:  Field Service
- SUPERSTAR:  ClickSoftware - Service Optimization Suite
- Shining Star (tie):  MobileFrame - Configurable Mobile Solution
- Shining Star (tie):  TOA Technologies - ETAdirect
- Rising Star:  FieldOne Systems - FieldOne Sky
ENTERPRISE SOLUTIONS:  Healthcare Practice Management
- SUPERSTAR:  Ingenious Med - impower
- Shining Star:  Allscripts – Allscripts Remote
- Rising Star (tie):  MDeverywhere – MDeverywhere
- Rising Star (tie):  MedAptus – Practice Plus
ENTERPRISE SOLUTIONS:  Healthcare Reference
- SUPERSTAR (tie):  PEPID - Primary Care Plus Ambulatory Care
- SUPERSTAR (tie):  Physicians Interactive - Skyscape Medical Resources
- Shining Star:  Medscape – Medscape Mobile
- Rising Star (tie):  Epocrates – Epocrates Rx
- Rising Star (tie):  Lexicomp – Lexicomp
- Rising Star (tie):  Thomson Reuters – Micromedex
ENTERPRISE SOLUTIONS:  Mapping or Location Based Services
- SUPERSTAR (tie):  ESRI – ArcGIS for Mobile
- SUPERSTAR (tie):  SOTI - MobiControl
- Shining Star (tie):  FieldOne Systems - FieldOne Sky
- Shining Star (tie):  Wireless Matrix - FleetOutlook
- Rising Star:  Telogis – Fleet 9
ENTERPRISE SOLUTIONS:  Marketing
- SUPERSTAR:  MobileBits - SAMY
- Shining Star (tie):  Get It – Get It Mobile
- Shining Star (tie):  Sybase – Sybase 365 Mobile Marketing
- Rising Star (tie):  Archer – iLoop Mobile
- Rising Star (tie):  mBlox – mBlox Engage
ENTERPRISE SOLUTIONS:  Middleware
- SUPERSTAR (tie):  MobileFrame - Configurable Mobile Solution
- SUPERSTAR (tie):  Notable Solutions Inc. - NSi Mobile
- Shining Star:  Birdstep – Birdstep SafeMove
- Rising Star (tie):  Radio IP – Mult-IP
- Rising Star (tie):  Syclo - Agentry
ENTERPRISE SOLUTIONS:  Mobile Device Management
- SUPERSTAR (tie):  MOBI - MOBI Wireless Management
- SUPERSTAR (tie):  SOTI - MobiControl Cloud
- Shining Star (tie):  Cortado - Cortado Corporate Server
- Shining Star (tie):  CoSoSys - Endpoint Protector
- Rising Star (tie):  AirWatch – AirWatch
- Rising Star (tie):  Enterasys - Mobile IAM
- Rising Star (tie):  Plixer - Scrutinizer
ENTERPRISE SOLUTIONS:  Mobile Printing
- SUPERSTAR (tie):  HP – HP ePrint
- SUPERSTAR (tie):  Notable Solutions Inc. - NSi Mobile
- Shining Star (tie):  Cortado - Cortado Workplace
- Shining Star (tie):  EFI - PrintMe Mobile
- Rising Star:  PrinterOn – PrinterOn
ENTERPRISE SOLUTIONS:  Security
- SUPERSTAR (tie):  CoSoSys - Endpoint Protector
- SUPERSTAR (tie):  SOTI - MobiControl
- Shining Star (tie):  NQ Mobile - NQ Enterprise Shield
- Shining Star (tie):  Bit9 –  Bit9 Parity
- Rising Star:  Birdstep – Birdstep SafeMove
ENTERPRISE SOLUTIONS:  Telecom Expense Management
- SUPERSTAR:  MOBI - MOBI Wireless Management
- Shining Star:  Tangoe – Tangoe rTEM
- Rising Star (tie):  MindWireless – MindWireless
- Rising Star (tie):  Wavelink – Avalanche Telecost
ENTERPRISE SOLUTIONS:  Workforce Management
- SUPERSTAR:  ClickSoftware - Service Optimization Suite
- Shining Star (tie):  MobileFrame - Configurable Mobile Solution
- Shining Star (tie):  TOA Technologies - ETAdirect
- Rising Star:  Kronos – Workforce Mobile
HARDWARE:  Rugged Tablet Computer
- SUPERSTAR:  Panasonic – Toughbook Field
- Shining Star:  Motion Computing - Motion F5t
- Rising Star (tie):  MobileDemand – xTablet T7200
- Rising Star (tie):  Xplore Technologies – iX104C5
MOBILE INDUSTRY SERVICES:  Public Relations
- SUPERSTAR:  Vantage Communications
- Shining Star (tie):  Nadel Phelan
- Shining Star (tie):  Sonus PR
OPERATOR SOLUTIONS:  Media Delivery
- SUPERSTAR:  Openwave Mobility - Media Optimizer
- Shining Star (tie):  3G Multimedia - MG3 Music Streaming Solutions
- Shining Star (tie):  Bytemobile – Smart Capacity
- Rising Star (tie):  Bluestreak Technology – MachBlue
- Rising Star (tie):  Smith Micro – Vidio
- Rising Star (tie):  Vantrix – Bandwidth Optimizer
OPERATOR SOLUTIONS:  Mobile Payments
- SUPERSTAR (tie):  MACH - Direct Billing Gateway
- SUPERSTAR (tie):  Payfone – Payfone
- Shining Star (tie):  Payvia - payvia
- Shining Star (tie):  Redknee – Next Generation Rating & Charging
- Rising Star:  Vesta – Mobile Payment Platform
OPERATOR SOLUTIONS:  Subscriber Device Management
- SUPERSTAR:  Openwave Mobility - Promotion & Pricing Innovation
- Shining Star (tie):  Openet - Openet Interaction Gateway
- Shining Star (tie):  Redknee – NGRC
SUCCESS STORIES:  Mobile Asset Tracking or Field Service
- SUPERSTAR:  Vivint Inc. 
- Shining Star (tie):  Delta Air Lines Mobile Bag Tracking
- Shining Star (tie):  Veriform Manufacturing
SUCCESS STORIES:  Mobile Device Management
- SUPERSTAR:  American Airlines
- Shining Star:  Brookdale Senior Living
SUCCESS STORIES:  Mobile Healthcare
- SUPERSTAR:  Health eVillages by Physicians Interactive & the RFK Center
SUCCESS STORIES:  Mobile Industry Public Relations
- SUPERSTAR:  Nadel Phelan  & Odyssey Software
SUCCESS STORIES:  Mobile Marketing
- SUPERSTAR:  McDonald's & SAMY
SUCCESS STORIES:  Mobile Payments or Finance
- SUPERSTAR:  Obama for America, Romney for President, & payvia
SUCCESS STORIES:  WLAN Deployment
- SUPERSTAR:  Anderson County Schools & Enterasys
VISIONARIES:  Enterprise Mobile Software or Services
- SUPERSTAR (tie):  ClickSoftware's Moshe BenBassat
- SUPERSTAR (tie):  SOTI's Carl Rodrigues
- Shining Stars:  NQ Mobile's Dr. Henry Lin & Omar Khan
See winners in the 2011 Mobile Star Awards