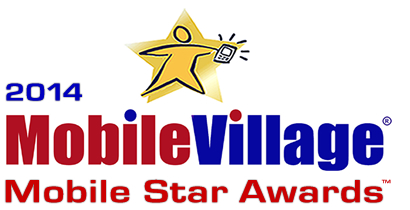 The 13th annual (2014) Mobile Star Awards program is the largest hardware and software awards program of its kind. Both industry leaders and cutting-edge startups compete on equal footing for mobile software awards, consumer and enterprise devices awards, success story awards, and visionary awards.
As in past years, winners are chosen by readers of MobileVillage's free biweekly Go Mobile ™ newsletter. This year, the final entry deadline is November 15, and voting begins October 22.  Any program date changes will be posted here, on the FAQ page, and updated entry forms.
Calling all 2014 nominations and entries
for mobile visionaries, devices, and software awards!
Mobile Star Awards nominations will always be a free service open to our readers and their nominees. Want to nominate your favorite app, device, person, or company? Just email awards [at] mobilevillage.com to tell us what product, person or company you're nominating, and for which categories listed below. We'll then contact the nominee(s) to see if they'd like to enter.
Entry forms:  For nominees who choose to officially enter, there's a relatively small entry fee that covers only the actual expenses of running the awards program. If you represent a company that you know would like to enter,  download and submit the Mobile Enterprise entry form  (Word doc), or the Consumer Apps & Devices entry form (Word doc).  You may also request either form by email from Gary Thayer at awards [at] mobilevillage.com.
Enter early!  While we now accept official entrants for both awards programs until November 15, we encourage all Nominees to enter before voting begins on October 22.  You'll beat the last-minute rush, your entry will be seen by more potential customers, and if you meet the early bird deadline, you'll save on the already low entry fee. So whatever you do, don't wait!
2014 MOBILE STAR AWARDS™
MOBILE ENTERPRISE AWARDS

(See Consumer Apps & Devices entrants listed separately)
PLATINUM SPONSORS TO-DATE:
GOLD SPONSORS TO-DATE:

Want your logo here or above?
Please see the entry form (links above) for details.
New hardware and software awards entrants are posted below as they come in.
.
Enterprise Devices Awards Categories:
Business-Ready Laptop [non-tablet]
Business-Ready Tablet [or hybrid]
Industrial Rugged Tablet
Industrial Rugged Smartphone or Handheld
Wireless Network Coverage [AP's, boosters, femtocells, etc.]

.
Enterprise Software Awards Categories:
Mobile API Solution
> Mi-Corporation - Mi-Enterprise Apps
Mobile Application Development
Mobile Application Testing
Mobile Asset Management (RFID or NFC)
Mobile Collaboration & Presentation
> Jive – Jive
> SAVO – Sales Presentation Pro
> Workshare – Workshare

Mobile Data Capture / Database
Mobile Devices Management
> BlackBerry – BES10
> Cortado – Cortado Corporate Server
Mobile Employee Expense Management
Mobile Field Service
> Mi-Corporation – Mobile Inspection Software
> TerraGo – TerraGo Edge

Mobile Field Sales & CRM
> bigtincan – bigtincan hub
> SAVO CRM Opportunity Pro for Salesforce1
Mobile Healthcare Practice Management
Mobile Healthcare Reference
Mobile Mapping or Location Based Services
> Azuga – Azuga Fleet
> TerraGo – TerraGo Edge
Mobile Marketing Solution
> OpenMarket Mobile Engagement Platform (entry expected)
Mobile Enterprise Messaging or Email
> BlackBerry – BBM Protected
> Jive – Jive
> OpenMarket Mobile Engagement Platform (entry expected)
Mobile Printing for Enterprises
> Cortado – ThinPrint Cloud Printer
Mobile Secure File Access or VPN
> Cortado – Cortado Corporate Server
> NoMachine – NoMachine for the Enterprise
Mobile Unified Communications
Mobile Workforce Management
Wireless (Telecom) Expense Management
Wireless LAN Management

.
Operator Solutions Awards Categories:
Operator Solutions: Email or Messaging
Operator Solutions: Media Delivery
Operator Solutions: Mobile Payments
Operator Solutions: Subscriber Management
Operator Solutions: Wireless Coverage

.
Success Story Awards Categories:
Asset Tracking & Field Service Success Story
> Lightower Fiber Networks with Mi-Corporation
Devices Management Success Story
Emergency Response Success Story
GIS & Mapping Success Story
Healthcare Success Story
Marketing Success Story
Mobile Payments or Finance Success Story
WLAN Deployment Success Story

.
Visionary Awards Categories:
Enterprise IT Department Mobile Visionary
Enterprise Mobile Software Visionary
> BlackBerry – Billy Ho, EVP, Enterprise Engineering
PR Firm Visionary: Mobile Enterprise Expertise
PR Firm Visionary: Wireless Telecom Expertise
Wireless Networking Visionary
.
.
.
The Mobile Star Awards™  enterprise mobile devices and software awards program 
is a registered trademark of MobileVillage®  / PDA Inc.