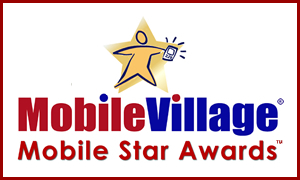 For 13 years running, the Mobile Star Awards have honored both industry-leading mobile products and cutting-edge new solutions in nearly 50 categories covering software, mobile devices, success stories, and visionary leaders, as chosen by readers of MobileVillage's free bi-weekly newsletter Go Mobile™.  This year in 2014, we are hosting two awards programs with even more categories and separate dates!
First this year is the Mobile Consumer Apps & Devices awards program, which has an early bird deadline of May 15, 2014, and a final deadline of October 10.  Following that is the Mobile Enterprise awards program, which has an early bird deadline of August 1, 2014, and a final deadline of November 15.
We're now accepting 2014 nominations and entries for both programs, and we'll post new entries as they come in.  The Mobile Star Awards nominations will always be a free service open to our readers and their Nominees.  Want to Nominate your favorite app, device, person, or company? See the Consumer Apps & Devices page or the Mobile Enterprise page to find out how!
We encourage all Nominees to enter before the early bird deadline — you'll beat the last-minute rush, your entry will be seen by more potential customers, and you'll save off of the already low entry fee — so don't wait! 
Congratulations to last year's winners, listed below.
2013 MOBILE STAR AWARDS™ WINNERS
PLATINUM SPONSORS:
GOLD SPONSORS:
Congratulations to all winners, and thanks to all who voted. 
Winners will receive winner logos via email on Wednesday.
Consumer Mobile Apps:
Design or Photography Mobile App
Educational Mobile App
Medical Reference Mobile App
Mobile Image Capture App
Mobile Productivity App
Mobile Security
Mobile Task Manager
…
RISING STAR:
Any.Do
Mobile Web Browser or Web Utility
News or Magazine Mobile App
…
SUPERSTAR (tie):
Flipboard
…
SHINING STAR (tie):
Feedly
…
SHINING STAR (tie):
News360
Remote Desktop Access Mobile App
Shopping Mobile App
…
SHINING STAR (tie):
ShopSavvy
Enterprise Mobile Solutions:
Mobile Application Development
Mobile Asset Management
Mobile Collaboration & Presentation
…
SHINING STAR (tie):
T

eamViewer
Mobile Data Capture / Database
…
SHINING STAR (tie):
FotoNotes
Mobile Devices Management
Mobile Employee Expense Management
Mobile Field Sales & CRM
Mobile Field Service
Mobile Healthcare Practice Management

Mobile Healthcare Professional Reference

Mobile Mapping or Location Based Services
.
Mobile Marketing Solution
Mobile Messaging, Email or Alerting
Mobile Printing for Enterprises
…
SHINING STAR (tie):
HP ePrint
Mobile Secure File Access or VPN
Mobile Training & Learning
Mobile Unified Communications
Mobile Workforce Management
Wireless Network Coverage
Wireless (Telecom) Expense Management
Mobile Devices:
Smartphone
Industrial Rugged Mobile Phone
Mobile Operator Solutions:
Operator Solutions: Media Delivery
Operator Solutions: Email or Messaging
Operator Solutions: Subscriber Management
Success Stories:
Asset Tracking or Field Service Success Story
Emergency Response Success Story
.
Marketing Success Story

.
Visionaries:
Consumer Mobile Services Visionary
Enterprise Mobile Services Visionary