MobileFrame's Configurable Mobile Application is an all-in-one enterprise mobile app development and app management solution. The platform allows organizations to easily create, deploy and administer robust native and HTML 5 web applications that work on any device, with no custom programming required.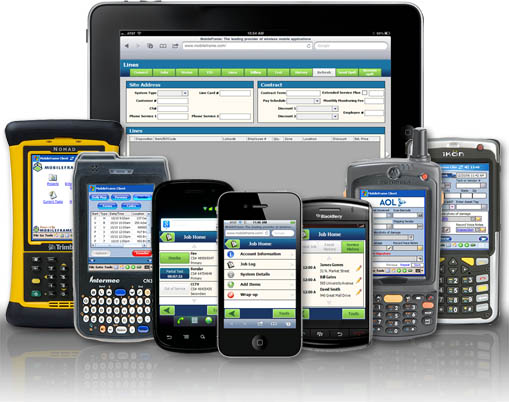 MobileFrame's Smart Architecture™ and intuitive system eliminates time-consuming and expensive custom coding projects. With our platform, an app written one time will perform consistently across all devices in your organization.
MobileFrame is the industry leader in mobile app development because we allow enterprises to easily create custom tailored apps for any department and for any requirement. In addition to mobile app development capabilities, our platform includes globalization support, version control, automatic documentation, mobile device management, GPS tracking, a built-in test environment and more.
MobileFrame's platform is an entirely self-contained mobility system that provides full functionality out-of-the-box, with no custom programming, no third party mobile gateways, synchronization engines or SDK's required.
A Single Platform that Works on Any Device:
MobileFrame has everything you need to successfully create, manage and deploy your apps built-in. With our platform, the same app runs on any device, including everything from mobile devices to desktops – true hassle-free cross-platform compatibility. In addition, MobileFrame provides important features that enhance the usability of your apps such as finger-friendly gesture support, swipe-to-scroll and more.
Remote Device Control and Mobile Device Management:
With our remote device control feature, customers can take control of a mobile device in the field – seeing what the user sees and interacting with the device as if it were in their own hands. Customers can lock down devices, configure operation menus (including kiosk mode) and set up different device configurations for a single user or for groups of users. Device power, memory utilization, messaging, alerts, and synchronization status and all other critical device status information can be remotely monitored and controlled for all devices on the system.
Built-in GPS Tracking & Mapping:
GPS tracking is fully integrated, allowing businesses with mobile workforces to recover time and money lost due to operational inefficiencies. The ability to tell customers where your mobile worker is and when he/she will arrive at their location or re-route the nearest vehicle to a high priority site when another vehicle is delayed is critical in today's fast paced world. Real-time insight into the location and status of your workers will strengthen your comapny, allowing quicker response to customer requests and changing conditions in the field.
Satisfied MobileFrame Customers:
MobileFrame customers include many large enterprises such as The Rug Doctor, the National Archives, Los Alamos National Labs, Boeing, Ecolab, Malin Handling, Raymond Corporation, Toyota, World Kitchen, Stratus, Pride Industries, SCS Engineers, SC Johnson, Lucas Tree Experts, SBM Group, City of San Jose, Miller Pipeline and United States Navy among others.
Learn more about MobileFrame mobile app development:
For more information about mobile application development with MobileFrame, check out MobileFrame.com, read our blog at blog.mobileframe.com or follow MobileFrame on Twitter (twitter.com/mobileframe).
2013 & 2014-15 Mobile Star Awards Winner & Sponsor:
Enterprise Mobile App Development — Configurable Mobile Application
Mobile Asset Management — Configurable Mobile Application
Mobile Data Capture / Database — Configurable Mobile Application
Mobile Field Service — Configurable Mobile Application
Mobile Field Sales & CRM — Configurable Mobile Application
Mobile Workforce Management — Configurable Mobile Application
Company Profile:
MobileFrame
101 Blossom Hill Rd.
Los Gatos, CA 95032
(+1) 408-885-1200
sales [at] mobileframe.com
mobileframe.com
Contacts:
Lonny Oswalt, CEO, loswalt [at] mobileframe.com
Glenn Wickman, CTO, gwickman [at] mobileframe.com
Joseph Kliger, VP Engineering, jkliger [at] mobileframe.com
Pat Oswalt, EVP Sales, poswalt [at] mobileframe.com
Structure:  Private Company, established in 2000
OS Supported:  All Web Browsers, All Platforms
Recent MobileFrame News on MobileVillage:
MobileFrame announces version 6.1 of its mobile ERP platform
MobileFrame field service software covers all bases
* end MobileFrame enterprise mobile app development profile