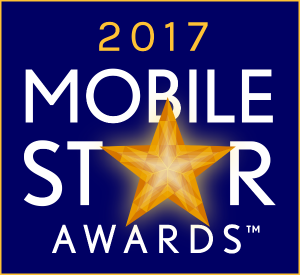 Celebrating 16 years, the Mobile Star Awards™ is the world's largest, longest-running mobile innovators, apps and software awards program. Voters honor leading and cutting-edge mobile apps, enterprise mobile software, mobile devices and accessories, operator solutions, success stories, and "innovators" in 120 exciting categories!
Mobile Star Awards Winners are chosen by a few select judges plus the votes of mobile user experts like you — our thousands of readers and many social media followers.
Official Nominees can get a Nominee logo, (potential) Winner logo, featured pages, free news and home page feature posts, event or webinar listings, press/social media buzz, and best of all—new fans and customers! Get the scoop below:
"Best of 2017" Mobile Star Awards FAQs
(Frequently Asked Questions):
(Updated Jan. 4, 2018)
Can I still nominate a product, people or company?
Free Nominations: Through January 2018 you can still nominate your favorite mobile apps, gadgets, enterprise services, innovators or success stories online here for free, or email them to awards [at] mobilevillage.com. We keep nominations anonymous, and add them to the 2017 Mobile Star Awards page as soon as possible.
Official Nominees: Only Official Nominees can receive a Nominee logo, "Best of 2017" (winner) logo, directory page, bonus news and feature posts, event or webinar listings, and other benefits detailed further below.
To gain Official Nominee benefits, complete and email the Official Nomination Form (Word file) any time by January 31, 2018 to Gary at awards [at] mobilevillage.com. (If you need to wait until that week, please try to let us know earlier.)
You can see all "Best of 2017" Nominees and Winners to-date on the Mobile Star Awards page.
How are "Best of 2017" Winners chosen?
Best of 2017 Winners are chosen and ranked by online vote, as well as by our own in-house experts, as needed. Anyone is eligible to vote (once only) after following MobileVillage on Facebook or Twitter, but you must be a follower for us to count your votes.
Public online voting began for some categories on Nov. 1, and ends for remaining open Personal Apps categories by 5 pm ET on January 8, 2018. After that, voting in some categories will remain open only if requested by nominees.
Only one ballot per person is allowed for the entire voting period (one Business Apps ballot, and/or one Personal Apps ballot). We encourage voters to check out Nominees' nomination pages, but it's not required.
To help ensure fair competition for smaller companies, we only count the first 40 employee votes by a nominated company's employees including known subsidiaries. However, there's no limit to the number of customers, end-users or partners who can vote! It's a great idea to share your nomination on your website, as well as in social media! To make that easy, we provide you with a shareable voting invite.
We review voting carefully. If we see any duplicate or suspicious votes, we don't count them.
When are "Best of 2017" winners announced?
Many "Best of 2017" winners are already listed. For categories still open to nominations, we will post and email results between January 8-31, 2018, depending on whether or not a category's Official Nominees have requested voting in their category, and until what date in January.
What benefits are just for Official Nominees?
To become an Official Nominee, there's a relatively small posting fee (plus discounts!) that covers our expenses to manage the program and post/promote your nomination and other content. For this nominal cost, you get a lot of visibility and "bang for your buck":
Your Nominations Linked on the Mobile Star Awards page,
High-SEO Directory Page (lower SEO on Basic directory pages) live for 3 years,
Free Page Updates for your directory page at any time you like,
Nominee Logo to use as you like,
"Best of 2017" Logo which we can customize with your category win(s),
Marketing & PR Content for your followers to get excited about your nominations,
Bonus News or Feature Posts for Featured page owners (more details below),
Your News, Event or Webinar posted (your choice; see details below),
"Best of 2018" Nomination Discounts if you participate again this year, and
Priority Postings of your future mobile news if it meets our guidelines.
For all of those great benefits, the Official Nominee cost is only US $69 for a Basic Directory Page with the survey discount (below, or just $137 with survey discount for the more popular, high-SEO Featured Directory Page with bonus news and home page placements. To compare the two options, see further below.
To gain Official Nominee benefits, complete and email the Official Nomination Form (Word file) any time by January 31, 2018 to Gary at awards [at] mobilevillage.com. (If you need to wait until that week, please try to let us know earlier.)
Are there any discounts?
Yes! If you or your colleague take this 2-3 minute survey about MobileVillage (link is also on the entry form), we'll thank you with $10 off. Also, if your company officially participated any time from 2013-2016 you'll get an additional $10 or $15 off; see the last page of the entry form.
Plus– as a "Best of 2017" honoree, you'll receive up to $20 off your "Best of 2018" nominations, if you decide to participate again later this year.
After you approve your posted nominations and page(s), we'll email you an invoice that lists all of your Nominee benefits and applicable discounts. You can pay by check, credit, PayPal, Google Wallet, ACH and wire. You can even choose PayPal Credit financing with no payments and no interest if paid within six months.
Budget issue? If your company or client doesn't have enough budgeted for the Nomination benefits you want, let us know! We can see about customizing a benefits package that fits your budget. We'd much rather see you recognized as a "Best of 2017" Winner than miss out.
What benefits come with a Featured Nomination?
Official Nominees choose from the popular "Featured" Page Nomination (examples here and here) or a "Basic" Page Nomination (example here). The Basic Page Nomination only has your feature image, company logo, optional headquarters address, and general contact info, and shorter description (max 175 words, provided by you or culled by us). In contrast, a Featured Nomination also gives you:
More Content — up to 500+ words for maximum SEO,
More Images — like optional screenshots, user photos or team members,
News & Blog Links to your recent mobile news or blog posts, if any,
Maximum SEO (Search Engine Optimization) with Yoast "Excellent" rating,
Top-of-Directory Placement in your categories if you enter each year,
Bonus High-SEO Feature Story or Whitepaper* featured on MobileVillage's home page for 1-2 weeks (for Featured Directory Page holders only; for examples see below),
Bonus News Placement in any "Mobile Week" news roundup,
Event Listing for your event or webinar on our Calendar (or 2nd Mobile Week news post),
Social Likes & Shares on our social media pages, and
High Page Visibility. Over a year a typical High-SEO Featured Directory Page attracts at least 8,000+ viewers and your front-page Bonus Feature Post will attract even more. We share your pages on Facebook, Twitter and/or in our newsletter as appropriate.
* Bonus Home Page Post Details: Most Featured Directory Pages (Product entry, Innovator or Success Story) are posted not only in the online directory, but also on our home page for at least a full week and in the relevant News section (Apps News or Enterprise News) — chronologically listed and searchable for years. (Here are examples of a Success Story Feature and Innovator Feature.) Plus, you'll get a 2nd high-SEO front-page post on our home page any time you like over the next year! Send us a news release, blog post, case study or white paper you want to promote. That's a bonus $90 value!
What benefits do Gold & Platinum Sponsors enjoy?
All Above Benefits with Featured Directory Page + one category nomination,
Extra Category Nominations (one extra for Gold Sponsors, two for Platinum),
Extra Bonus Feature Posts (one extra for Gold Sponsors, two for Platinum),

2-3 News Placements

 in any "Mobile Week" roundups (2 for Gold, 3 for Platinum),
Awards Page Logo — your logo on the Awards page for several years,
All Pages Logo — logo in our MobileVillage Sponsors Box on all pages until Fall 2018,
Sponsor Recognition in all awards-related announcements,
Optional Online Ad (Platinum only) for 4 months on most MobileVillage pages, and
Featured Event Listing (with your event logo) at the top of our online Events Calendar for as long as you like, and on the home page as "Event of the Week" any week you choose!
All of those Gold Sponsor Benefits are yours for just $326 after discounts, and Platinum Sponsor Benefits just $495 after discounts. To become a Sponsor, just select it on your Official Nominee form or contact Gary at awards [at] mobilevillage.com. If any of the above Sponsorship benefits don't suit your needs, we'll work with you to customize your Sponsorship with other benefits that suit you perfectly.
How long does the Official Nominee form take?
You can find the Official Nominee form (Word file) available here, or linked from the Mobile Star Awards page. You may also request the form by email from Gary Thayer at awards [at] mobilevillage.com. Although the form looks long, most of it is just helpful information and choices. Completing it could take you a 10 minutes or 30 minutes, depending on how many categories you choose and if you choose a Basic or Featured directory page.
Short on time? We'll help you fill it out at no extra cost! Just tell us in section 2 on the form. If you'd like us to select information for your directory page, we will use the contact info and/or product info and images on your company website. We don't want time or cost to be barriers for you–we want everyone to be able to participate.
How soon will you post my innovator or software awards nominations?
New Nominees are usually added online the day they are received, and directory pages are posted as soon they are approved. This includes nominations received during the voting period. If there are many new Official Nominees at once, posting your page may take a bit longer, but we still do our best to get it posted asap.
How can I promote my nominations?
As an Official Nominee, you'll receive a voting invitation email that you can directly share with colleagues, customers and partners. You can link to the Awards page, to your directory page, and to your bonus feature story from your regular marketing emails, from your website, and in your social media posts. Those are all great ways to get your customers and partners to root for you and visit your website! Please note that only one vote per person is allowed.
More questions?
We look forward to seeing your nominations in the Best of 2017 Mobile Star Awards innovators and software awards program. If you still have questions not answered in the above Mobile Star Awards FAQs, or if you prefer to receive an Official Nominee form by email, please email Gary Thayer at awards [at] mobilevillage.com.
This FAQs page is updated whenever dates or other details change.
#end Mobile Star Awards apps & software awards information
The Mobile Star Awards™ — the largest, longest-running mobile innovations and software awards program — is a registered trademark of PDA Inc., dba MobileVillage.
.
.
.
.
.