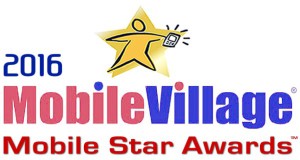 The 15th Annual (2015-16) Mobile Star Awards™ program honors leading and cutting-edge mobile apps, enterprise mobile software, mobile devices and accessories, operator solutions, success stories, and visionary leaders in over 50 exciting categories.
Mobile Star Awards winners are chosen by mobile user experts like you — the thousands of readers of MobileVillage online and of MobileVillage's free biweekly newsletter Go Mobile™. Winners receive an appropriate winner logo and listing on the winners page for several years, plus potential media coverage.
Mobile Star Awards FAQs (Frequently Asked Questions):
(Updated January 2016)
When is the deadline to enter for 2016?
Update: Your nominations will now be accepted into April 2016, and the suggested official entry deadline before online voting begins is March 10, 2016. We strongly encourage you to enter earlier so you can take advantage of extra online visibility! Entering early gets your entry and summary page seen earlier by more readers and potential buyers.
If you last entered in 2014 or 2013, you'll also get an additional ten or five percent discount, respectively.
If you haven't entered yet before voting is set to start on March 15, 2016, we encourage you to enter as soon as you can by early April. All new entries will be posted and added to the voting page within 24 hours, when possible.
All of the dates above are subject to extension at any time. Any date or time changes will be posted here on this page, as well as all awards program pages and updated entry forms. (Please scroll below for download links).
Who is entered so far?
You can see all official entrants to date on the main Mobile Star Awards page.
How are winners chosen?
Award winners are chosen by subscribers to MobileVillage's free e-zine, Go Mobile™. Non-subscribers (your employees, customers, partners etc.) will be able to vote immediately after subscribing online, any time after voting begins on Tuesday, March 15, and until Saturday, April 30. Voters may only vote once. If we see any duplicate votes or otherwise suspicious votes, we will not count any of those votes — even the voter's first ballot.
Voters are encouraged to view entrants' online summary pages, and only vote in categories where they have experience or interest in reading the summary pages. To help ensure fair competition for smaller companies, we only count the first 40 votes by an entering company's employees including known subsidiaries.  However, there's no limit to the number of your customers/users or partners who can vote!
When are winners announced?
Winners will be posted online and announced on Monday, May 2, 2016 for all categories.
How can I promote my entry?
As an entrant, you'll receive a voting invitation email that you can directly share with colleagues, customers and partners. You can also choose to link to the voting page on your website, or include the link in your regular marketing emails — both great ways to get your customers and partners to root for you and visit your website! Please note that only one vote per person is allowed. We monitor votes very closely, and we don't count suspicious votes.
What are the odds of winning?
The odds are generally better than in most other awards competitions, because: 1) there are a large number of categories; 2) there are three awards per category (SUPERSTAR, Shining Star, and Rising Star); and 3) ties are called when there are only a few votes separating two entrants, and this happens surprisingly often.
What will winners receive?
Besides being listed on MobileVillage, winners receive press announcements and appropriate logo(s) (SUPERSTAR, Shining Star, Rising Star) for their use. Plaques are not included, but we can help arrange them if requested. There is no live winners ceremony, but MobileVillage is looking into organizing such an event in the future if there is sufficient interest.
What does it cost to enter?
Mobile Star Awards nominations will always be a free service open to our readers and their Nominees. If you'd like to nominate your favorite app, device, person, or company, just email us at awards [at] mobilevillage.com to tell us what product, person or company you're nominating, and for which of the categories listed.  We'll then contact the Nominee(s) to see if they'd like to enter.
For those Nominees who choose to officially enter, there's a relatively small entry fee that covers only the actual expenses of running the awards program. Entry fees start at only US $80 for an un-linked entry without a summary page, or US $155 for a linked entry with a summary page. And if you last entered in 2014 or 2013, you'll also get an additional ten or five percent discount, respectively.
For that nominal cost, you get a lot of "bang for your buck" — posting and announcing your entries, hosting of your summary page (if you choose one) for a full year or more, Nominee logos, Winner logos (if you win), lots of awards publicity, a winner's press release template, and management of voting — all of which cannot be accomplished for free, since we aren't Superheroes.
Why choose a summary page?
A summary page is a great way to provide quick info to voters about your company, your apps or other products, your Visionaries, or your Success Stories. MobileVillage visitors will see your summary page for an entire year — even after voting ends — because your page is linked from the Awards page and MobileVillage's Yellow Pages index. Over the course of a year, the average summary page attracts between 1,000 and 2,000 viewers.
When we launch next year's awards program, we'll ask you if you'd like to enter again or just update your summary page for another year. (Now no cost).
Where is the entry form?
You can find the 2015-16 entry form (Word .docx file) for download here, or on the main Mobile Star Awards page linked above. You may also request an entry form by email from Gary Thayer at awards [at] mobilevillage.com.
How long will it take to fill out the entry form?
Most of the form is information, which you should read carefully where applicable. It should take at least 10-20 minutes to finish, depending on how many categories you enter and how much information you provide for your summary page.
If you are short on time, you can let us know in section 2 on the entry form. We will then fill out sections 2 and 3 for you, using the relevant company and product information/images we find on your website, as well as any information or images you might wish to send us. We will do this for you at no extra cost, because we don't want time or cost to be barriers for entrants.
When will my entry be posted?
Entries are usually added to the respective awards programs pages the day they are received, and summary pages are posted as soon they are approved and the entry fee has been received. This includes entries received during the voting period. If there are many entrants at once, posting your summary page may take a bit longer, but we still do our best to get it posted asap.
Why choose an Awards Sponsorship?
You'll get your linked logo splashed on top of the awards program page for several years, sponsorship of up to eight Go Mobile issues (Platinum level), your own bi-monthly column or white paper series linked from MobileVillage.com's home page (Platinum level), and your company name mentioned in all awards-related announcements! All of these fantastic benefits are yours at an extremely reasonable cost; please see section 6 of the entry form for details.
If for any reason you don't think a Mobile Star Awards Platinum or Gold Sponsorship is an amazing deal, let us know why. We can work with you to customize your Sponsorship level with the benefits you want!
Still have questions?
We look forward to seeing your entries in the Mobile Star Awards. If you still have questions not answered in the above Mobile Star Awards FAQs, or if you prefer to receive an entry form by email, please email Gary Thayer at awards [at] mobilevillage.com.
This Mobile Star Awards FAQs page is updated whenever dates or other details change.