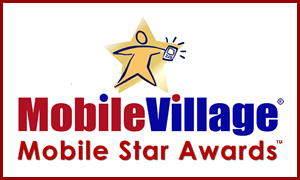 Congratulations to all winners in the 11th Annual Mobile Star Awards™ — honoring the top Mobile Products, Success Stories and Visionaries as chosen by readers of MobileVillage's free email newsletter Go Mobile™.  Winners for the 2011 Mobile Star Awards Winners are posted below.  Thank you to all of you who entered or voted.
Want to enter this year?  For details about the most current Mobile Star Awards program, see the main Mobile Star Awards™ page.
2011 MOBILE STAR AWARDS

™

 SPONSORS & WINNERS:
2011 Platinum Sponsors: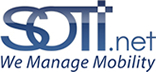 2011 Mobile Star Awards™ Winners
Congratulations to all Winners, and thank you to the nearly 2,800 people who voted!
Ties were often called for a margin of error when there was a difference of under ten percent or a few votes.
Please note: Summary pages listed below are still hosted on the old MobileVillage website.
2012 entrants have new summary pages hosted on the new MobileVillage.com.
Consumer App:

Cloud Services / Remote Desktop Access

Consumer App: Education

Consumer App: Entertainment [non-game]

Consumer App: Game

Consumer App: Health & Fitness

Consumer App: Information or File Management

Consumer App: Media Player

Consumer App: Mobile Security

Consumer App: Navigation or Travel

Consumer App: Shopping or Sales

Consumer App: Specialty Social Network

Consumer App: Voice Calling

Enterprise Software: Advertising & Marketing Platform

Enterprise Software: Application Development

Enterprise Software: Application Testing

Enterprise Software: Asset Management

Enterprise Software: Cloud Services or VPN

Enterprise Software: Data Capture

Enterprise Software: Device Management

Enterprise Software: Education or Presentation

Enterprise Software: Expenses Management

Enterprise Software: Field Sales & CRM

Enterprise Software

: 

Healthcare Practice Management

Enterprise Software: Healthcare Reference

Enterprise Software: Mapping or Location Based Services

Enterprise Software: Messaging, Email or Alerting

Enterprise Software: Middleware

Enterprise Software: Mobile Printing

Enterprise Software: Security

Enterprise Software: Unified Communications

Enterprise Software: Wireless LAN Management

Enterprise Software: Workforce Management

Hardware: Hardware: Industrial or Rugged Handheld

Hardware: Hardware: Mobile Storage

Hardware: Business Capable iPad Alternative Tablet

SUPERSTAR: 

Samsung – Galaxy Tab

Shining Star: 

Lenovo – ThinkPad Tablet

Rising Star: 

Asus – Eee Pad Transformer

Hardware: Rugged or Ruggedized Tablet Computer

Operator Solutions: Customer or Device Management

Operator Solutions: Electronic Payments

Operator Solutions: Email or Messaging

Operator Solutions: Media Delivery

Operator Solutions: Wireless Coverage

Success Story: Asset Tracking & Field Service

Success Story: Banking or Insurance

Success Story: Healthcare

Success Story: Marketing

Visionary: Enterprise Mobile Software or Services

Wireless & Mobile Industry Public Relations Company