We've teamed up with Appcelerator to bring you a weekly quick read of the most important mobile apps news and other mobile technology news stories. In this week's mobile news roundup we look at iPhone 8 or iPhone Plus rumors, Apple's iOS 11 beta 3, under-screen fingerprint sensors, Facebook Messenger ads, Microsoft's new app for blind people, and more.
Microsoft app for blind & visually impaired people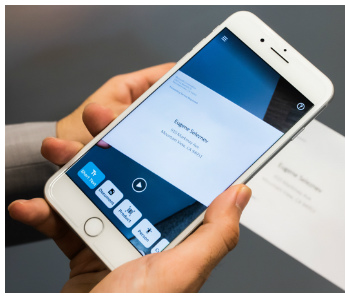 Microsoft has released a new app (above and right) for blind or visually challenged people that utilizes Artificial Intelligence to provide users with audio descriptions of what's in front of them. You simply point your phone's camera at a person, object or scene to hear an audio description.
The app can recognize people and their emotions, scan words and documents as they come into view and even identify specific currency bills. The app is also able to process most of these functions on the device, which makes it quicker and more reliable when there is poor Internet connection. Currently, Seeing AI is available for free for the iPhone.
Google uses machine learning to remove harmful apps
Google says it's using a new form of machine learning to help sort useful apps from bad ones. The method is called Peer Grouping, and it works by comparing apps with similar purposes. For example, if out of several apps only one is asking for permission to use contacts, location or microphone, that will raise a red flag that notifies Google's security team.
Using this technique, Google is scanning apps en masse throughout the Play Store to identify bad eggs. It's starting to pay dividends – according to the company, only one-third as many users have installed harmful apps last year compared to the one prior.
Vivo first with under-screen fingerprint sensor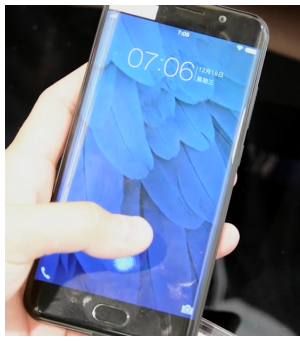 At the Mobile World Congress Shanghai this summer, Chinese phone maker Vivo showed off the world's first under-the-screen fingerprint reader. Vivo's demo video shows the concept in action. The technology uses piezoelectrics to send ultrasonic waves through the display glass to read fingerprints. It will even work with wet fingers on water-resistant devices.
Qualcomm says its under-screen fingerprint sensor won't be available for phone manufacturers until Q4. Apple is rumored to be including such technology in at least one of its next iPhones (story below), but may have its own version of the technology, since it's been fighting Qualcomm over other patents. — MV
New "iPhone 8" could ship without key features
It is iPhone rumor season. The latest chatter is that Apple is supposedly facing a crunch to deliver some key new features in the iPhone 8 — or iPhone X — or iPhone Pro — whichever name the company will use for its 10th anniversary iPhone. According to a new report, Apple engineers have been working tirelessly to iron out software problems that could result in iPhone 8 release delays or even disabled features at launch. The issues apparently stem from kinks in the code that will enable new wireless charging and 3D facial recognition.
This wouldn't be the first time Apple released an iPhone before the software was perfected. Last year, the company distributed the iPhone 7 Plus with Portrait Mode disabled, only activating the feature after the software was ready.
MobileVillage adds: Some industry experts say the new iPhone 8 or iPhone Pro will cost over $1,000 and even start as high as $1,200. But don't panic — Apple is still expected to release a new iPhone 7S and 7S Plus at its regular top-tier prices. Some or all of the new iPhones are expected to have an edge-to-edge OLED display, such as on Samsung's Galaxy S Edge. CNET has a full list of rumored iPhone 8 specs.
Apple releases third developer preview for iOS 11
Developers can now get their hands on the third preview of Apple's iOS 11. While the latest beta doesn't feature any radical changes, there are some useful updates and tweaks. Most notably, there are some nifty improvements to the new iPad dock. With beta 3, you can now close apps on the iPad by swiping up, add apps to folders using the new dock and utilize some new multi-tasking refinements.
There are also other minor upgrades including updates to the Notification Center, refinements for Multitasking and new Siri translations. Last week, Apple also released the second preview version of iOS 11 to the public. The official launch will take place this fall.
Apple now accepts PayPal
Apple now includes PayPal as a payment option for Apple purchases. That means you can add PayPal to your Apple ID to checkout from the App Store, iTunes, Apple Music or iBookstore. Until now, you could only make purchases by connecting your bank account or using a credit/gift card. The new integration is mutually beneficial as it gives PayPal access to a major revenue stream, while providing Apple with another way for users to buy. The feature is now available in North America and a handful of other regions around the world.
Facebook Messenger ads coming
Facebook will begin pushing advertisements to users of its Messenger app. After seeing encouraging results in Australia and Thailand, the company will now expand the program so that companies can begin placing ads within Messenger worldwide. The ads will reportedly appear this month on a small percentage of home screens, where users navigate between conversation threads.
Facebook previously allowed companies to share sponsored content and even message users directly in Messenger, but this is the first time it has placed ads within the app. Ads can't be permanently disabled by the user, but you can click to hide or report individual ads.
Extreme Networks buys Avaya's networking business
Extreme Networks has just completed its acquisition of Avaya's networking business, which includes customers, employees and technology assets. The $100 million acquisition strengthens Extreme's switching portfolio with a new family of modular switches, software tools and IoT technology. Extreme expects to generate over $200 million from the deal in fiscal year 2018 alone, which began on July 1.
When Avaya's networking customers are combined with Extreme's recent acquisitions of Brocade's data center unit and Zebra's WLAN business, Extreme will pick up more than 10,000 new enterprise customers, said CEO Ed Meyercord on the company's recent Q3 earnings call. In an earlier interview, Meyercord said he expects to take future market share away from Cisco and HPE-Aruba Networks. That'll be a tough fight: Cisco is still by far the networking market share leader, with even Juniper Networks still at a distant second. — MV
Except where indicated (MV for MobileVillage), this mobile news roundup is by Jon Bailey of Appcelerator, a leading mobile development platform company. Check out the Appcelerator blog.
* Mobile apps news & mobile technology news roundup covering iPhone 8 rumors, iOS 11 beta 3, Facebook Messenger ads, Microsoft's app for blind people, & new under-screen fingerprint sensor