Each week, MobileVillage (MV) and Appcelerator (APP) bring you a quick read of the most important mobile apps news and other mobile technology news stories. In this week's mobile news roundup: Facebook Oculus Go & Rift VR, Apple's iPhone 8 swollen battery issue, Microsoft kills Windows Phone updates, Instagram Polls vs Snapchat Polly, FourSquare Places, business AR apps, Puerto Rico cell service, and more.
Oculus Go VR ditches phones, will offer virtual live events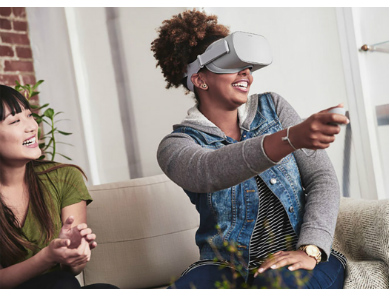 At last week's Oculus Connect VR developers conference, Facebook's Mark Zuckerberg unveiled Oculus Go (pictured here), its first Oculus VR headset that works by itself without a smartphone or PC. That said, Oculus Go doesn't look much different than the company's Gear VR for Samsung, aside from less plastic and more fabric on the outside. Oculus Go will go on sale for US $199 in early 2018. Facebook says that so far, there are more than 2,000 Oculus VR apps available. For Oculus Go and Gear VR developers, Facebook is offering more treats to support new VR tricks.
Along with the Oculus Go announcement, Facebook also teased Project Santa Cruz, which is an Oculus Rift headset with full body motion tracking, expected sometime next year. To entice would-be holdouts, the company has dropped the price of its current high-end Oculus Rift headset and Touch controllers bundle (at top of page), which are now $399 — now $200 less than competitor HTC Vive.
Facebook also kicked off Oculus for Business, a bundled Rift package targeted at business needs such as business trainings, collaboration, and retail sales.
Facebook CEO Mark Zuckerberg announced a new Facebook VR service that will allow Oculus VR users to experience live events such as concerts and sports, with up to 1,000 other users. Facebook demoed the upcoming "Oculus Venues" experience by showing some of a live concert filmed in 360 degrees, which was then switched to a 2D scene with an audience of virtual avatars in a virtual arena. Zuckerberg says they'll release more information about Oculus Venues in the coming months.
In related news, starting in 2018 the NBA will broadcast all live NBA basketball games in VR for owners of Samsung's Gear VR, Google Daydream, or Microsoft's upcoming headset, which will arrive in time for the new NBA season. Now that's a slam dunk for VR sports. — MV
iPhone 8 swollen battery issue, iPhone X delay
Just days after having to fix noise problems on its new iPhone 8, Apple is now is now investigating an iPhone 8 swollen battery problem in some 8 Plus handsets. A number of users have reported that their iPhone 8 Plus split open shortly after charging for the first time.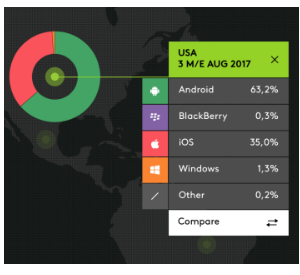 And if that wasn't enough, stock for the highly anticipated iPhone X will be extremely limited well into the new year, according to a new report. We've mentioned the production issues already, but this report indicates it will be even later for users to get their hands on the new smartphone than previously believed.
It's not all doom and gloom for Apple, though. New data from the tech analysts at Kantar shows Apple and Samsung's share of the U.S. smartphone market now tied. Apple saw steady growth throughout the summer months to secure a 35 percent market share, although Android still remains well in the lead at nearly double that figure. — APP, MV
Microsoft: No more Windows Phone updates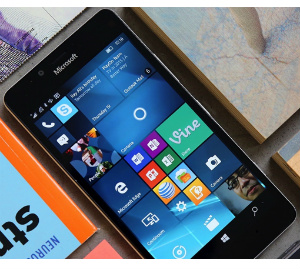 Finally admitting defeat in the mobile OS space, Microsoft says it is ending all Windows 10 Mobile aka Windows Phone updates for new features, effectively killing off its once-hyped platform. Big Redmond will still push bug fixes and security updates to current users, and it will support Windows Phone users who want to make the switch to either Android or iOS. Microsoft has been focusing on improving ways to link PC and smartphone apps for those platforms to create a seamless experience.
Microsoft's Joe Belfiore blames a lack of developers supporting the platform, along with a low number of users and problems with the Windows Phone app store. — APP
Instagram polls take on Snapchat Polly
After the success of last month's Snapchat Polly add-on, Instagram has added its own polling option to Stories. Polly allows users to pose a multiple choice question that followers can respond to with one tap. Now, Instagram users can add a two-answer question to their Instagram story, similar to dropping a location sticker. Results are visible instantly, with users able to check who voted for what through a view count page. The Instagram polls addition shows that the company isn't afraid to copy not only Snapchat's core features, but also those created by smaller startups. The Instagram polls feature is now available. — APP
FourSquare Places revamped with new developer offerings
For the first time in nearly a decade, Foursquare has revamped its developer site. Foursquare Places API, which provides information on more than 105 million places around the world, is the free option that most developers choose to build location-aware experiences. On the enterprise front, the Foursquare Places database and Pilgrim SDK can help developers learn more about points of interest for app users. With the emergence of Augmented Reality (AR) apps, Foursquare's new website now offers more value in the form of sample code and demos for developers looking to create virtual experiences. Foursquare Places now provides location services for Uber, Airbnb, and even Apple Maps. — APP
Upskill's business AR platform adds app builder for non-coders
Another big player in promoting business AR apps — Upskill — has updated its Skylight business AR app development platform, making it easier for large companies to create AR apps in house. Upskill Skylight can work with various types of smart glasses, and Skylight Live allows users to broadcast what they see through their smart glasses. The business AR platform now has SDK for programmers to use, as well as an application builder with pre-built interface cards so people with no coding skills can build workflow apps. Finally, a new Skylight Connect feature lets users tap into the company database simply by pointing to it. — MV
VR startup Bigscreen raises another $11 million
Bigscreen, an already-popular screen-sharing startup that enables people to meet in VR and share their computer screens for movies, games or work projects, has raised another US $11 million. Bigscreen already boasts over a quarter million users, and has already had several major product updates. The new Series A funding round was led by existing investors including True Ventures, and Bigscreen founder Darshan Shankar says the company will use the money to build a team of 15 to 20 people. — MV
Google balloons to deliver Puerto Rico cell service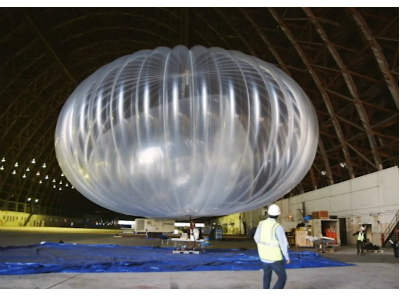 Google Alphabet's Project Loon may have sounded a bit loony: to deliver wireless data connections from solar-powered balloons that fly 2-3 times higher than planes. But the still-experimental technology has already provided service in Peru after it saw heavy rains and flooding in March. And the US FCC has just given Alphabet an experimental license to test the service in hurricane-stricken Puerto Rico and the US Virgin Islands.
Loon is now being integrated and tested with eight local telco networks in Puerto Rico and the US Virgin Islands, where the FCC says that 83 percent and 57 percent of cell sites respectively were out of service as of early October. On the island of St. John, none were working. No word yet on how soon the sky-high Puerto Rico cell service will be ready for use. — MV
Mobile payments to surpass card payments by 2019
Prefer to make payments over your phone when possible? In the near future, mobile may be the default payment method for developed nations. According to a new report, we will be more likely to pay for goods and services using our smartphones versus credit or debit cards in the year 2019. Over the next two years, the number of payments made by card is expected to drop below 46% as the ability to pay via smartphone becomes more readily available. The report notes this won't be the case for developing nations, where cash transactions will still reign supreme for the foreseeable future. — APP
Except where indicated (MV for MobileVillage), this mobile news roundup is by Erin Bailey of Appcelerator, a top mobile development platform company. Check out Appcelerator's blog. Mobile news: Facebook Oculus Go & Oculus Rift VR, iPhone 8 swollen battery, Windows Phone updates, Instagram Polls vs Snapchat Polly, FourSquare Places, business AR, Puerto Rico cell service