Each Mobile Week, MobileVillage (MV) and Appcelerator (APP) bring you a quick read of the most important mobile apps news and other mobile technology news stories. In this week's mobile news roundup: Razer Phone hands-on, Pimax 8K VR breaks records, iPhone X delay grows, WhatsApp 'unsend' feature, Amazon 3D shopping, Google 3D objects, Android 'Vapor' watch vs Samsung Gear sport smartwatch, Samsung & Google Alphabet revenues, Sprint T-Mobile merger fail and more.
Razer Phone hands-on — Great phone, or just a great gaming phone?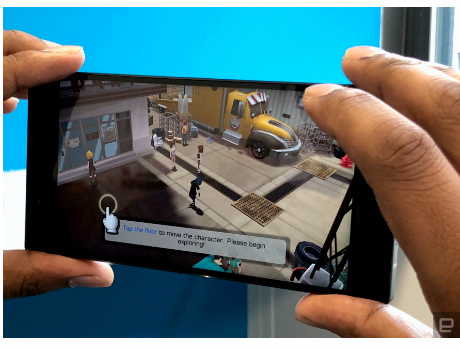 Just hours ago the $699 Razer Phone became official, and Engadget has already given the Razer Phone hands-on time. You probably know Razer for gaming PCs, but phones? After buying phone maker Nextbit, Razer has now built its first 'gamer phone', which Engadget says combines powerful performance with some interesting hardware features. The result? The Razer is a "gaming phone that you don't have to be a gamer to appreciate."
Due to launch on November 17, the Razer Phone has a huge 4,000mAh battery, powerful front-facing speakers and an Igzo LCD with a 120Hz refresh rate that's perfect for high-res mobile gaming. The Razer has a high-end Snapdragon 835 CPU and 8GB of RAM, although Engadget reports a little lag on the pre-release models they tested. The phone's dual-camera and its lack of dust or water resistance are not strong points, but if you're a serious mobile gamer, the Razer is worth a look. Read Engadget's Razer Phone hands-on here. — MV
WhatsApp 'unsend' feature gives you 7 minutes to reconsider
If you've downloaded the latest WhatsApp update, you can now unsend a message within 7 minutes of sending it. The new WhatsApp 'unsend' feature — called "delete for everyone" — removes your message on each recipient's end. Instead of seeing your message, they'll see a notice saying "This message was deleted". You only have seven minutes to delete, and each party in your conversation must have the latest update in order for the WhatsApp unsend feature to work. So for now, just be careful if sending messages when you're angry, tired, or not so sober. — MV
iPhone X delay now 4-6 weeks — unless you're lucky on Nov. 3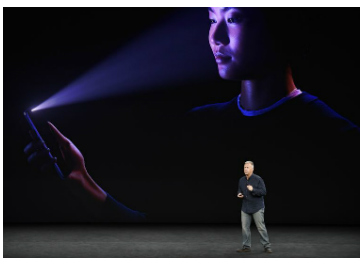 Despite rumors of an iPhone X delay in shipping times, Apple promises to offer at least some of the phones at stores on launch day, this Friday, November 3rd. The number of devices per location is a mystery, but Apple advised fans to "arrive early". If we see long queues of people waiting hours in advance, it's possible that those at the end of the line will go home empty-handed.
If you can't get an iPhone X in-store on Friday, you can still order online, you may have to wait 4-6 weeks to shipping time. According to Bloomberg, the cause of the iPhone X delay is likely the phone's 3D facial recognition sensor, which is used for unlocking the phone and creating "Animoji" among other things. Bloomberg suggests that in its effort to include the all-new feature, Apple pushed suppliers toward a deadline they couldn't meet. Although some pundits claim that Apple told suppliers they could reduce the accuracy of the facial recognition technology in order to speed up production, Apple denies this. — MV
Google Poly is a new 3D objects library for anyone to use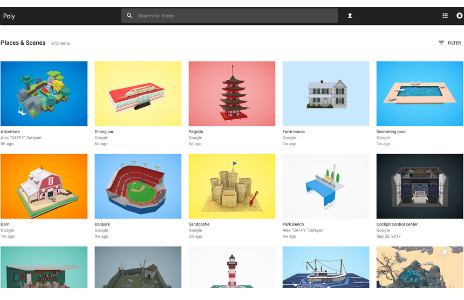 Google this week introduced a new service called Poly, a library of 3D objects for everyday folks to share, or for developers to use for AR and VR apps. If you aren't a developer, you can use Google Poly to view 3D objects in a mobile or desktop browser. You can search for specific things, like a zebra or a pizza. When you discover an object you like, you can create a shareable GIF or view it with a Google Cardboard or Daydream View VR headset.
For developers, Poly 3D objects are compatible with VR platforms, Google's ARCore and Apple's ARKit. You can modify Poly 3D objects with Google's Tilt Brush and Blocks tools, and then upload your modified file into Poly for others to use via a Creative Commons license. Google Poly will credit and link to the original creation when you publish your remix. Google expects the 3D objects library to grow quickly as more devs upload and share their creations. For more about Google Poly, check out Google's Poly page and short video. — MV
Amazon joins AR 3D shopping party, too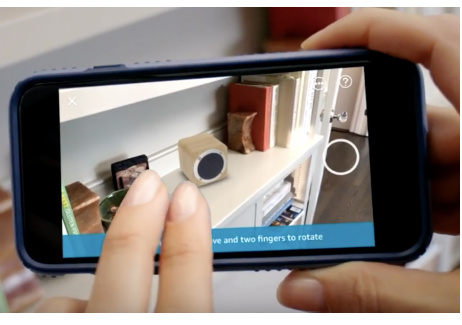 Last week we told you how Target finally added augmented reality 3D shopping for select products on its mobile site, if not yet its app. Target was catching up with Ikea, Houzz and Overstock — all of whom added AR-based 3D shopping to their mobile apps in September. Now Amazon has joined in the fun by adding 3D shopping to its iOS app, but you'll need an iPhone 6S or newer model. The 3D shopping feature lets you see how thousands of products would look in your house or other space. Aside from furnishings, you can also virtually place appliances, electronics, and certain toys.
For now AR View is only for iPhone because Amazon's AR View is using Apple's ARKit, which only works on iOS. To bring 3D shopping to Android, Amazon needs to use Google's ARCore platform. That will likely happen at some point, so Android owners will have to be patient. Besides AR View, Amazon is also promoting other holiday shopping features like voice shopping for Prime-eligible items using Alexa. — MV
Misfit's Android Vapor watch is finally here for $200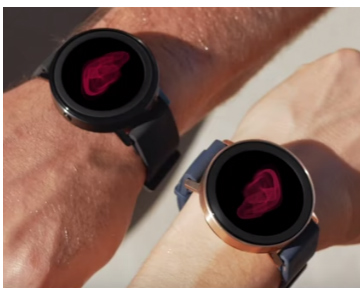 After teasing us with a prototype last winter, Misfit Wearables is finally shipping its Android Vapor watch (pictured here and top of page) starting November 7. Though the Vapor watch works with both iPhones and Android phones, you can play music on it without a phone.
The Vapor watch runs Android Wear 2.0 and has a 1.4-inch round AMOLED display at 326 ppi, Snapdragon Wear 2100 processor, 4GB of memory, and touch-sensitive side bezels that you can tap to browse apps. As with other Wear 2.0 watches, you can see your phone notifications and call up Google Assistant by saying "OK, Google".
The Vapor watch is yours for $200 in black, silver, gold and rose gold from Misfit.com. Misfit also offers bands, fitness trackers and another sport smartwatch with fewer features. — MV
Samsung Gear Sport smartwatch review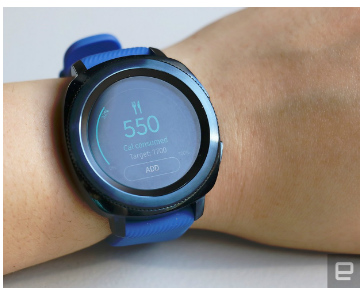 If you prefer to spend more on Android sport smartwatch from a more familiar player, Samsung's new $300 Gear Sport smartwatch is worth a try, according to a new review by Engadget. Like the new Vapor watch, the Gear Sport smartwatch offers a lot of features including playing music, calorie and sleep-tracking, smart home control and contactless payments. Says Engadget: "Some of these, like guided workouts and smartphone notifications, work well. Others, like sleep-tracking, lag the competition. Still, this is a powerful, versatile and attractive sport smartwatch for the price." — MV
Pimax 8K VR breaks records
If you're a serious VR geek you probably already know of (or even have) the limited-run Pimax VR 4K headset, which has a resolution of 4,000 pixels. Now the Chinese company's new 5K and 8K VR headset line has passed the 2012 Oculus Rift to become Kickstarter's top-selling VR product ever. With just hours left before the campaign expires midday November 3, Pimax's 5K and 8K VR headsets have raised nearly $4 million.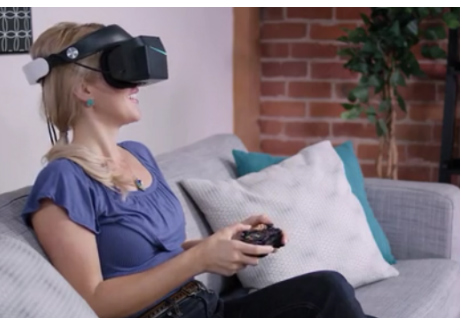 The Pimax 8K VR is the first VR headset to deliver a whopping 8,000 pixels-resolution. That's 3840 x 2160 pixels per inch per eye, which is several times more than other VR headsets currently offer. The newest Pimax 8K VR and 5K versions are also the first consumer-grade VR headsets to promise both 200-degree field of vision and room-scale position tracking that's been exclusive to the HTC Valve. Combined, these aim to prevent motion sickness and a pixelated (fuzzy) VR experience.
By comparison, the Oculus Rift raised $2.4 million on Kickstarter in 2012. Though neither Kickstarter nor VR headsets were as popular back then, Oculus still set the bar high. After that, Oculus raised $16 million in Series A funding, $75 million in Series B, and was bought by Facebook for $2 billion in 2014. Let's hope Pimax can also keep the mojo and money flowing after its successful 8K VR launch. — MV
VR to help Farmers Insurance claims adjusters
Farmers Insurance, part of the Zurich Insurance Group, is now using Facebook's Oculus Rift virtual reality headsets to train some of its insurance claim adjusters. VR production company Talespin, using the Unity game engine, has created a two-story digital home that has either fire or water damage, for adjusters to experience the home during a 15-minute VR training session. So far the VR training is limited to 50 adjusters in Los Angeles, but Farmers plans to expand it to thousands of adjusters. Future VR training experiences will also incorporate more homes with other insurance claims scenarios, such as earthquake damage. — MV
ThirdEye Gen delivers AR smart glasses + enterprise AR apps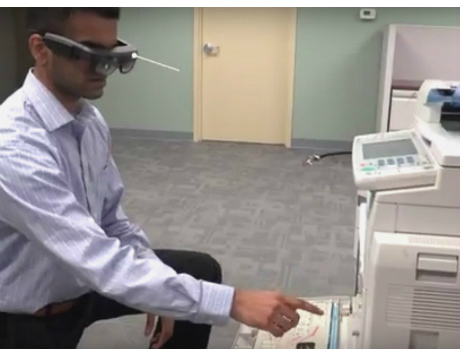 It may not be 8K VR, but ThirdEye Gen has announced Smart Glasses and AR software targeted at enterprise AR applications. Its hands-free, "X1" AR smart glasses boast a display that is equivalent to looking at a 90-inch screen from ten feet away. A 3-screen interface allows the user to have a clear Field of View while rotating between AR screens via head-motion.
ThirdEye's enterprise AR software delivers live audio, video, and data communication between remote users. Its enterprise AR app suite is modular and can be customized for law enforcement, businesses and universities. Each session can be automatically archived to the Cloud (secure remote server) for later reference. — MV
Samsung, Google Alphabet revenues soar
Samsung just posted record profits of $12.9 billion on revenues of $55 billion for its third quarter (Q3). Those operating profits are nearly triple that of Q3 last year, and revenues leaped 29.8 percent year-on-year. The Korean giant is on track for a record year, because analysts are also predicting a strong fourth quarter. Samsung did well this year with its Galaxy S8 and Galaxy Note phones, and recently partnered with Google to extend its ARCore platform to more Galaxy devices. The company also recently announced a range of VR services, and unified its IoT services into a single platform called SmartThings Cloud.
Google's parent company Alphabet revenues beat expectations and its stock hit an all-time high after the report. Alphabet revenues hit $27.7 billion, a 24 percent increase over last year and beyond the $27.2 billion expectations of Wall Street analysts. Earnings per share also beat estimates: $9.57 per share versus the projected $8.33. Stock prices hit an all-time high last week, passing $1,061. Most of the Alphabet revenues were earned from advertising, but the company's hardware sales (including VR and AR devices) accounted for $3.45 billion, up from $2.43 billion last year. — MV
Sprint T-Mobile merger talks collapse
This week Sprint shares plummeted 11 to 13 percent and T-Mobile stock fell as much as 5 percent after talks for a merger fell apart. The carriers' parent companies — Japan's SoftBank for Sprint and Deutch Telecom for T-Mobile — couldn't agree on ownership terms, the Wall Street Journal reported.
Could the companies reconsider and try again? It's possible. Some pundits think that SoftBank regrets buying Sprint and really wants an out, but still wants to get its money's worth from a merger. This is the second time that SoftBank has pursued T-Mobile — back in 2014, it wooed the company before getting scared that antitrust regulators wouldn't allow it to merge. — MV
Except for this week, this mobile news roundup is always a mix of mobile news highlights provided by both MobileVillage and Appcelerator, a top mobile development platform company. Want your news featured in 'The Week in Mobile'? First check out our submission guidelines. We give preference to mobile news about mobile trends, innovations, major app updates, major companies and official Mobile Star Awards Nominees or winners. Mobile news: Pimax 8K VR , 8K VR , Razer Phone hands-on , iPhone X delay , WhatsApp unsend , Amazon 3D shopping , Google Poly 3D objects , Vapor watch vs Samsung Gear sport smartwatch , Samsung & Google Alphabet revenues, Sprint T-Mobile merger fail