We've teamed up with Appcelerator to bring you a weekly quick read of the most important mobile apps news and other mobile technology news stories. In this week's mobile news roundup we cover iOS 11 features, the Apple Watch 3 WiFi problem, Google's HTC buy, the upcoming Google Pixel 2 release & Pixel 2 photos, Google Daydream 2 VR, 3D shopping AR, Amazon Alexa glasses rumor and more. Posts below are from Appcelerator (APP) and MobileVillage (MV).
Google buys part of HTC for $1.1 billion
Google announced a few days ago that it's acquiring a $1.1 billion part of HTC's smartphone business. The acquisition includes a non-exclusive license to HTC's patents and half of its engineering and technical team, or 2,000 employees — most of whom worked on Google's Pixel and Pixel XL smartphones. Taiwan's HTC, which has been struggling in sales, will keep its Vive VR headset and AI business.
Google's HTC acquisition will allow Google to improve its hardware including its Pixel phones, which support the company's new ARCore tools for AR and its Google Daydream VR headsets. As The Verge bluntly put it, Google is "going to war against the iPhone." Early last year, the tech giant launched a new hardware division led by Motorola's Rick Osterloh, and a few months after that Google unveiled its first Pixel phone. Meanwhile Apple is trying to break free of any dependency on Google, by building its own services like Apple Music and iCloud. — MV
Google Pixel 2 leak + Pixel 2 release date set for Oct. 4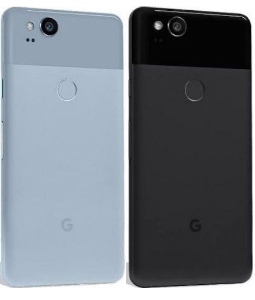 It's already no secret that Google has set the Pixel 2 release date — the Pixel 2 and Pixel 2 XL will be revealed at Google's next big event on Wednesday, October 4 in San Francisco. The Pixel 2 and 2 XL will be produced by HTC and LG respectively, but until the past week, not much was known about the Pixel 2 specs. The Android blog Droid Life now has posted Pixel 2 and 2 XL leaked photos, and Android Authority has compiled a very detailed rundown of the rumored Pixel 2 specs.
According to the leaks, the Pixel 2 and Pixel 2 XL will have contrasting back plates in white, black, blue-gray, and black-and-white. The smaller HTC-made Pixel 2 will allegedly cost $649 for the 64 GB version and $749 for 128 GB, while the larger LG-made Pixel 2 XL will cost $849 for 64 GB and $949 for 128 GB. One or both of the Pixels will include optical image stabilization for photos and a more powerful Google Assistant experience. — MV
Google Daydream 2 VR headsets to cost $99?
Also on October 4, Google is expected to reveal its new Daydream VR headsets. The Daydream 2 will soon be available in your choice of charcoal, "fog" (light gray) or coral (orange-pink) and will also reportedly cost $99 versus $79 for the current model, according to a scoop from Droid Life. At its Oct. 4 event, Google may also announce the three new Daydream compatible phones it promised by the end of the year. — MV
Apple flings Bing aside for Google in iOS
Apple will now use Google instead of Bing for search results with Siri on iOS and Search inside iOS (formerly called Spotlight). The reason for the switch is to have a consistent search experience, since Safari on Mac and iOS already use Google search by default, thanks to a deal a multi billion-dollar deal with Google. The switch is likely timed to sync with Apple's new MacOS release, High Sierra. Although Google will provide general web links and videos, Bing will still deliver image search results for now. — MV
iPhone 8 glass back costs $99 to fix
That pretty glass back on the new iPhone 8? Be careful, because it's US $99 or more to fix. According to AppleInsider, breaking the glass back isn't covered under AppleCare+ $29 screen repair warranty. Instead, it falls under "other damage," which costs $99 to repair. And if you break it three times, you'll have to shell out $349 to fix it for the iPhone 8, or $399 for an 8 Plus repair. Although buying AppleCare+ extends the limited warranty on your iPhone for another year, you can only claim two incidents of accidental damage for "discounted" repairs. We think this makes the case that just in case, get a case. — MV
Apple Watch WiFi problem & first hands-on
Some early Apple Watch Series 3 hands-on reviews have noted a major bug where the watch can't return to LTE after connecting to open WiFi networks that use a login page. Because the watch doesn't have a web browser, it can't connect to login pages, but then gets stuck and doesn't switch back to LTE. Apple plans a fix in a future software update. — MV
It's finally here: What's new in iOS 11 features
After months of waiting and nearly a dozen preview versions, iOS 11 is finally available for public download. With some internal changes to enable ARKit functionality for iPhone, as well as a brand new app docking system for the iPad, iOS 11 might be Apple's most ambitious OS update in years. Aside from the major updates and features (see detailed iOS 11 reviews from Engadget and from iMore), iOS 11 also has some lesser known features that can be extremely useful for developers.
O
ne such option is the ability to record your screen from your device, saving the video to your photo library. Users can add this capability as a shortcut to their Control Center. Speaking of the Control Center, you can't use it to completely disable WiFi and Bluetooth. Rather, it will only disconnect you from existing accessories utilizing WiFi or Bluetooth, but not AirPlay, AirDrop, or Location Services. Fully disconnecting requires you to open the Settings app. Apparently, Apple designed it that way on purpose, but it may be confusing for users.
Another useful iOS 11 feature is a new management option nestled within the App Store that lets you delete apps you don't frequently use to save storage space. However, the icons will still appear on the homepage, which allows you to quickly redownload the app should you need it. To check whether apps will be compatible with iOS 11, you can use Settings > General > About > Applications. Apps on that won't work with iOS 11 won't be purged from users' devices, but they won't be able to open them until they receive an update. — APP
Ikea, Houzz & Overstock apps add AR for 3D shopping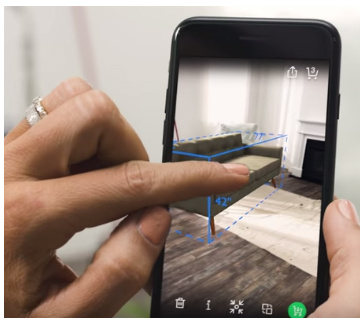 The popular retailer Overstock.com has added augmented reality (AR) to its iOS shopping app. The new AR feature lets shoppers place virtual, high-resolution 3D models of furniture and décor in their own room, so they can see and measure how the items might fit into their current room's design and flow. So far, the AR feature is not available to the app's Android users, but Overstock app users using an iPhone or iPad with iOS11 can launch the AR experience directly from the app.
Overstock says the AR 3D shopping app feature is available for thousands of its top products. Overstock app users can also instantly share images of their design through messages or social media, and purchase items with Apple Pay without leaving the AR screen. The Overstock app is a current Mobile Star Awards Nominee. You can see a demo of the app's VR here and see more about the Overstock app and company here.
With 3D shopping a new hot AR trend, the Houzz furniture app has also added AR to its "View in My Room" feature. The app lets shoppers virtually place true-to-scale furnishings in a real room. The Houzz furniture app features a catalog of more than 500,000 items, and auto-saves previewed items to a shopping list. Users can pay with credit or Apple Pay.
Not to be outdone by Overstock and Houzz, Ikea has also added AR to the iOS version of its app, Ikea Places. Even though the updated app hit the App Store later than Overstock and Houzz, Ikea was lucky enough to be chosen by Apple for an on-stage demo at its recent iPhone 8/X event. Ikea's 3D shopping feature is currently only available on iOS, but Houzz says it will come to Android soon. The Ikea app uses technology from Colormass, an innovator in virtual object imaging. — MV
Target app to get in-store directions & photo search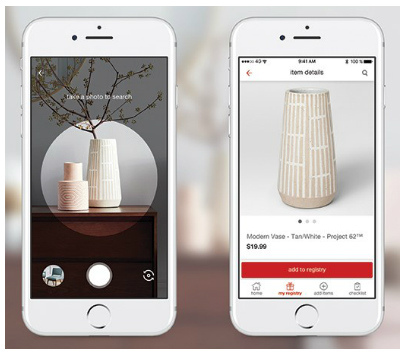 Target plans to roll out a newly redesigned app that will guide shoppers to the items they want to buy. Utilizing Bluetooth-powered beacons, the app provides a detailed, real-time map of the user's Target store. Search for a product, and the app will direct you to the aisle where it is. The feature also lets you know if the item is on sale, and Target is working on more features that will let you scan products for reviews, price and even mobile payments via CartWheel. Target says mapping will be available in about half of all stores during the holiday season.
Target has also landed a deal with Pinterest to use its Lens visual search tool in the Target app. Already an important part of the Pinterest mobile app, Lens lets you take a photo of a food or other product you like to find exact or related matches in the app's search results. With Lens in the Target app, taking a photo of something you like will connect you to the product (or a similar product) on Target's website and in retail stores. Target says it will first utilize the Lens visual search in its store registry system, and then later in its app. — APP & MV
Google Tez enables audio QR mobile payments
Joining a very crowded field, Google has unveiled its first mobile payments app in Asia. Tez is a free mobile payments app in India that connects to users' banks accounts for secure purchases both online and at brick-and-mortar stores. It also puts a new spin on peer-to-peer payments with its proprietary Audio QR technology, which lets users' phones speak to each other using ultrasonic sounds to make transactions even easier.
This is the first time Google has used Audio QR for mobile payments, although it's appeared before in other apps that share sensitive information. The feature is particularly useful in countries like India, where not all devices come equipped with Bluetooth or other secure options. Tez is now available for download from Google Play in India. — APP
Airbnb adds restaurant reservations
Rental app Airbnb is expanding into the restaurant reservation game. In an attempt to look beyond lodging and become a more complete travel-booking service like Expedia or Priceline, Airbnb now allows users to reserve tables at more than 650 restaurants across the United States. The company hopes that the ability to book food reservations will promote more frequent engagement with its app. Airbnb has also tinkered with flight-booking and a widget that helps travelers plan their itineraries using targeted suggestions. — APP
Amazon Alexa glasses coming?
Eager to expand its AI assistant beyond the home and take on Google Assistant and Apple's Siri, Amazon is allegedly working on Alexa-enabled smart glasses. According to a new report, the eyewear would sync to users' smartphones so they could access Alexa without needing to open the mobile app. Amazon plans to forego the addition of any cameras or screens to the specs in order to focus on Alexa's voice-based functionality. The technology will reportedly be implanted into normal glasses, which would make them better for daily use than what Google imagined with Glass several years ago.
Amazon is also reportedly working on a home security camera that will sync with Alexa and the Echo Show, and could even inform users when Amazon packages have arrived on their doorstep. There are no details about when either of these products may become available. — APP
Except where indicated (MV for MobileVillage), this mobile news roundup is by Erin Bailey of Appcelerator, a top mobile development platform company. Check out Appcelerator's blog. Mobile news roundup: iOS 11 features, Apple Watch 3 WiFi, Google's HTC buy, Google Pixel 2 release & Pixel 2 photos, Google Daydream 2 VR, 3D shopping VR, Amazon Alexa glasses