We've teamed up with Appcelerator to bring you a weekly quick read of the most important mobile apps news and other mobile technology news stories. In this week's mobile news roundup we look at Apple's unintended iPhone 8 leaks, Google's Chrome ad blocker, Google Nearby Connections API, Google Play's Made for India section, app onboarding, the RFID market and more. Posts below are from Appcelerator (APP) and MobileVillage (MV).
Lyft to help Amtrak train passengers book rides to/from home
Lyft has teamed with Amtrak to make it easier for passengers to hail a ride to and from train stations. The integration will feature the ability to order a Lyft car through Amtrak's mobile app (see image above). The deal with Amtrak is Lyft's third major partnership announcement over the last couple weeks, as the company revealed integrations with major brands Disney and Taco Bell last month. To sweeten the pot on its Amtrak integration, Lyft is offering a $5 off credit for new users for their first four rides. — APP
iPhone 8 leaks confirm long rumored features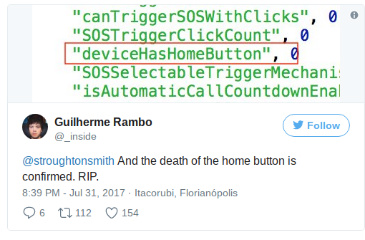 Apple has accidentally spilled the beans about its upcoming iPhone. The new iPhone 8 leaks were spotted in a firmware release for the HomePod, the company's upcoming smart speaker also set to debut later this year. Developers noticed iPhone references, and dug through the code for hints to the new iPhone's design and features.
According to the iPhone 8 leaks, the new smartphone will ditch a physical home button in favor of a digital one that appears on the screen. Although, they did not find any evidence the iPhone would employ a fingerprint sensor under the display as has been rumored. Based on the new iPhone 8 leaks, developers also claim that the iPhone 8 will boast a nearly all-screen design and vastly improved resolution, alongside new facial recognition and detection, and a tap to wake feature. — APP
Google tests Chrome ad blocker in Chrome app
Google has debuted a new, built-in Chrome ad blocker in a pre-release version of the Chrome app. This special build of the mobile browser is called Canary, and is used to test features before they make their way to the actual Chrome app. The latest version of Chrome Canary contains a new setting in the menu that gives users the ability to block ads that Google considers intrusive.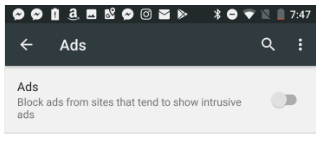 The tech giant is said to be in talks with advertisers about what falls under that definition, but is expected to include pop-up, autoplay and prestitial ads (the latter are those that show up in front of intended content). The Chrome ad blocker is available now through the Chrome Canary download and is expected to launch on the consumer Chrome app sometime next year. — APP
Google Nearby Connections API now available to all
Google Nearby Connections technology is now available to all Android developers. That means third party devs can build offline capabilities such as media sharing and gaming directly into apps. The technology uses a combination of Wi-Fi, Bluetooth LE and classic Bluetooth to create connections between nearby devices. The API functions in all Android devices running Google Play service 11.0 and higher.
Google Nearby Connections debuted in 2015 as a way to transform user's phones for second screen experiences in conjunction with smart TV apps. At its I/O developer conference this May, Google announced that the API would be getting a revamp to allow it to sync with more devices in new ways. The company says that eventually, Google Nearby Connections will be able to connect with other home technologies to start playing ambient music or adjust the temperature of a room when you walk in. — APP
Google Play's Made for India section highlights local apps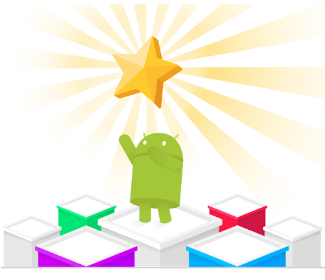 Google announced a "Made for India" initiative designed to promote Play Store apps that are optimized for the Indian market. The announcement was made at the first ever Google Play App Excellence Summit in India, which brought together over 700 Indian app and game developers. The Made for India program showcases high quality apps specifically for an Indian audience in a special section of the Play Store.
The move makes sense for Google, as more than one billion Play apps are installed by people in India each month. To make the Made for India section, developers need to demonstrate certain characteristics including innovation, reduction of data and battery drain and optimizations for Internet connectivity. You can submit your app here. — APP
App users wary of sharing in app onboarding process
Most mobile app users are concerned about sharing their personal information when they register for a new app, a new survey reveals. Nearly 90 percent say that security of their information shared during the app onboarding process is "somewhat" to "very" important, according to B2B research firm Clutch. The majority of app users (82 percent) also say that understanding why they need to provide personal information and grant permissions, like location or camera access, is an important consideration when they register.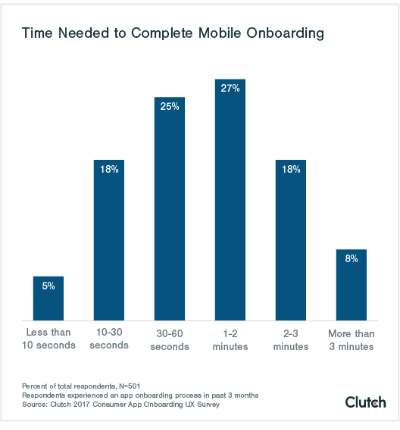 Clutch says that getting app users to share personal information during app onboarding is all about the timeliness of the request. The survey found that nearly three-quarters (72 percent) of respondents said that a 60-second or shorter onboarding process was somewhat or very important in their decision to continue using an app.
Clutch's UX of Mobile App Onboarding survey included 501 people across the US who registered with a mobile app within the past 3 months. Users in the study were about evenly split between iOS and Android. The app onboarding study also identifies why app users download new apps, and the types of apps they download the most. You can read the full report here. — MV
New "Humanobot" system aims to prevent mobile fraud
SecuredTouch has announced Humanobot, which is behavioral biometrics-based bot for mobile app developers that automatically detects and stops malicious non-human behavior like scripted attacks, malware, bots, IP spoofing and RAT (remote access Trojan) attacks. Humanobot recognizes suspicious mobile traffic by making sense of data from different sensors, differentiating between human and non-human actions, and differentiating between real devices and emulators. It then sends alerts about attacks.
Humanobot aims to eliminate the need for users to repeatedly enter passwords, security questions, and captchas. It also claims to cut development time, infrastructure resource requirements, and transaction abandonment. For details, check out SecuredTouch.  — MV
RFID market sees steady growth thanks to retail tagging
If you follow the RFID market, you're probably not surprised to hear that it's still growing steadily, thanks largely to ticketing, product tagging, and animal tagging. The RFID market will be worth $11.2 billion, which is up from $10.52bn in 2016 and $9.95bn in 2015, according to a new report from IDTechEx. This includes tags, readers and software/services for RFID labels, cards, fobs and other form factors, for passive and active RFID.
In retail, RFID is mainly used for apparel tagging, with 8.7 billion RFID apparel tags used in 2017. Although that's that's a lot of tags, it's still only 20 percent of the total addressable market for apparel in 2017, says IDTechEx. In other areas, RFID in the form of transit tickets will demand 825 million tags in 2017, and the tagging of animals will account for 480 million tags this year. In total, IDTechEx expects that 18.2 billion tags will be sold in 2017 versus 15.2 billion in 2016. You can see more here in their report "RFID Forecasts, Players and Opportunities 2017-2027". — MV
Except where indicated (MV for MobileVillage), this mobile news roundup is by Erin Bailey of Appcelerator, a leading mobile development platform company. Check out the Appcelerator blog. Mobile news roundup: iPhone 8 leaks, Google's Chrome ad blocker, Google Nearby Connections API, Google Play's Made for India section, app onboarding, the RFID market