We've teamed up with Appcelerator to bring you a weekly quick read of the most important mobile apps news and other mobile technology news stories. In this week's mobile news roundup we look at Apple's Q3 2017 earnings, a rumored Facebook video phone & Facebook speaker, Google VR, Apple AR glasses, ARKit AR navigation, mobile app revenue, mobile biometrics, mobile shopping and more. Posts below are from Appcelerator (APP) and MobileVillage (MV).
Apple stock hits record high after Q3 earnings
Apple's stock hit an all-time high of just under $160 this week, after Apple reported strong earnings for the third quarter (Q3) of 2017. Apple reported profits of $8.72 billion on revenues of $45.4 billion—down from last quarter, but up from Q3 a year ago. The company sold 41 million iPhones, 11.4 million iPads, and 4.29 million Macs. Thanks in part to a new larger iPad Pro, this was the first time since 2013 that iPad sales have grown year-over-year. Apple's Services division also did well, with a record 22 percent year-over-year revenue increase.
Apple this week also came under fire for its removal of many virtual private network (VPN) apps from its App Store in China. Apple CEO Tim Cook insists that the company only removed apps that didn't have a VPN license as required by China's government, and that "there are still hundreds of VPN apps" in the App Store there. For more details on Apple earnings for Q3 and related news, check out Apple's earnings call summary from 9to5 Mac. — MV
Facebook speaker & Facebook video phone rumored
Facebook is rumored to be working on its own 15-inch smart speaker with a touch screen. Sources say that the Facebook speaker is being manufactured by a Chinese iPhone maker and will be equipped with an LG in-cell touch screen display and speaker that can read loud users' Facebook messages and news feeds, among other content. The device has a target release of early next year, but Facebook may cancel the release if testers don't favor the device over competitors like the Amazon Echo line, Apple HomePod and Google Home.
Besides its smart speaker, we may also see a Facebook video phone device, according to sources who leaked the news to Bloomberg. Unlike the new Amazon Echo Show (pictured), the new Facebook video phone would feature a laptop-sized touchscreen and a camera that can automatically scan for and focus on people in the room. Facebook reportedly considered using Android, but is instead building its own operating system. It's likely that the device will feature the upcoming Facebook video chat app that we reported on three weeks ago. The Facebook video phone is in the prototype phase but is already being tested in some homes, according to Bloomberg.
Both the Facebook speaker and Facebook video phone are rumored to be the first product release from the company's new Building 8 hardware lab. Building 8 is staffed with hardware veterans and led by former Google exec Regina Dugan. — MV
Many more phones to support Google VR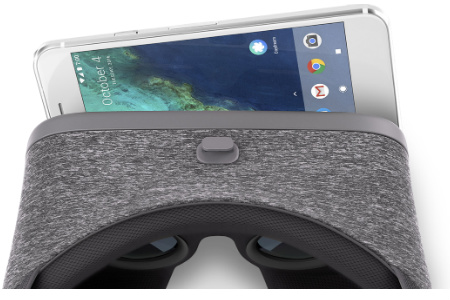 Google has promised that the number of smartphones supporting its "Daydream" Google VR software platform will increase from 5 to 11 by the end of the year. Daydream VR couples with the Daydream View headset (pictured) to transform the user's smartphone into a standalone virtual reality system by simply inserting the phone into the headset. The end result a setup that's more portable than industry rivals like Samsung's Oculus Rift or the HTC Vive, which need to be tethered to a desktop. — APP
HoloLens AR headset to get AI, too
In related news, Microsoft announced that its HoloLens augmented reality (AR) headset will get an artificial intelligence (AI) co-processor. The AI processor will allow HoloLens to perform real-time analysis of sensor data, such as hand segmentation techniques used in gesture recognition. HoloLens's current processor already enables it to map out a user's environment and anchor virtual objects to those surroundings, among other tasks required to turn sensor data into convincing mixed-reality experiences. — MV
Apple AR glasses patent application
Apple AR glasses have been rumored for a while. Now a new patent application has been spotted by Patently Apple from Metaio, an AR company that Apple bought in May 2015, but is now attributed to Apple. The patent covers a method for representing points of interest in a view of a real environment on an iPhone screen, with interaction functionality. The patent also covers AR glasses, and is one of several Apple AR glasses related applications that Apple has been filing, along with new and updated trademarks. — MV
Apple ARKit enables new AR navigation app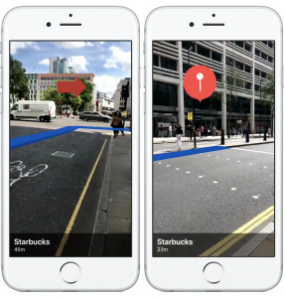 Since it was announced at WWDC, Apple ARKit has been one of the most highly anticipated features coming with the release of Apple's new iOS 11 operating system. Apple ARKit won't be available until iOS 11 drops later this year, but that hasn't stopped developers from showcasing some creative use cases for it.
For example, last week an iOS developer shared a video showing how ARKit can work with CoreLocation—another iOS tool that can determine your device's geographic location—to change the way we navigate maps. The new AR navigation feature will let you drop any location into the search bar, and it then opens your camera to provide guided arrows that lead you to your destination. Users can also look around with their camera to reveal major landmarks or locations. — APP
New iOS 11 & Android O previews for developers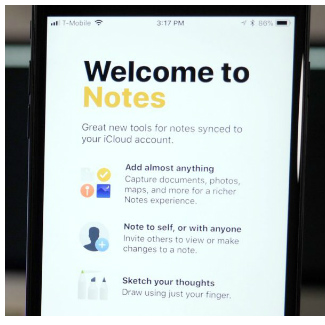 Apple has also released yet another developer preview for iOS 11. Developer beta 4 comes with another batch of new features including some additional options for opening app notifications from the lock screen with Touch ID authentication, as well as some redesigned icons and splashscreen pages for apps like Notes, Contacts and Photos. There are also some aesthetic changes with a bolder WiFi status bar and pull-to-refresh function for updating apps in the App Store.
Last week, Google also released its final developer preview for Android O. As a release candidate build, the version is lite on new features, but there were a couple new updates including notification channels, picture-in-picture video playback and an enhanced settings menu. Google says we can expect to see Android O later this summer. — APP
General Motors fast-tracks in-car apps testing
General Motors is streamlining the process for building in-car apps with a new software development kit and testing program. Developers can now get their hands on an infotainment SDK and testing app called GM Dev Client. This unique kit makes it possible for developers to test apps in their cars during real world situations.
Here's how it works: once an app has been approved, GM will provide access to the testing client, where developers can provide the necessary vehicle information to download the app to their car's dashboard. Then developers can use the app and make updates to the code in real-time using a laptop. The Dev Client is available now, with GM templates for programs such as media player or location services to come later this year. — APP
Whatsapp surpasses one billion daily active users
Whatsapp now has more than one billion daily active users. According to Facebook, users of the popular messaging app are sending more than 55 billion messages, 4.5 billion photos and one billion videos per day. The impressive growth has been spurred in part by Snapchat Stories rival "Whatsapp Status", which now boasts more than 250 million daily active users (by comparison, Snapchat only has 166 million users total). With Whatsapp, Facebook is beating Snapchat to the punch at selling a "stories" feature to overseas and emerging markets. — APP
Netflix leads mobile app revenue across platforms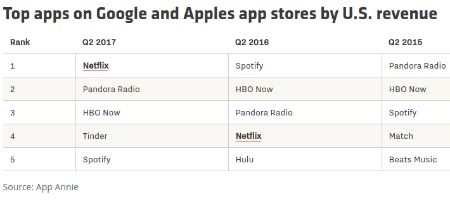 Netflix bested Wall Street's new user predictions by more than two million subscribers last quarter, thanks in part to a surge of sign-ups on mobile. According to a new report from App Annie, the streaming service's mobile app revenue from the Apple Store and Google Play was higher than any other mobile app in Q2.
Small screens aren't dissuading users from signing-up and watching Netflix on smartphones or tablets. Americans spent nearly 7.5 billion minutes watching Netflix on their mobile devices last month, as more users begin watching videos on-the-go. Netflix began offering subscriptions through Apple Store and Google Play in 2015, and has finished in the top 2 for mobile app revenue for the last three quarters. — APP
Shoppers prefer mobile biometrics to passwords
The vast majority of consumers prefer biometric authentication methods over traditional passwords, according to a new report on mobile biometrics by the University of Oxford and Mastercard. The study showed that 93% of consumers and 92% of bank executives surveyed are inclined to using biometric authentication. The report recommends five factors important to implementing mobile biometrics: seamless performance, usability, interoperability, strong security and privacy. For details, read the whole study here [pdf]. — MV
US still lags in mobile shopping
The evolution of mobile shopping, encouraged by increasingly sophisticated devices and 4G mobile internet, is more obvious in Europe and Asia, but the US is fighting to catch up with them. According to the latest Criteo State of the Mobile Commerce 2016 report, the United States took 7th place on the list of countries with the largest volume of mobile shopping. Japan, the UK and South Korea led the list. You can download the report from Criteo here. — MV
Except where indicated (MV for MobileVillage), this mobile news roundup is by Erin Bailey of Appcelerator, a leading mobile development platform company. Check out the Appcelerator blog. Mobile news roundup: Facebook video phone, Facebook speaker, Google VR, Apple AR glasses, ARKit AR navigation, Apple earnings, mobile app revenue, mobile biometrics, mobile shopping