We've teamed up with Appcelerator to bring you a weekly quick read of the most important mobile apps news and other mobile technology news stories. In this week's mobile news roundup we have a lots of new phone news: the Essential Phone, Nokia 8, LG V30, Asus ZenFone 4, Galaxy S8 Active, and a rumored cellular Apple Watch 2017. Plus: Facebook's new video watching service, NBA mobile ticketing and more. Posts below are from Appcelerator (APP) and MobileVillage (MV).
Andy Rubin's Essential Phone finally available for pre-order
After weeks of delays, you can now order the much-hyped Essential smartphone (pictured above) from Sprint, which is the only carrier to subsidize the smartphone with monthly payment plans and even leases. Depending on your credit, you may qualify for half off of a lease, so you'd pay just $15 per month for 18 months. And if you want to keep the phone at the end of your lease, you'll pay the remaining balance for the phone's $700 price.
If you don't like Sprint, you can buy the high-end Essential Phone unlocked from Amazon, Best Buy or Essential, which is offering both the phone and optional $200 4K Essential 360 degree Camera for $749 for a limited time. That sounds like a pretty good deal to us.
The Essential Phone was originally scheduled to ship in June. The new launch comes just as Essential won another $300 million in funding from Amazon and Tencent. — MV & APP
Nokia 8 takes on today's best smartphones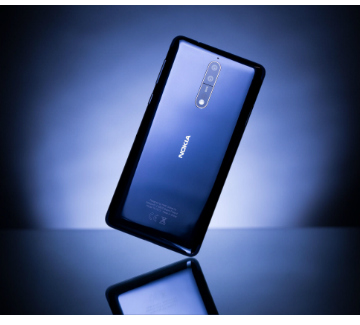 If you're looking for a high-end "smaller" phone with powerful cameras, the new Nokia 8 might be your ticket. Unlike Nokia's existing Androids this one is a powerhouse with a Snapdragon 835 processor, 4GB of RAM, ultra HD (2,560×1,440 pixels) 5.3-inch display, front-facing fingerprint scanner and 4K video. In a hands-on, CNET found the display to be sharp and bright even in bright sun, and benchmark speed tests rivaled Samsung's Galaxy S8.
A unique feature on the Nokia 8 is that it has two back 13-megapixel cameras–one of which shoots only in black and white for more artistic images. Both cameras can shoot video in 4K. There's a also a 13-megapixel front selfie camera that when used with the back color camera, can create a single, split-screen image that you can also livestream directly to social media.
The Nokia 8 goes on sale in September for 599 euros or £599. It isn't yet confirmed for sale in the US or Australia, but when it is, expect it to cost around US$700 or AU$900. — MV
LG V30 photo leaked: Better than Galaxy S8?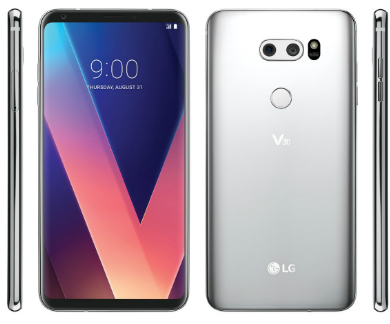 Like its parents, the upcoming LG V30 will have a great camera and other high-end specs (more below) that challenge today's top smartphones. And now thanks to the reputable phone leaker Evan Blass, we have a leaked photo (shown here) that shows off conservative but modern and elegant body. Like the Galaxy S8, the 6-inch screen on the LG V30 is almost bezel-free. But its backside is better laid out, with the fingerprint sensor below the camera instead of beside it, and the camera itself not sticking out as it does on the V20.
Following up on the VG20 and VG10, the LG V30 will have the ultra-small f/1.6 aperture and glass lens instead of a plastic lens. LG says that those features allow better low-light performance and reduce edge distortion. You should also expect to get strong audio recording and playback on the LG V30, like previous models. The LG V30 has a 18:9 OLED screen and face and voice unlocking, and will likely have a high-end Qualcomm Snapdragon 835 chip. — MV
Asus adds four new ZenFone 4 models with dual cameras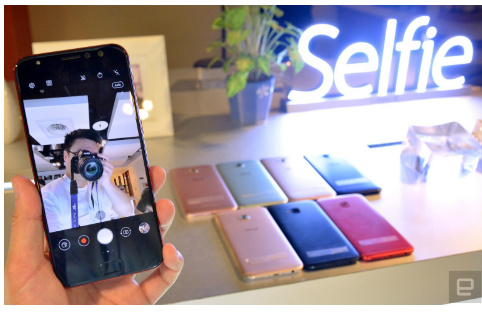 This week Asus unveiled its ZenFone 4 smartphone line with five devices: ZenFone 4 Pro, ZenFone 4, ZenFone 4 Selfie Pro, ZenFone 4 Selfie and ZenFone 4 Max Pro. All five models have a dual camera setup, though one model is using it for 2x optical zoom, while the rest use it for super wide-angle shots on either side. Unlike the old full-metal body, the ZenFone 4 has a sandwich design of two 2.5D Gorilla Glass panels flush with the aluminum mid-frame's rounded edges. On all new ZenFone 4 models including the recently-launched ZenFone AR, the fingerprint reader is now on the front for a cleaner look on the back.
The top ZenFone 4 Pro model boasts a 5.5-inch 1080p AMOLED display, Snapdragon 835 chipset, up to 6GB of RAM, up to 128GB of internal storage, fast f/1.7 aperture, 4-axis image stabilization, and even even a super resolution mode for creating a 48-megapixel image by combining four 12-megapixel images into one. The ZenFone 4 Pro starts at $599, but no word yet on when it'll hit stores. — MV
Samsung gets tough with Galaxy S8 Active
If Samsung's Galaxy S8 wasn't rugged enough for you, you can now get the Galaxy S8 Active, at least if you're in the US and don't mind being chained to AT&T. The Galaxy S8 Active adds a bigger 4,000mAh battery (versus 3,000mAh and 3,500mAh in the S8 and S8 Plus), as well as a rugged metal frame that is resistant to shocks, shattering, water, and dust. So far the smartphone is available in the US only from AT&T, which is offering a variety of promotions, including a "free" Galaxy S8 or $200 trade-in credit. — MV
Apple iPhone 8 rumor #9,899: Facial recognition only?
A cellular Apple Watch isn't the only new Apple rumor swirling. According to developers who are scouring the firmware code for information, Apple's newest iPhone will likely be able to silence notifications while you're looking at the screen. And that's not the only facial recognition related iPhone 8 rumor. Another report claims that Apple abandoned plans to integrate a fingerprint scanner underneath the iPhone 8 display. In fact, it's thought that Apple plans to scrap Touch ID altogether on the iPhone 8 in favor of security through its new facial recognition software called Face ID. Eliminating Touch ID could be a risky play for Apple, as it has been the go-to security feature since the release of the iPhone 5s in 2013. — APP
Untethered, cellular Apple Watch for 2017?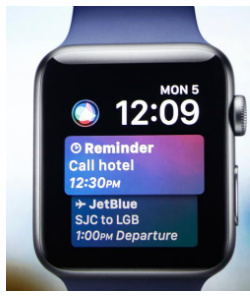 Apple is reportedly working on a new version of its smartwatch that will cut ties with the iPhone for an independent experience. Sources say Apple plans to release a new 2017 Apple Watch sometime this year that can directly connect to cellular networks using an LTE chip. That means these new models of the cellular Apple Watch will no longer need to be tethered to an iPhone for tasks such as messaging, streaming or navigation.
A standalone cellular Apple Watch could give Apple an edge as other wearable device makers seek to expand their product offerings as well. Intel will reportedly supply the LTE chips for the new watch. — APP
Apple releases iOS 11 Developer Beta 5
In more Apple news, Apple has shared yet another iOS 11 preview so developers can get their hands on the upcoming mobile operating system. So what new changes and features can you expect to see? Not many. Developer Beta 5 was supposed to include a highly anticipated update that would allow users to store Messages in the cloud rather than save them to the device itself. However, this space-saving feature has been scrapped from the preview, leading some developers to believe it won't be ready in time for the September launch.
The new preview also contains the usual bug fixes and subtle tweaks, including some updates to the control center music, camera and settings icon. Apple has also updated the screen recording status bar from blue to red to make it more obvious when recording. — APP
Facebook Watch video platform launched, two apps killed
Last week was a busy one for Facebook. The company launched a redesigned version of its video tab but also shut down two of its social apps. Facebook said its video platform, Watch, is already being distributed to a small number of users. Last year the company debuted a video tab that let users check out trending videos and ones posted by friends. With Watch, Facebook is introducing original content as well as a revamped discover tab to help users find videos aligned with their interests. The new Watch tab will be available to all users soon on iOS, Android, the Web and Facebook's television app.
Meanwhile, Facebook put an end to two of its other apps. The social network officially pulled teen-only app Lifestage from the App Store just before its first anniversary. Lifestage never caught on with its target audience and raised security concerns, since there was no way to verify the age of those signing up. The company also retired its Groups app, which launched three years ago as a standalone way to manage your groups from Facebook. The social network said it will incorporate what it has learned from these projects into the main Facebook app in the future. — APP
Venmo 'Scan Code' feature for user profiles
Venmo has launched a new app feature that makes it easier and safer to find your connections for payments. Users can now scan and share unique QR codes for individual Venmo profiles to add new connections and set up payments. The new code appears next to your profile picture in the app's menu, and a click will enlarge it for easy scanning. Users can physically scan the code with their camera, or share it remotely via a feature that nests it within other messaging apps or social networks. The new "Scan Code" helps make payments more secure, avoiding the pitfalls of searching for friends with common names or unusual usernames. The new feature is available for iOS and Android. — APP
Miami Heat scraps paper stubs for mobile ticketing
You will now need your smartphone to gain entry to Miami Heat basketball games next season. The Miami Heat will become the first NBA team to eliminate paper tickets, requiring fans to download an app for mobile-only entry. Even those who buy tickets at the team's stadium box office won't get a physical copy, and will need to need to present their e-ticket on their mobile device to get in.
Sports teams are slowly moving toward mobile ticketing in part to deal with fraud, but also to encourage fans to download team apps so they can get more information about game attendees. The Miami Heat says the new digital tickets will still be transferable. — APP
Except where indicated (MV for MobileVillage), this mobile news roundup is by Erin Bailey of Appcelerator, a top mobile development platform company. Check out Appcelerator's blog. Mobile news roundup: Essential Phone, Nokia 8, LG V30, Asus ZenFone 4, Galaxy S8 Active, cellular Apple Watch 2017, Facebook Watch, NBA mobile ticketing, more