We've teamed up with Appcelerator to bring you a weekly quick read of the most important mobile apps news and other mobile technology news stories. In this week's mobile news roundup we look at Google's personal news feed, Microsoft indoor navigation, Amazon Spark, Bluetooth mesh networking, wearable mobile payments, flexible displays and more.
Google Play Protect aims to ID dangerous apps
Google is rolling out a new security service to safeguard users' smartphones from dangerous apps. Play Protect is now being deployed to all Android devices running Google Mobile Services 11 and higher. The new feature will routinely scan apps that have been downloaded from the Google Play Store for harmful behavior. It will then notify the user of any security risks found and block or delete apps that don't comply with Android's rules.
The update also includes a highly anticipated feature announced earlier this year at Google's I/O conference: the Play Protect status bar. Once launched, the status bar will inform users of the last security scan, as well as provide the option to perform a manual scan. The company says the Play Store will also soon display Play Protect certified badges for individual apps.
Google debuts mobile personal news feed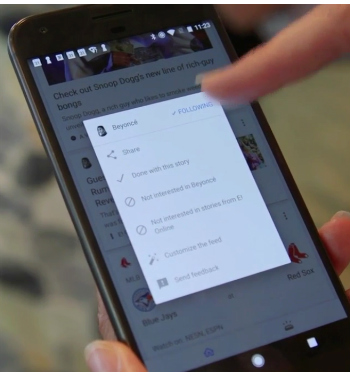 Google has introduced a new personalized news stream for iOS and Android (photos here and above). Simply called the Feed, the new feature is available within the Google app and will learn from search history and followed topics to curate a list of the news you are most interested in. Your personal news feed will be located directly underneath the Google search bar, and will contain news articles, sports updates, videos and more.
For now, Google's personal news feed is only available for mobile, but soon Google's desktop search will incorporate it—marking the first facelift to world's most used website in over 20 years. The update is now available for users in the US, with plans to roll out The Feed globally over the next few weeks. Microsoft's Bing home page already shows headlines and photos of trending news, but it lacks personalized news.
Microsoft builds indoor navigation app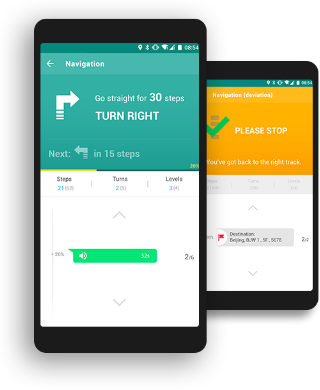 Microsoft has come up with a creative new tool to help users find their way around buildings. The Android app is called Path Guide, and it's designed to help you navigate malls, hospitals, office buildings and beyond—even if you can't access location services. To achieve this, Path Guide relies on its users to create routes by recording sensory data with their smartphone while walking around indoors. This data includes number of steps, turns, stairs and more to build references for other users to follow the same path.
With this method, the app guides users to a point of interest as long as it's been visited and recorded by another user. Path creators can also add text, images and voice recordings for more detailed instructions. The app is currently only available on Android.
Amazon gets social with Amazon Spark & Anytime
Amazon has launched a new product-focused social network, called Amazon Spark, to help users discover items to buy. The new feature, built into Amazon's mobile app, brings shoppable photos that resemble an Instagram feed. Amazon Spark encourages users to share and tag images or stories about their favorite products. Other users can then see these posts as well as links to the featured products, and show their approval with a "smile" button (Spark's version of the like or favorite). A few clicks later, and users can purchase the items via Amazon's familiar cart.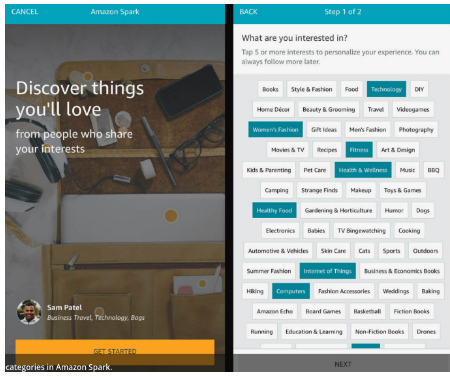 Currently, only Amazon Prime members can post photos to Spark, but anyone can view the photos after creating an account. The feature is also only available on mobile at this time.
The move isn't Amazon's only foray into the social space. The company is also reportedly working on an all-in-one messaging app that could challenge other social platforms. The app is called Anytime, and it's rumored to concentrate on audio and video calls, messaging and photo sharing. The Anytime app is expected to work on both mobile and desktop, but Amazon has not said when users can expect to see it launch.
New Pitch app lets startups pitch investors
Pitch Investors Live ("Pitch"), a new app launched last month that connects startup entrepreneurs with investors using live video pitches, has named its first winning startup—also an app developer. Somewhat akin to a live, mobile version of the popular TV Show "Shark Tank", the Pitch app lets investors quickly screen and hear entrepreneurs, or watch pitches presented to other investors and experts. Entrepreneurs can also watch and learn from their pitches, and members can also communicate more casually via live video or messages.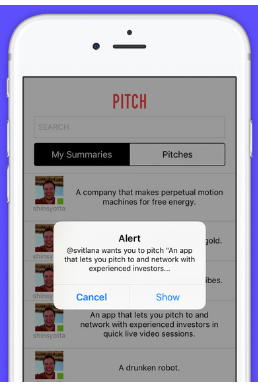 The brainchild of Florida-based peer-to-peer developer 2UP Technology, the Pitch app is available for iOS in the App Store, with an Android version promised soon. The company is now accepting pitches and referrals for its next pitch competition. In each contest, the winning entrepreneur receives $1000, and anyone who referred the entrepreneur also receives a monetary prize.
The winner of Pitch's first pitch competition is Caribu, an education platform that allows family and mentors to read and draw with children from afar, as if combining FaceTime and Kindle for kids. — MV
Apple iTunes Connect adds more customer support
Apple has unveiled improvements to iTunes Connect that will help customer support teams respond to user reviews in the App Store. The company has announced a new role in iTunes Connect specifically so developers can enable more users at their organization to answer questions or react to concerns from app users. Previously, that ability was restricted to a select few roles within an organization, such as admins.
To ease the transition, all members in iTunes Connect with the title App Manager or Marketer will receive the new customer support role permissions. However, those added to the team after July 13, 2017 will need to be manually assigned to this new role designation.
Way beyond your phone: Bluetooth mesh networking gets real
Bluetooth networks will soon be able to connect more than just your smartphones with your headphones or car. They'll soon turn be able to turn Bluetooth-ready devices into vast wireless networks for creating smart buildings and smart cities. The 32,000-member Bluetooth SIG has announced Bluetooth mesh networking, which allows vast wireless networks to be created between many Bluetooth LE (Low Energy) devices such as most smartphones, tablets, wearables, and IoT (Internet of Things) sensors.
For now, Bluetooth SIG is targeting Bluetooth mesh networking products at IoT applications like building automation (such as lighting) and sensor networks for manufacturing or transportation management. For more about Bluetooth mesh networking technology and applications, check out our recent story about it. — MV
Samsung Pay adds PayPal mobile option
PayPal has secured another major integration, this time with tech giant Samsung. The company announced last week that the online payments system is now an option for Samsung Pay, meaning users can access their PayPal wallets to make purchases with their Samsung phone where available. Because Samsung Pay can replicate a card swipe, PayPal mobile access will work almost everywhere that credit or debit cards are accepted.
PayPal has been on a partnering spree over the last year, inking deals with Visa, MasterCard, Android Pay and, most recently, Apple Pay. Samsung's PayPal mobile support will only be available in the US to start, but Samsung says it will expand to other markets soon.
New report: Wearable mobile payments
In related news, the Smart Payment Association (SPA), the trade body of the smart payments industry, has released its latest report about mobile payments in the global wearable tech market. Bias aside, SPA concludes that mobile payments will drive mass adoption of wearable technologies. The SPA report explores current wearable payment use cases and also outlines the challenges that will need to be overcome for successful mass adoption of wearable payments. This includes implementing processes to ensure that personal and biometric data digitally held wearable devices can be revoked the instant these are lost or stolen. — MV
New report: Enterprise mobile engagement trends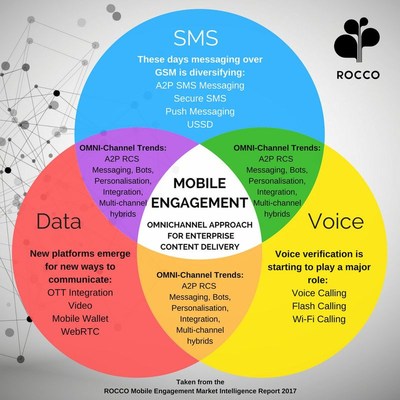 Independent firm Rocco Research has published a new report on trends in mobile user engagement for enterprise content delivery. The report culls research started in January 2017 on detailed surveys completed by 18 mobile engagement vendors from around the world.
One of the report's conclusions is that while A2P (app-to-person) SMS is still growing, it's better to take a more holistic approach that adds in new communications trends (see adjacent infographic). You can check out the report here. — MV
New report: flexible displays
Flexible electronic displays and devices are now a reality, according to a new report by IDTechEx (IDT), who first reported on the topic almost ten years ago. For barrier films for electronics, innovation in encapsulation was one of the critical requirements that needed to be met in order to realize commercially viable consumer products, says IDT. The research firm now forecasts the market for flexible displays encapsulation will reach approximately $913 million by 2027. Read more and find a link to the report at in this IDT blog post. — MV
Except where indicated (MV for MobileVillage), this mobile news roundup is by Erin Bailey of Appcelerator, a leading mobile development platform company. Check out the Appcelerator blog.
Mobile news roundup: Google personal news feed, Play Protect, MS indoor navigation app, Amazon Spark, Bluetooth mesh networking, PayPal mobile, wearable mobile payments, flexible displays