We've teamed up with Appcelerator to bring you a weekly quick read of the most important mobile apps news and other mobile technology news stories. In this week's mobile news roundup we cover iPhone AR apps using ARKit, AR camera apps, the new LTE Apple Watch 3, Xiaomi's Mi Mix 2, Samsung foldable phone rumor, Facebook Bonfire, and more. Posts below are from Appcelerator (APP) and MobileVillage (MV).
Beyond iPhones: ARKit, LTE Apple Watch 3, Apple TV
MobileVillage already covered Apple's new iPhone 8, 8 Plus and iPhone X (pronounced "Ten") with a summary of specs and iPhone hands-on roundup. Besides its new iPhones, Apple also had other interesting new products to show off:
iPhone AR apps: Apple demonstrated some new augmented reality games and other iPhone AR apps showcasing just how powerful the ARKit platform can be on the new set of iPhones. The new camera and A11 Bionic chip make extremely detailed visuals appear lifelike for games such as The Machines by developer Directive Games, which runs on Epic's Unreal Engine 4 (in the top photo). Another iPhone AR app displayed how ARKit could be used to enhance the live sporting experience by providing player names and games using the camera.
Apple Watch 3: The outward design of the new Apple Watch 3 series may not differ much from previous models, but they say it's what's on the inside that counts. Namely, an LTE networks chip that will allow users to connect to cellular data networks. That means you will be able to make calls, receive notifications and stream music without the need for it to be tethered to your iPhone. The new Apple Watch 3 is now available for pre-order for $399.
Apple TV: Apple TV is getting a major boost with the ability to stream video in 4k resolution. The new 4k device is also getting a tab devoted to streaming live sports, although it's not quite clear exactly what the offering will look like or how it will integrate with existing services such as ESPN. — APP
US Senator questions Apple about face scanning security
US Senator Al Franken is pressing the tech titan for answers, penning a letter addressed to Apple chief Tim Cook with a list of questions concerning the technology's "eventual uses that may not be contemplated by" its customers. He's asking Apple where it got the one billion face images the company used to train the Face ID algorithm, and he wants assurance that Apple won't use customers' faceprints for any other purpose.
More importantly, Franken wants to know how Apple plans to respond to law enforcement requests demanding Face ID data. A valid question, since it's no secret that Apple, Google and other tech titans get a lot of government requests for info. Apple even waged war against the Department of Justice last year when it refused to unlock the iPhone 5C that belonged to San Bernardino shooter. — MV
Xiaomi Mi Mix 2 takes on iPhone 8, Galaxy S8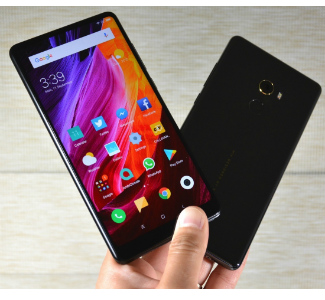 Chinese smartphone maker Xiaomi is back with another near edge-to-edge display. Although smaller than its original Mi Mix, the Mi Mix 2 still has a 6-inch display and 2,160 x 1,080 resolution. Its other high-end specs include a Snapdragon 835 chipset, 6GB of RAM and up to 256GB of UFS 2.1 storage. The main camera is a Sony IMX386 sensor at 1.25um pixels and 4-axis optical stabilization. It can also shoot 4K or 1080p video at 30 fps, and 720p video at up to 120 fps for slow motion.
The Mix 2 supports 43 global network bands, but it isn't coming to the US directly. The phone starts at US $510 for the 64GB model, or $610 for 256GB. You can find more details and images at Engadget. — MV
Essential phone comes to all US carriers
If you're in the US and want a phone similar to the Mix 2, you might consider the Essential PH-1 phone. When it launched this summer it was only available for Sprint, but now you can get it unlocked device and ready to rock with a SIM card for your preferred carrier. According to Andy Rubin, you may first need to reboot the phone. — MV
Galaxy Note 8 sales start higher than all other Notes
The Samsung Galaxy Note 8 is on fire — but not in the literal way that the Note 7 was. With 650,000 orders across 40 countries in its first five days of presales, Note 8 sales were around 2.5 times higher than the Note 7 over the same time period, and higher than any previous Note in its first week of sales in the US. Samsung is baiting customers with up to $425 off the Note 8 with a Note 7 trade-in, and if you buy the Note 8 by September 24, you can get either a free Samsung Gear 360 camera or a bundle with a 128GB microSD card and wireless charging stand. The Note 8 hits stores this Friday and starts at a steep $930.
Samsung foldable phone coming in 2018?
Uneager to hand over the spotlight to Apple for too long, Samsung announced last week that it's aiming to release a foldable Note smartphone next year. The company did not provide any details on what the phone might look like, but it has been rumored to be working on such a device since 2013. Flexible OLED screen prototypes have been demoed at technology conferences before, but Samsung would be the first to produce such a device at mass scale. Samsung is also reportedly planning to launch the Galaxy S9 in January of next year, meaning 2018 could shape up to be a big year for the South Korean tech company. — APP
New iPhone AR app delivers daily mystery box
Augmented and virtual reality app maker 8ninths has released a unique iPad / iPhone AR app called The Box AR, which delivers a virtual mystery box each day with a unique AR experience. Inside your box, you might find portals to another world, environmental transformations, interactive dioramas or pets, collectible characters, art tools, just to name a few experiences. The Box AR collects and stores content daily for that you can use later to create custom scenes, tell a story, embellish everyday reality.
The Box uses Apple's ARkit for iOS 11, so you'll need to have iOS 11 running on your iPhone or iPad. You can find The Box at Apple's App Store or 8ninths.com. — MV
Camera IQ raises cash for its marketing AR camera apps
Los Angeles area startup Camera IQ has raised $2.3 million in seed funding from Shasta Ventures, along with Presence Capital, Greycroft Tracker Fund, Brilliant Ventures, and Act One. The company creates and supports clients in creating camera-based advertising and entertainment content, using its "drag and drop" AR camera apps that integrate with other native apps and operating systems. The company already has a client list that includes Coachella music festial, Refinery29, and Viacom cable. You can check out a short video of Coachella's AR camera apps below. — MV
Facebook testing data-friendly videos & group video chat
Facebook is currently testing two new mobile app features. The first is called Instant Videos, which will help users save on data plans by temporarily downloading news feed videos to their smartphones when connected to WiFi. Pre-loaded videos will bear a lighting bolt icon, and once on the go, users will no longer need to worry about data usage or network bandwidth to watch. The company says it's attempting to remove data costs as a barrier to watching videos on its app, but it may also have the added bonus of making Facebook's new Watch tab more widely used, since users can preload longer content for later.
The company is also testing a new app called Bonfire, which lets up to eight friends host a Facebook group video chat with special filters and effects. Facebook Bonfire is also being integrated into Messenger, which means those 1.2 million users can start a Facebook Bonfire video chat without needing to download the standalone app. Facebook Bonfire is currently only available in Denmark, but those with the app can invite other users from around the world via the Messenger app. — APP
Except where indicated (MV for MobileVillage), this mobile news roundup is by Erin Bailey of Appcelerator, a top mobile development platform company. Check out Appcelerator's blog. Mobile news roundup: iPhone AR apps using ARKit, AR camera apps, the new LTE Apple Watch 3, Xiaomi's Mi Mix 2, Samsung foldable phone rumor, Facebook Bonfire