2016 Mobile Star Awards Sponsor & Winner:
Mobile Application Testing — deviceConnect
Multiplatform Mobile App Development — deviceBridge
Enterprise Mobile Services Visionary — Mobile Labs CEO Don Addington
Profile:

Mobile Labs
3423 Piedmont Road NE, Suite 465
Atlanta, GA 30305
Tel: (+1) 404-214-5804
info [at] mobilelabsinc.com
mobilelabsinc.com
Structure:  Private Company, established in 2011
OS Supported:  All Browsers, Android, Apple iOS, Mac OS
Mobile Labs App Development Solutions:
Multiplatform Mobile Application Development — deviceBridge
Mobile Labs' deviceBridge™ is an extension to the popular deviceConnect (below) that offers revolutionary support for both open-source automated testing frameworks and mobile app development tools. deviceBridge offers industry-first support for app developers who wish to use cloud-based real mobile devices with tools like Xcode for app checkout and debugging.
deviceBridge also expands deviceConnect's universe of mobile app test automation to include using cloud-based devices with open source test frameworks such as Appium and Calabash. This brings all the remote access, management, scheduling, and DevOps benefits of deviceConnect to these new uses.
Secure Mobile Application Testing — deviceConnect
Mobile Labs' deviceConnect™ is an internal cloud-based mobile application testing platform that provides comprehensive management of mobile application testing assets. The patent-pending technology brings order to the chaos of managing mobile devices and apps in enterprise test labs.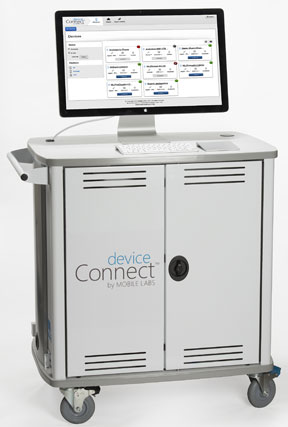 Unlike public device clouds, deviceConnect is highly secure because implementation occurs inside your enterprise's corporate infrastructure. Its location behind your corporate firewall means deviceConnect is easy to install and manage and can be maintained remotely. Housed in a compact mobile cart, this turnkey solution consists of a server running the deviceConnect software, and a rack available in multiple configurations to accommodate large quantities of mobile devices.
Designed for enterprise testing, deviceConnect's powerful, Web-based management console lets you remotely manage, track and monitor your testing assets by individual device name, manufacturer, model number, OS version, availability and more (see below). Any Android or iOS smartphones and tablets that have not been rooted or jailbroken can be managed using the internal cloud-based mobile testing tool.
Recent Mobile Labs News:
Mobile Labs Announces Cloud-based Appium Support
Mobile Labs Named Top 100 'Best in Show' by SD Times
Mobile Labs Introduces deviceConnect™ Hosted Cloud
Mobile Labs Announces Strategic Partnership with LogiGear