How often in your life have you wasted your time standing in a bank queue to get cash or make a deposit with 10, 20, or even 30 people ahead of you? If you'd rather say "no" to bank lines, then you're probably already doing all of your banking with bank machines or a mobile banking app.
Whether you're new to electronic banking or an ace at it, consider yourself a technology trendsetter. Believe it or not, lots of people are or were afraid to try bank ATMs, or they've had trouble using them and gave up. And some people still think of mobile banking apps as unsafe to use, in part because they have a habit and trust factor attached to visiting their bank over the years.
But thanks to better remote Internet access, better security technologies, more financial tech providers, easier-to-use ATMs, and more mobile-savvy consumers, banking has come a long way from the dark ages. Now most banks have their own mobile applications, and these have lots of benefits for customers.
Mobile banking benefits
Here are just some of the ways mobile banking benefits you and other customers:
— With mobile banking, you have round-the-clock access to your accounts. So instead of worrying about a transaction in the wee hours of the morning, you can take care of it any time in your banking app.
— With your bank's mobile app, you can do just about everything you do at your bank: check your balances, transfer money, download statements, and even "deposit" checks using your phone's camera. This saves you from visiting your bank, and makes your bank more efficient by reducing the number of people needed to manage transactions.
— Although mobile banking doesn't yet enable you to get cash from your account, it does allow for easy cash transfers and bill payments. And since there are less cash transactions, you don't need to worry about carrying and protecting lots of cash.
— Thanks to security advances in popular mobile banking platforms, the majority of mobile banking apps are quite safe to use. Your passwords and account information are highly encrypted and protected.
Getting up and running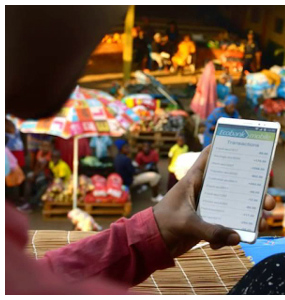 Even if you or others you know have never used a banking app, it's not hard at all to get started. If you know how to use any mobile app and you trust your bank, that's enough to give it a go. And once you get the hang of using your mobile banking app, you'll never want to go back.
If your bank is a good one, it will always keep your account safe and always help you to understand or use its latest technology features. But even with excellent security features, it's up to you to keep practicing good security habits. That includes not telling your passwords to strangers, not taking unknown "financial" calls, not opening strange-looking web links, etc.
Great banking apps and great personal precautions will both go a long way to keep your banking experiences secure and worry-free.