We've teamed up with Appcelerator to bring you the week's most important mobile apps news and other mobile technology news stories. Due to the recent US national holiday, this edition is a two-week wrap-up. Here we look at the latest on the global app market, Apple's public iOS 11 beta release, Facebook group video chat rumors, Snapchat updates, VR payments and more.
Global app market to exceed $6 trillion by 2021
The app economy is expected to be worth $6.3 trillion in the next four years as worldwide mobile usage continues to skyrocket. According to a new report from App Annie, the number of people using apps around the globe is also predicted to nearly double to a whopping 6.3 billion by 2021. That means a whole lot of time spent using apps: 3.5 trillion hours (or nearly 400 million years), according to the forecast. App Annie's global app market findings are based on revenues generated from app stores, as well as in-app purchases and advertising.
Qualcomm teases fingerprint scanners below phone displays
Qualcomm says we can expect to see fingerprint sensors located underneath your smartphone's touchscreen, as early as next year. The company announced that it would start making fingerprint sensors that will work through glass, metal and even underwater available to phone makers later this year. The move supports the trend towards eliminating bezels and buttons to create edge-to-edge displays.
iOS 11 beta now available to the public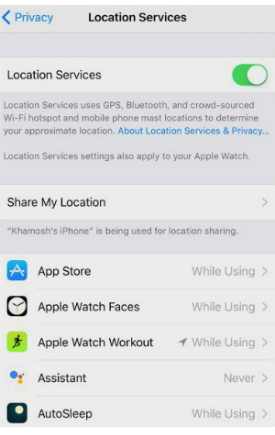 You can now get your hands on a working version of Apple's next mobile operating system with the global release of a beta version of iOS 11.
At its WWDC event last month, Apple teased the core improvements in iOS 11 that users can expect to see, including several major changes to the iPad interface. Now with the public iOS 11 beta release, we have some more updates.
One of Apple's new features in its iOS 11 beta is the ability to curb excessive location tracking. A prominent blue status bar at the top of the screen will inform users when an app is actively using their location.
Apple has also added a new permission option so users can allow apps to only utilize location services while the app is in use. Previously, users only had "Always" or "Never" as choices.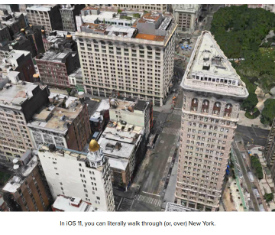 With the public iOS 11 beta, Apple has also introduced some augmented reality (AR)-like updates to its 3D map feature called Flyover, which allows users to explore select cities in 3D through a virtual reality experience.
There's much more to come with the release of ARkit on the horizon and recent news that that Apple has acquired acquired eye-tracking tech company SensoMotoric Instruments.
Facebook reaches 2 billion, group video chat app rumored
According to a new report, Facebook is looking to develop a video chat app that will allow FaceTime-style calls for groups. The app is said to be similar in nature to Houseparty, a group video app released last year that has already garnered more than one million users. The alleged working title for the Facebook group video chat app is Bonfire. While the company did not confirm any details, the app is reportedly set to launch sometime this fall.
Facebook has also reached a major milestone as the company announced it now has more than two billion monthly active users— more than 25 percent of the earth's population. To increase access, Facebook has been optimizing its mobile app to work well with poor connections and cheaper phones, and the company is also bringing fiber internet to Africa. Facebook may have a more difficult time achieving its next milestone however, as more than 700 million potential users in China are unable to access Facebook due to a government ban.
Instagram rival Snapchat intros new linking capabilities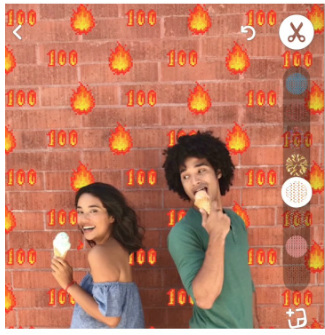 Snapchat has added some highly anticipated features in its latest app update. Users can now attach website links to their photos or videos that can be opened through an internal browser within Snapchat.
The new tool, which Snapchat calls Paperclip, has been requested by users for several years now. Previously, only Discover content partners or brand advertisements could attach links. The move gives Snapchat a leg up against rival service Instagram, which only allows verified users to include URLs within posts.
In addition to Paperclip, Snapchat also added new backdrop and voice filter options with the latest app update. Backdrops allow the user to cut and paste their photos onto colorful new background images, while voice filters provide a menu of zany options to change the way voices sound.
Payscout makes VR payments a reality
Payment processor Payscout has debuted a new app that allows consumers to make real VR payments within virtual reality experiences. With Payscout VR Commerce, users can register a digital wallet or link existing Visa checkout accounts to easily pay for products while browsing a VR store. Using the app, shoppers can select a merchant and launch an interactive store. Within that VR payments experience, they can take advantage of 360-video, plus other immersive features to look more closely at products and make a purchase.
The app is already available for Google Cardboard within the Google Play Store, and Payscout is working on a version for iOS and other platforms in the near future.
Google Triangle will help you monitor mobile data usage
Google has created a new tool called Triangle to help users monitor and block apps from using mobile data. The Android app can be used to view remaining mobile data, track apps that are consuming the most data and even restrict usage on certain apps. Users can even tailor when apps are permitted to use data by selecting from options that limit how long apps can operate in the background.
Google is currently testing Triangle in the Philippines. Data usage in the US is less of a concern with the rise of unlimited plans, but for emerging markets where less bandwidth is available, data limitations can be a major headache for users.
Ticketmaster tech expedites event entries
Ticketmaster will soon get you through ticketing and security events faster by using audio signals from your smartphone. The ticketing vendor has joined forces with ultrasonic audio company Lisnr, which utilizes inaudible, ultrasonic sounds called "Smart Tones" to share information between devices. With Lisnr's technology, Ticketmaster can broadcast ticket data to more quickly and securely admit event goers, and even keep tabs on their location once they're there.
Lisnr has been around since 2012, but its agreement with Ticketmaster marks its largest commercial partnership yet as it looks to bring its smart tone technology to the masses. The new ticketing feature, which replaces ticket barcodes and QR codes, has already been deployed at some venues. Lisnr said it will take the two companies about four years to roll out the technology worldwide.
Bixby US release delayed again
The US release of Samsung's Bixby voice assistant has been delayed yet again. Bixby is currently available in South Korea, but plans to release English and Chinese versions of the voice assistant in spring were pushed back without much explanation. A Samsung spokesperson has now revealed that those versions of the virtual assistant have been held up by a lack of data needed to support Bixby's deep learning technology. A new release date for the English version of Bixby has not been set, but industry predictions target a fall launch at the latest.
This mobile apps news wrapup is by Jon Bailey and Brad Hipps of Appcelerator, a leading mobile development platform company owned by Axway. Check out the Appcelerator blog.
* Mobile apps news & mobile technology news roundup covering the global app market, Apple's iOS 11 beta release, Facebook group video chat rumors, Snapchat updates, VR payments & more.